This Woman's Honest Portraits Show What Major Weight Loss Really Looks Like
She wanted people to see the physical as well as the emotional transition.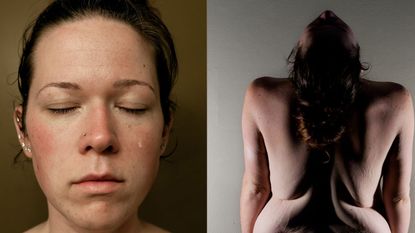 (Image credit: Julia Kozerski)
Marie Claire newsletter
Celebrity news, beauty, fashion advice, and fascinating features, delivered straight to your inbox!
Thank you for signing up to . You will receive a verification email shortly.
There was a problem. Please refresh the page and try again.
When you look at the average weight loss story (opens in new tab), you typically see a "before" and an "after." In the "before," you see a sad-looking person wearing the clothing equivalent of a burlap sack, and in the "after," you see what appears to be a completely different person who is happier than they've ever been. Photographer Julia Kozerski's weight loss portrait series is not like those glossy, airbrushed photos—on the contrary, it shows the difficult, often painful journey (and aftermath) of major weight loss.
Kozerski's project, Half (opens in new tab), chronicles her experience of going from 338 pounds to 178 pounds, revealing not just her successes but also her struggles (opens in new tab) with "food, obsession, self-control, and self-image." While studying photography at the Milwaukee Institute of Art and Design, she began going through this incredible transition—so naturally, she turned the camera on herself. "For many months, I was the only one to see the photographs I was taking, not even my husband was aware," Kozerski told Good Housekeeping. "Eventually I began to share the photos in my class critiques and was astonished to hear the outpouring of support."
The series shows her in vulnerable positions, often without the shield of clothing. On top of showing her weight loss itself, Kozerski sheds light on what losing over 160 pounds actually does to the body. She shows her excess skin and stretch marks (opens in new tab), two things many people try to hide but Kozerski bravely stands nude for the camera, revealing it all.
The resulting support has been incredibly powerful. "I believe that the most overlooked aspect of weight loss is the emotional," she says. "There's a great focus on looks and numbers, and less so on how the person is feeling—I think that is where a lot of the stigma and shame come from." Kozerski's work has done much to fight the stigma of weight loss's effects, and she's received "countless" emails from women and men of all backgrounds sharing their stories, telling her how much seeing her project has helped them.
As for her favorite self-portrait, Kozerski tells Good Housekeeping, "The first image, '...or for Worse,' really sums up my reasoning behind starting such a lifestyle change." After Kozerski got married and was looking forward to a happy—and long—future with her husband and eventual kids, she realized that her weight could prevent that from happening. "It was then that I knew I needed to revamp my lifestyle and make positive changes that would not only benefit myself, but my family as well."
Sam's enthusiasm for makeup is only rivaled by their love of all things relating to cats. In their spare time, they enjoy watching scary movies, putting avocado on everything, and seeing how many shades of the rainbow they can dye their hair before 30.