'I've Been Dealing With A Debilitating Condition For Three-Quarters Of My Life'
"I've been living with migraine for as long as I can remember—here's how I finally got a handle on my disease."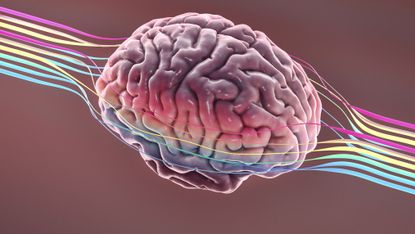 (Image credit: Jonathan Kitchen)
When I'm experiencing a migraine day, it takes over my entire life—relationships, work, friends, family, even my schedule. I'm 33 now and a few years ago, I was experiencing about 28 migraine days per month; it was awful. I'd never make any plans because I knew I'd probably have to cancel.
When I'm experiencing a migraine day, I have symptoms like throbbing headache, nausea, and sensitivity to light and sound—it's constant and unbearable. It's almost like my body is working so hard to try to cope that it can't deal with anything else, like friends, family, or work.
People don't get it, and they doubt me.
Since others can't see my disease, it's hard for them to understand. A lot of people will say, "I get headaches too," and sometimes I'm not able to muster the energy to explain that migraine is a complex neurological disease with many different impacts. Friends and family have asked me why I can't just push past the symptoms. They simply can't comprehend the intensity of what I'm going through, which is frustrating and I feel misunderstood.
Helping my coworkers and manager understand my condition is also a huge challenge. I've even been fired from previous jobs because I've needed to take so many sick days. I'm an account manager, and I've had supervisors say, "This job really isn't that hard. Can't you just work through it?" The answer is no. I don't want people to assume my migraine symptoms, such as light sensitivity and nausea, are a way to get out of working.
Medical professionals have sometimes doubted me. During appointments, I have been asked to rate the uncomfortable symptoms on a scale of 1 to 10—the higher the number, the worse you feel. Some doctors would question me, asking, "Were the symptoms really that bad?" and "Are you sure it's migraine and not just a headache?"
Finally, I found something that helped.
Some patients get a migraine episode after trigger events, like skipping a meal or drinking caffeine, but that's not the case with mine. This means eliminating or avoiding certain things doesn't help me ward off the symptoms. So until recently, my only option was to try different medications when I could feel a migraine episode coming on.
My current neurologist and I have a great relationship. She believes me when I tell her about my symptoms and migraine frequency, and she asked me not to give up hope that we could find a migraine management option that would work for me. For about a year and a half, she had me try combinations of therapies and prescriptions. I'd document everything using a headache calendar. We kept ticking off migraine management options—if one didn't work, we'd go on to the next option on the list.
Eventually she recommended a preventive migraine plan, that includes once-monthly injections that targets the brain's CGRP pathway, which is believed to play a critical role in migraine. The different treatments I have tried didn't work for me, but this one was very different. It even gets mailed to me, which makes it really convenient right now. I know treatments don't work the same for everyone and results may vary, but for me, it actually worked! Over time my symptoms have only gotten better. My disease is still impacting my life, but now, I have more days to live my everyday life.
I'm growing professionally, at last.
Now that I'm finally on a migraine management plan that works for me, I'm excited to say that I'm missing fewer work days. As I spend more time working, I am creating new career goals that I didn't have before. Now I am able to speak to my coworkers and manager more candidly about my career goals.
To help me start taking strides at work, I was introduced to Nicole Lapin, who isn't just a big-time career coach, but also a woman living with migraine—so she gets it. With her help, I've taken a new look at my career goals. She recommended I take stock of my goals by writing them down, giving myself deadlines to complete them, and rewarding myself when I make progress. And that's just the beginning. I can't wait to see what else I can achieve.
My message? There's hope.
There's a lot of shame and guilt that comes with chronic health issues that other people don't understand. I would like people in my life to know that migraine is more than just a bad headache, and it certainly has never been an exaggerated excuse to get out of work.
I want other people with migraine to know it's not their fault, and that there can be a positive outcome. It is okay to look for a doctor who understands and supports you. My relationship with my current neurologist was a big factor in my health journey. There is hope—don't give up on yourself or your situation. If I had, I wouldn't be here, enjoying the things I love, like working toward my career goals, and spending time with my wife.
To learn more about this disease including migraine in the workplace, visit www.KnowMigraineMission.com.


*This post is part of a paid collaboration with Amgen
Celebrity news, beauty, fashion advice, and fascinating features, delivered straight to your inbox!