The Best Essential Oils to Stock in Your Medicine Cabinet
Don't knock it until you've slathered yourself in lavender oil (trust us).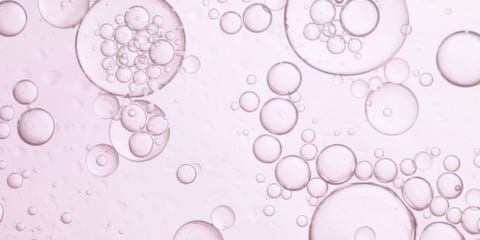 You've probably used tea tree oil on your face or unwittingly lathered peppermint oil on your body at some point, but these are just the tip of the iceberg for the many benefits of natural oils. From insect repellent to natural toners to salves for scrapes and burns, these ancient remedies can easily come in handy on a dime. Ahead, 10 of the most useful varieties to keep stocked at home.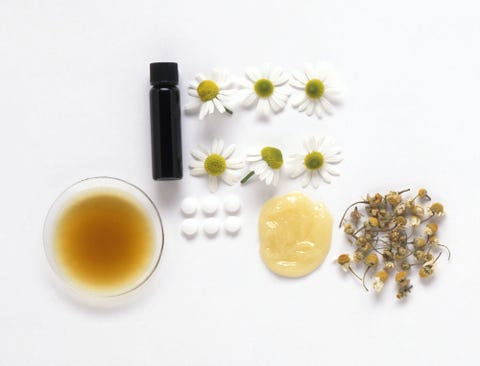 Chamomile Oil
Chamomile falls into two families: the German and Roman varieties. Germans have referred to their chamomile plant as "alles zutraut" which means "capable of everything." The most common application for chamomile oil is through skincare products like toner and skin mists due to its cleansing and hydrating properties, but people have found that it can provide migraine relief, alleviate allergies and insomnia, soothe sunburns, and treat dental abscesses.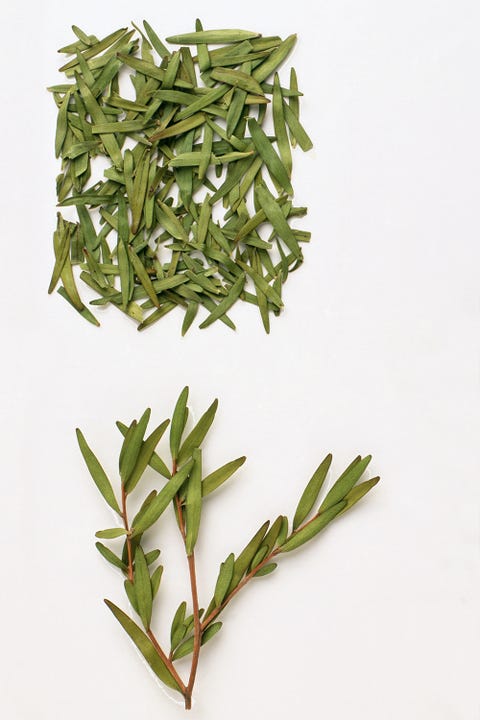 Tea Tree Oil
Tea tree oil is another multi-purpose remedy that has historically functioned as an antiseptic applied topically for skin maladies such as cuts, dandruff, and acne (which is why it's commonly found in skin salves and shampoos). Tea tree oil has also been used to cure foot fungus, kill mold, and disinfect toothbrushes.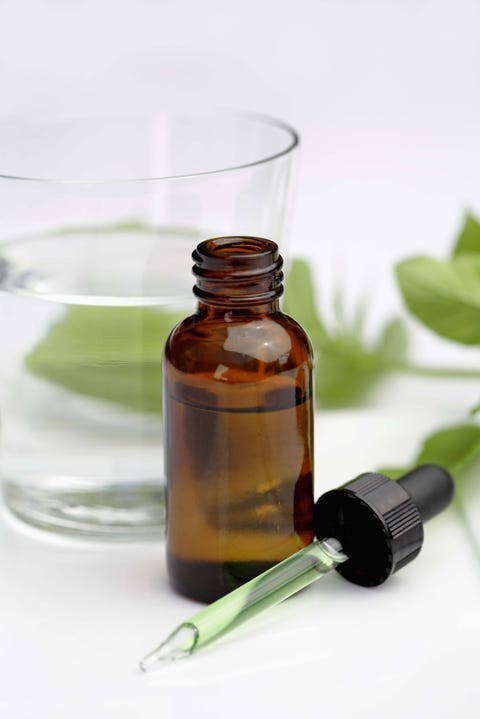 Peppermint Oil
Peppermint oil has found use as a homeopathic treatment since the ancient Egyptians and Greeks. Today you'll find it among the ingredients of many skin and hair products for its soothing and cleansing properties, plus as a dental hygiene product. People have often taken it to relieve stomach problems like indigestion, as well, or inhale it to relieve respiratory illnesses.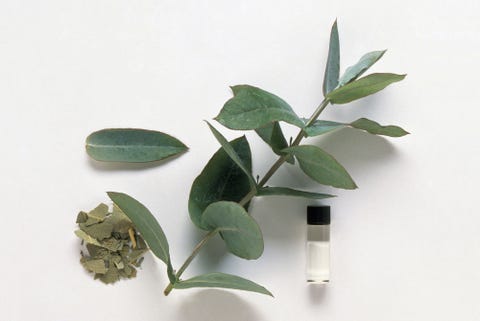 Eucalyptus Oil
If you can't get your hands on a box of Mucinex when a cold strikes (or you're just a routine allergy sufferer) eucalyptus is one of the best natural ways to clear your sinuses and treat inflammation of the respiratory tract. Instead of ingesting it, the oil is usually inhaled by heating it up with water over a stove-top.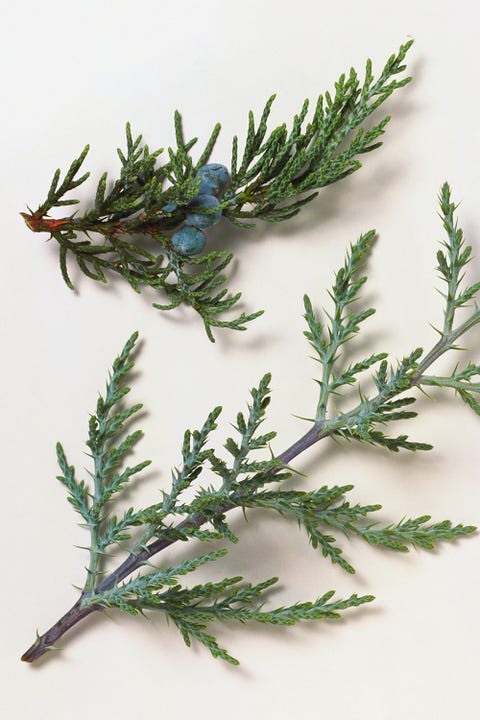 Juniper Oil
Junipers are abundant in the Southwest United States, and have come in handy for medicinal purposes for centuries. People massage the juniper oil into skin or use it to form a compress that treats joint and muscle pain, though the oil also forms many lotions and creams that treat skin ailments like eczema and dermatitis.
Thyme Oil
Thyme especially comes in handy with ailments of the mouth and throat. People have used thyme oil as an ingredient in mouthwashes for years, while the herb itself can treat bronchitis, a sore throat, and coughing.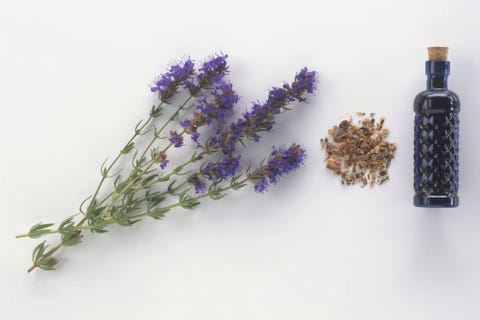 Lavender Oil
Lavender is known for its soothing properties—which is why you'll find it in a host of "calming teas," "anti-anxiety remedies," and "calming lotions." It happens to be one of the most multi-purpose essential oils out there and people frequently use it as a massage oil to ease joint and muscle pain, or to heal cuts and burns, ease the sting of insect bites, and treat skin disorders like psoriasis.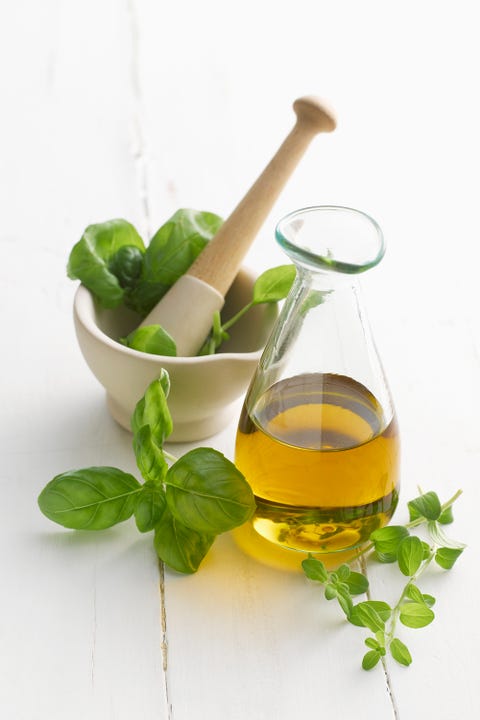 Oregano Oil
Beyond being the flavorful herb people routinely add to pastas and breads, the many uses for oregano oil have been extolled since the days of the Greeks and Romans. The most effective oregano oil is said to come from the Mediterranean region and can treat foot fungus, alleviate the symptoms of a sinus infection, and act as a disinfectant.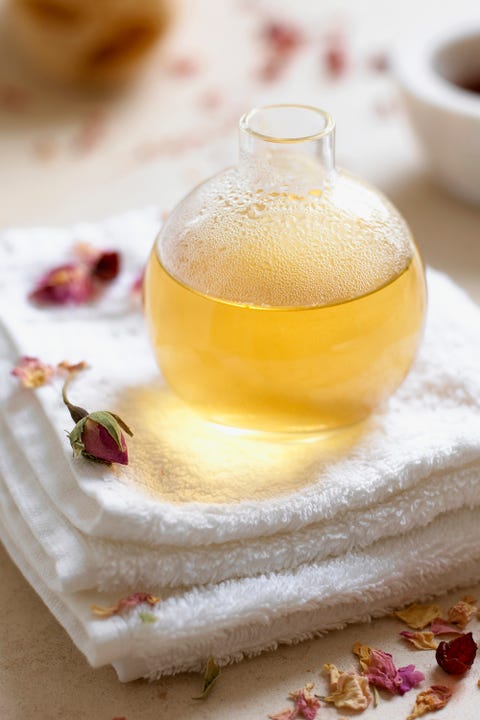 Rose Oil
Extracted from rose blooms, rose oil is often used in aromatherapy and massage oils because of its fragrance and calming properties. Besides being a natural stand-in for your average potpourri bowl, people apply it topically with other oils like lavender and sage to ease menstrual cramps (take note, ladies!) and by itself on skin as a general stress-relief agent.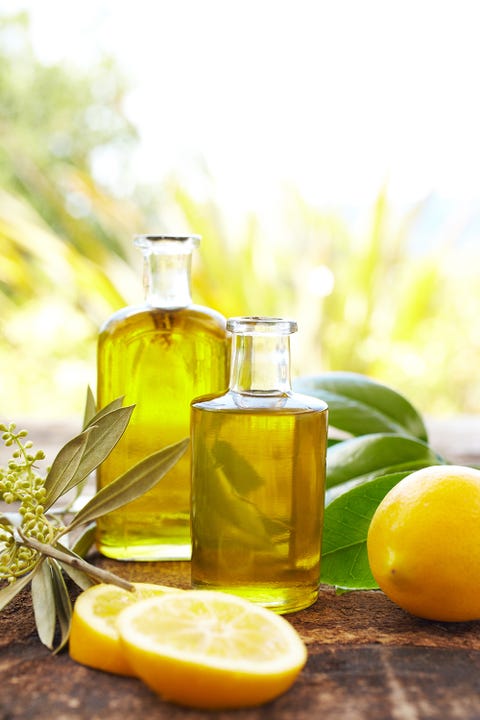 Lemon Oil
The citrus-y oil derived from lemon peels makes for a tart addition to baked goods and dressings, but it also has a host of practical benefits, as well. People often gargle lemon oil to relieve a sore throat, use it as an astringent for oily hair and skin, and swab it over grease stains to clean furniture and clothing. Lemon oil is also a common natural insect repellent ingredient, since the scent tends to repel mosquitoes and insects.
This content is created and maintained by a third party, and imported onto this page to help users provide their email addresses. You may be able to find more information about this and similar content at piano.io