The New Vaccine All Young Women Need to Know About
It protects you from more strains of HPV than Gardasil does.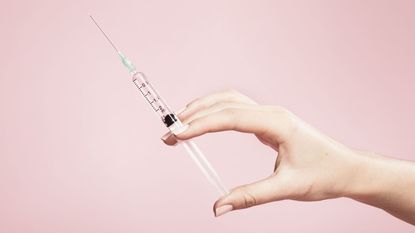 (Image credit: Getty Images + Paper Boat Creative)
Today the U.S. Food and Drug Administration (FDA) approved Gardasil 9, a new and improved vaccine for Human Papillomavirus (HPV), the STI that increases your risk of various cancers and genital warts.
The new vaccine provides protection from nine strains of HPV, while Gardasil, the existing FDA-approved HPV vaccine, only covers four strains. The newbie has the potential to prevent approximately 90 percent of cervical, vulvar, vaginal and anal cancers caused by HPV, according to an FDA release, and works just like the original: Your doc gives you three separate shots throughout an eight-month period. The new vaccine is also approved for women 26 and under.
If you've already gotten the Gardasil vaccine and want the extra protection, there's no harm in doubling up, says FDA spokesperson Jennifer Rodriguez. While there's no word yet on when Gardasil 9 will be available, it's worth asking your doctor if you should get it – especially if you're sexually active with multiple partners.
Elizabeth Narins is a Brooklyn, NY-based writer and a former senior editor at Cosmopolitan.com, where she wrote about fitness, health, and more. Follow her at @ejnarins.