I Turned My iPhone into a Vibrator Using Apps. This Is My Story.
The year is 2017 and we masturbate with the mini-computers we carry around in our pockets.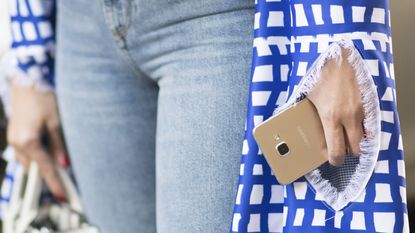 (Image credit: Getty Images)
Marie Claire newsletter
Celebrity news, beauty, fashion advice, and fascinating features, delivered straight to your inbox!
Thank you for signing up to . You will receive a verification email shortly.
There was a problem. Please refresh the page and try again.
I love my iPhone so much. If I could bring five items to a desert island, all five of them would be iPhones. Sure, maybe I would die fast via lack of food and potable drinking water, but baby, I would die happy with Candy Crush going on all five phones as I drifted off into a sweet forever sleep. What I'm trying to say is, the iPhone is God's perfect creation, with one notable exception: its inability to give me an orgasm. So, when I heard about vibrator apps, I was like "OMG I can finally leave my husband." JK/JK, my husband is wonderful and very good at sex so I think I'll keep him, but doesn't every girl desire a little one-on-one time with herself and her favorite portable electronic? I think yes.
I scoured the iTunes store for the vibrator apps with the best reviews — since they can't explicitly say they're for ~sexy purposes~ the reviews tend to be a little dry. Either that, or it's a bunch of people begging iTunes (opens in new tab) to take down their reviews down because they didn't know they were going to be public. LOL.
All the vibrator apps work by turning your iPhone itself into a vibing, pulsing pleasure palace. Of course, their effectiveness hinges on the strength of your iPhones ability to vibrate, so that's something to keep in mind. APPLE, ARE YOU LISTENING? LET'S TAKE THIS THING TO 100. That said, there are a myriad of apps on the market promising special capabilities. All you need is a body safe-silicone sleeve (opens in new tab) and maybe some sex toy cleaner (opens in new tab) to be extra sure. And so I tested out a few to see exactly which ones delivered, and which ones left me drier than the Mojave.
Here are the three apps I tried:
This app has literally thousands of positive reviews, so it can't be wrong, right? It promises to massage "sore muscles" (read: your vag) and leave you feeling "relaxed and calm" (read: post-orgasmic). Also, look at the landing screen — if that's not a dick, then I've never seen a dick (and I've seen some dicks!). So yeah, this thing wants to give you ~feelings~ in your vagina and/or butthole.
First, it must be noted, that free apps are bullshit because of the ads. This thing is serving you an ad every 10 seconds so, yeah, this app has our number. Thankfully, the adds don't stop the vibration, so they're not of concern, except when you're changing speeds, and then it can get annoying.
PMMFYBAH has three settings: a steady vibration, a pulsing vibration, and a super fast pulsing vibration. WARNING: Right above the buttons for various vibration speeds is another one to share the app with friends; so essentially, you could hit the wrong button and recommend your vibrator app to your high school science teacher (who I assume you're still friends with; Hi Mrs. M!).
On a more fun note, the app lets you change the picture behind the giant dick above, so instead of colors, you can add pics of family and friends! I put my dog's pic and then took it down immediately because I felt uncomfortable with the choice.
This app feels...OK. Kinda like how it feels when a call is on vibrate and it's in my lap. I mean, it's a sensation, but it's no magic wand, yaimean? I tried it then pushing it into my private parts harder when it was vibing, and it felt FINE. Like, kinda good? But not so good that I wanna stand here with my legs spread and pressing my iPhone to my cooter. I tried the different vibes (Carefully! Again, I didn't want to send it to my nana!) and it was all just OK. On a horniness scale of 1 (holding grandma's hand and walking around her retirement community talking about the weather) to 10 (grinding at a junior high dance), I was at at a 3? I mean, I didn't hate it, but the rewards were not great enough to justify how insane you look pushing your iPhone into your underwear.
Did I orgasm? No.
2. iVibe Vibrating Massager (opens in new tab), free with in-app purchases.
This one also has three settings — regular pulse, fast pulse, and FULL SPEED. (You get more — "heartbeat pattern" and "reverse ball" caught my eye — but it'll cost ya $1.99!) And again with the ads! (But I guess if you're holding it downtown the whole time, it doesn't really matter.)
I went straight for Full Speed because this isn't amateur hour. And much like that Morales in A Chorus Line, I felt nothing.
I decided to spring for the extra $1.99 because I'm made of money to try some of the other speeds. Maybe these app developers are saving the big guns for those who are serious about masturbating with their phones. I downloaded the packet, which included eight new speeds, and I cycled through them, and was met with the initial issue of the vibration just not being strong enough. Also, every time you want to switch speeds/patterns, you have to lift your phone back out, and that can really ruin momentum.
It's not to say there's nothing; there definitely tingle, and if I try to get into the pervy mindset, I can get turned on a little, but it's not exactly enough to get me ~there~.
Did I orgasm? Nope! And I'm getting frustrated!
Again, this one has ads and limited vibing settings unless you'll fork over the additional $1.99. Again, it's fully unsatisfying.
I took this one out into the wild and slipped it between my legs while riding the bus and accomplished two things: 1. I felt like a for real idiot, and 2. The bumps from the bus hitting the many, many potholes that litter the road (thank you, Los Angeles!) was definitely a more sexually thrilling experience. I rode one stop and turned back around! I've been routinely fucked by LA public transportation, but this isn't one of those times.
Did I orgasm? NO! UGH!
Final Thoughts
Meh. I mean, putting a buzzing feeling near That Which Is Most Sacred will always feel kinda good, but in their current iteration, the vibe apps just aren't strong enough to deliver peak sexual satisfaction.
Maybe if you have an extremely sensitive clitoris, these might work, and also: CONGRATULATIONS and I HATE YOU. But if you require some manual (or electronic) stimulation to get off, these things won't get you there. Most of the apps are free, though, so you might as well download one and find out for yourself. If you do love it, you can always spring the $1.99 to get more vibe patterns. Hey, most good actual vibrators cost over $100, so if on the off chance the vibe apps drive you crazy, you can send me all the money you save! You're welcome!
Follow Marie Claire on F (opens in new tab)acebook (opens in new tab) for the latest celeb news, beauty tips, fascinating reads, livestream video, and more.