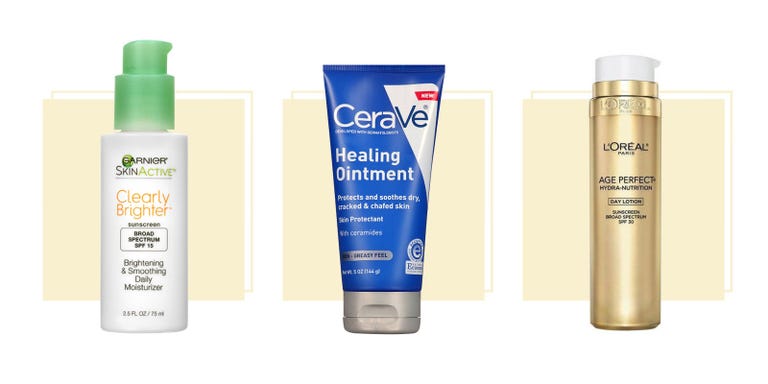 Solid 2017 resolution: be more thoughtful about how you spend your hard-earned dollars. So when frigid winds blow, prime your winter skin with a luxurious whipped soufflé *drugstore* moisturizer that won't set off any alarms on your money-tracking app. Ahead, eight affordable moisturizers that will act as your skincare sad lamp this season.
1
Yes to Coconut Ultra Hydrating Facial Soufflé Moisturizer
The key word here is soufflé, which hints at how this cream acts: as a light and fluffy skincare treat. It's packed with the trifecta of coconut oil, shea butter, and jojoba oil, so it smells like summer vacation and feels like a refreshing glass of Perrier for your skin.
$15; target.com.
2
St. Ives Timeless Skin Collagen Elastin Facial Moisturizer
It's a great thing this moisturizer comes in a giant tub, otherwise you'd have to keep stocking up. The collagen-enhanced cream is one of the most celebrated drugstore moisturizers out there, superb for keeping wrinkles at bay and priming skin before makeup application.
Editor's note: Normally I'm a skeptic of any lotion that comes in a giant tub: The fingers...the bacteria, eek! But this one's become one of my favorite winter moisturizers; it's the best for dry skin and so inexpensive.
$5; walmart.com.
3
Olay Regenerist Luminous Light Hydrating Moisturizer
Where there's discoloration, let there be light 🙌. Sun spots, the ghosts of zits past, and scars are no match for this formula that penetrates through several layers of skin to moisturize and brighten your skin tone.
$24; target.com.
4
Garnier SkinActive Brightening & Smoothing Daily Moisturizer
Another great moisturizer to have in stock if you're treating hyper-pigmentation is Garnier's new formula that uses Vitamin C to brighten skin. It contains gentle exfoliants, too, that make it easy to scrub off dead skin until you're soft as baby.
$15; walgreens.com.
5
Aquaphor Advanced Therapy Healing Ointment
When Beyonce says she lives by Aquaphor products to keep her ageless skin—well, ageless—you listen up real quick. The super-hydrating formula is powered by petroleum so yes, it's on the greasier side. But the benefits are super smooth skin that's restored and protected from cracking, so it's well worth the extra sheen.
$11; walmart.com.
6
CeraVe Healing Ointment
There are so many reasons people stuff their medicine cabinets with CeraVe products, but the scoop on their latest healing ointment? Perk #1) It tackles all of the parts that tend to chafe in dry air. Perk #2) Sensitive/oily skin types: There's minimal grease or fragrance. Perk #3) It offers peak hydration due to three moisturizing ceramides and a healthy dose of hyaluronic acid.
$15; target.com.
7
Bioderma Sensibio AR Cream
The French do not mess around with their skincare, which is why this sensitive skin wonder is so beloved by editors and beauty fends. Bioderma's formula works especially well on rosacea or dry skin that's prone to redness—especially from the nightmare that is central heating.
$20-25; walmart.com or beautylish.com.
8
L'Oréal Age Perfect Hydra-Nutrition Daily Lotion SPF 30
Moisturizers with added sunscreen in them are already killing one step from your morning skincare routine, so it's worth that extra time to check out this SPF30 option. The essential-oil mixture focuses on anti-aging, warding off wrinkles and laugh lines all day long.
$18; walgreens.com.