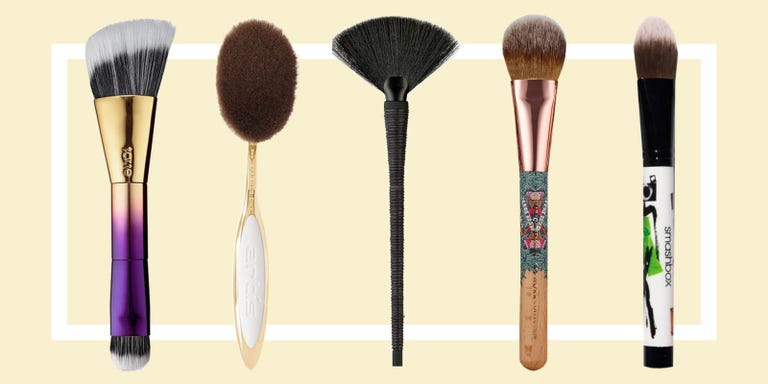 If the sponges that come in a foundation compact are like the plastic utensils you fish out of your Seamless takeout bags, then luxe makeup brushes are your grandma's silverware. They're just *worth* having to wash afterwards. Especially if they look like these ooh-and-aah-worthy sets. Because #BrushPorn is our favorite kind, here are a slew of brushes designed specifically to make you swoon while giving you a 💯 face beat.
1
Storybook Cosmetics Harry Potter Brushes
Storybook Cosmetics, a small fandom-inspired brand, is teaming together two of our greatest loves, beauty and Harry Potter, with makeup brushes inspired by the series' mystical world. (We shot Harry's!) But real talk: Could Ollivander's Wands become the next Sephora?
The brushes are forthcoming, so stay tuned for more info!
2
Smashbox Photo Bombshell Collection
It's our personal belief that your makeup bag isn't complete unless it contains something that's been blessed with one of Donald Robertson's equal-parts-gorgeous-and-kitschy illustrations. These detail-oriented brushes are exemplary of that.
Smashbox Photo Bombshell 8-Piece Brush Collection, $79; nordstrom.com.

3
Mara Hoffman for Sephora Collection: Kaleidescape Charcoal Brush Set
These brightly-colored, bold-printed brushes are as ethically-minded as they are statement-making. Made from FSC-certified wood and boasting cruelty-free synthetic fibers infused with eco-friendly bamboo, they'll make you feel good and look good.

Mara Hoffman for Sephora Collection: Kaleidescape Charcoal Brush Set, $64; sephora.com.

4
e.l.f. See-Through Brush Set
Bad news first: You're going to have to wait until *October* to get yours hands on these babies. Good news? They're perhaps the most beautiful brushes you can get for $12 or under. From the modern, crystal-clear designs to the soft-as-a-baby's-bottom brushes, it's no wonder they've gone viral.
e.l.f. Brush Set, $5-12; elfcosmetics.com.
5
Japonesque Kumadori Brushes
Marrying the art of Kabuki theater beauty with our everyday needs, you'll fall in love with these museum-worthy brushes for their lush, natural fibers and their ability to deposit just the right amount of product onto your visage.

Japonesque Kumadori Brushes, $26.70-$37.20; ulta.com.
6
Artis Brush Elite Gold 10 Brush Set
When life gives you lemons, paint that shit gold, says Atmosphere AND Artis, who did just that to their beloved ovular brushes. There's no better way to make your foundation look like Facetune IRL.
Artis Brush Elite Gold 10 Brush Set, $495; net-a-porter.com.
7
Bobbi Brown Travel Brush Set
Fact: A proper jet-setter has a chic set of brushes. This chrome range by hero Bobbie Brown comes in a silver, clutch-like tote you can literally wear out. Oh, and did we mention they blend like a dream?
Bobbi Brown Brush Travel Brush Set, $200; bergdorfgoodman.com.

8
Tarte Rainforest of the Sea Limited-Edition Brushes
Yes, the gold-to-purple ombré is quite easy on the eyes, but you'll be just as enamored with the fact that the double-ended options make your life 100 percent easier.
Tarte Rainforest of the Sea Limited-Edition Brushes, $24-$34 each; sephora.com.

Save these to your Pinterest!