The Genius Reason Why You Need to Use Orange and Green Concealers
It's the trick to covering any blemish.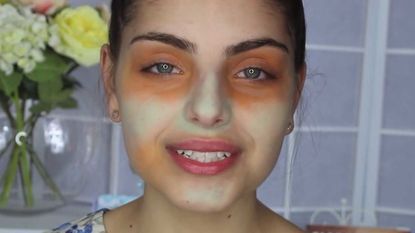 (Image credit: YouTube)
If you've ever tried covering a bright red pimple with skin-colored foundation and cried a little inside because the redness still peeped through, chances are it's because you're not correcting the color first.
Using orange and green concealers might sound crazy, but the science behind it actually makes a lot of sense. Complementary colors (what you learned about in your third grade art class and never thought of again) are colors that fall on opposite sides of the color wheel and cancel each other out when used together. For example, if you have a red pimple, use a green concealer tone down the redness.
Beauty vlogger and makeup artist Heidi Hamoud uses this old-school color theory to correct areas of her skin for a completely even skin tone, and the results are amazing. Here's how she does it:
1. Start with a clean, moisturized face.
Make sure your skin is really hydrated before applying thick makeup so the product doesn't settle in your fine lines and creases. Try Kiehl's Ultra Facial Cream.
2. Use complementary concealers to correct an uneven skin tone.
Heidi used an orange shade to combat bluish under-eye circles and green concealer to cancel out some of the redness on her cheeks. Try Secret Concealer by Laura Mercier for your orange under-eye shade, and the Camouflage Cream Pot by Make Up For Ever for the green.
3. Apply your foundation and concealer on top.
Use foundation and concealer that match your skin tone this time. Apply your foundation all over in a patting motion to evenly distribute the product without removing the colored concealer underneath. Finish by applying your concealer in the shape of an upside-down triangle underneath your eyes to brighten the area.
4. Finish with your normal makeup routine.
It's like magic, I tell ya. Watch the full video tutorial below.
Brooke Shunatona is a contributing writer for Cosmopolitan.com.