Ready or Not, Here Comes the Glitter Butt Trend
Yes, really.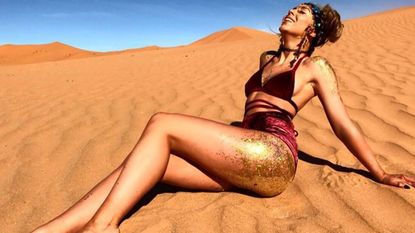 (Image credit: Innstagram)
You know when you've been sitting on the beach all day and you stand up to find sand all over your butt? Artist Mia Kennington knows that feeling so well she was inspired to take it one step further with ~glitter.~
Mia is one of the artists for The Gypsy Shrine, a team of U.K.-based glitter lovers who travel around the world to glitter-fy and body-paint customers at events, festivals, pop-up shops, and bachelorette parties. Known for offering services such as face art, hair braiding, and body art, the team recently added glitter butts to its repertoire after a trip to the Beyond Sahara festival in Morocco.
"It was a hectic day because we were glittering up everybody and also had to get content for our website," Mia says. "So [artist href='https://www.instagram.com/sophiamoreno7/?hl=en' target='_blank">Sophia Moreno
and I'] just had to spark off ideas in a span of, like, 20 minutes. We were in bikinis and were getting sand all over our butts anyway, so we were like, 'Well, what if we enhance this?' So we just did loads and loads of glitter."
The team's foray into glittered body parts started with their festival-famous glitter boobs, and now they are predicting glitter butts worn with bikini bottoms or hot pants (Mia recommends these by Rosa Bloom) will be the next big festival trend.
But applying glitter yourself is truly an art, so follow Gypsy Shrine's helpful tips if you'd like to recreate the look:
1. Paint your booty. You can start with body paint if you want a base color or jump right to the glitter application. Gypsy Shrine's secret sauce is VO5 Perfect Hold Styling Gel. Mia says the artists coat the skin with the hair gel first.
2. Pack on the glitter. While the gel is tacky, use a paintbrush to press on liberal amounts of glitter. Mia says chunky glitter, like the cosmetic-grade glitter Gypsy Shrine makes, works best.
3. Add gems. If glitter isn't enough for you, use body adhesive to add gemstones to the area. Gypsy Shrine also sells self-adhesive jewels to make it easier.
4. Set it. You can also skip this step, but Mia recommends spraying a fixative, like hairspray or makeup setting spray such as Urban Decay's All Nighter Long Lasting Makeup Setting Spray, for extra hold.
For those of you who are wary of using hair gel or hairspray on your butt (those products are intended for use on hair, after all), dermatologist Joshua Zeichner, MD, says, "You certainly can try this technique to apply body glitter, but be cautious because it may lead to skin irritation or rashes. If you experience any burning, stinging, redness, or itching, be sure to wash off immediately." He also suggests trying the look with glitter lotions and sprays designed for use on the skin as an alternative.
If you've ever played with glitter, you know very well that the million-dollar question is how to get the glitter off when you're done, but owner and creative director of Gypsy Shrine Jenna Meek swears the easily solution is makeup wipes or oil-based makeup remover.
So there you have it! Now you're set to glitterfy yourself head to toe for your next festival. Thank me later.
Follow Marie Claire on Facebook for the latest celeb news, beauty tips, fascinating reads, livestream video, and more.
Brooke Shunatona is a contributing writer for Cosmopolitan.com.