Editors handpick every product that we feature. We may earn commission from the links on this page.
The 5 Absolute Best, Viral-for-a-Reason Makeup Products to Buy Right Now
Tested and approved by moi, your overly obsessed beauty friend.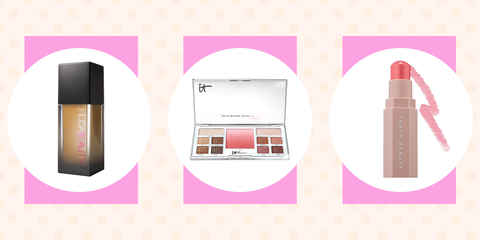 There are some beauty editors who are really into haircare, spending their nights and weekends checking out new salons, and there are other beauty editors who diligently test every new skin tool, rolling spiked wheels across their faces while zapping their legs with lasers. And then there are the beauty editors like me, who audibly gasp and squeee when literally any new makeup product hits my desk, immediately swatching them down my arms and stuffing them into my bag to take home to test.
But aside from the fact that my apartment currently looks like an abandoned Sephora, this makeup obsession also means that I've personally tested a good 90-percent of what you see in stores, months before they even hit shelves. Which means I know first-hand which trendy foundations and eyeliners straight-up suck, and which indie concealers and mascaras can make even the deadest of hearts sing with joy. And now, I'm imparting that wisdom onto you, with the five makeup products I'm actually in love with right now, based on the very simple fact that they're excellent.
This content is created and maintained by a third party, and imported onto this page to help users provide their email addresses. You may be able to find more information about this and similar content at piano.io