Celeb MUA Patrick Ta Told Me All About His New Makeup Line for Glowy Skin
Each product will keep your skin's glow-up on 100.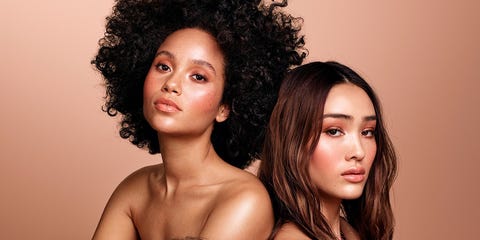 Celebrity makeup artist Patrick Ta not only works with supermodels like Gigi and Bella Hadid, Kaia Gerber, Adriana Lima, Taylor Hill, Rosie Huntington-Whiteley, and more on the regular—casual—but he's also has been quietly working on his very own makeup line for the past two years. Ta keeps his 1.3 million and counting Instagram followers floored with his breathtaking beauty looks that all have one thing in common: an insanely-amazing glow. Ta's mastered the art of the glow like nobody's business, so it feels fitting that his first line is focused on "Major Glow."
"When developing my first beauty line, it was my goal to create products to empower women to feel confident, beautiful, and comfortable in their own skin," Ta told Marie Claire in an interview. The line features nine products, available in stunning shades, and here just in time for your spring glow-up. Ta created a body oil, lip shine gloss, highlighting mist, and a setting fan—yes, friends, a fan that is fabulous (more on that later). Each product ranges from $22 to $52. "I'm known for glowy skin, so I wanted my first collection to be all about the glow. These products will give women just that from head to toe," he said.
What I find interesting is that you rarely see body oils in newly-launched makeup collections—But Ta wanted to make sure nothing on the skin was neglected when it comes to radiance. "I really believe glowy skin shouldn't just be on your face, it should be on your body as well," Ta told me. And he made sure to keep all skin tones in mind when formulating the shades. "Everything that I'm coming out with I'm truly really proud of," Ta shared. "All of the colors are so universal and made for all skin tones. They're very translucent, and it's all about the pearlescent finish."
Here, Ta breaks down how you can maximize your glow with each of his products.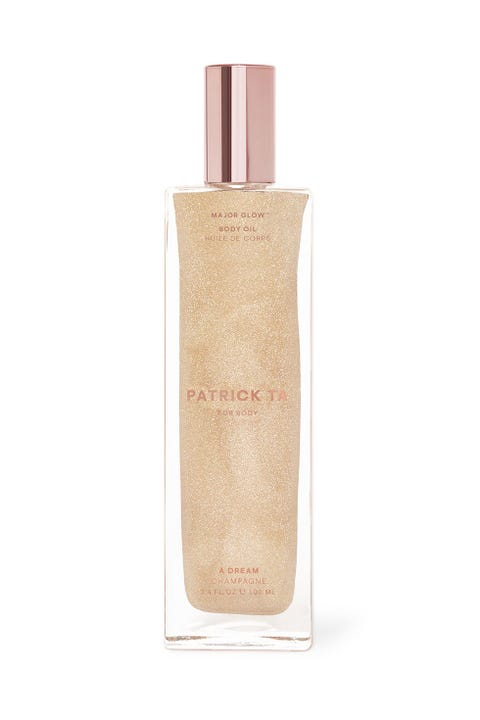 Major Glow body Oil, $52
If you follow Ta on Instagram, you've probably been wondering how he gets his top-notch clients' skin so damn glowy above and below the face. This body oil is his secret. Here's Ta's pro tip for applying the oil for an ultra glowy look: Apply one pump on each shoulder and three pumps on the center of your décolletage. "The body oils look great in photographs, especially if you want a little extra pop on your chest," Ta said. It comes in two shades: "The champagne shade is called A Dream—it's full of white pearls, smells so good, and it makes your skin shine for hours. The other shade is called A Moment, for when you're feeling a little extra. It has pink, gold, and bronze pearl in it."
Major Glow Highlighting Mist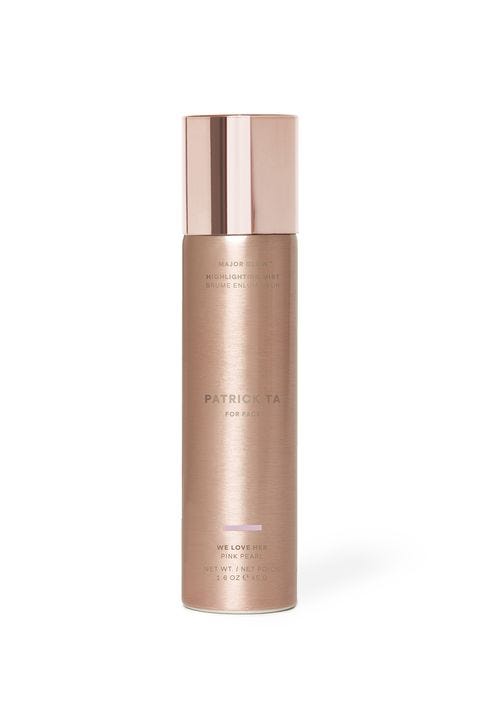 Major Glow Highlighting Mist, $32
"There are thousands of highlighters on the market, but what I haven't seen is a highlighting mist," Ta pointed out. "When you spray this, the pearl particles just melt onto your skin. It diffuses, so there are no harsh lines." This mist comes in three distinct hues: pink pearl, gold pearl, and white pearl. And don't get it confused with a cream highlighter—it's very different and leaves behind an airbrushed glow. "Even though they're gorgeous, what I hate about cream highlighters is that if you wear your hair down, it gets stuck to your face because of the texture. This highlighter dries fast but still looks wet, and doesn't stick to your hair."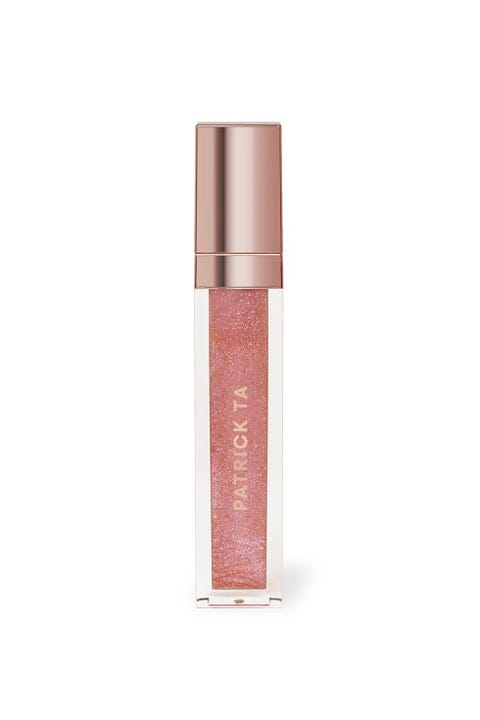 Major Glow Lip Shine, $22
Next up: A super-shiny gloss that's far from sticky. It imparts a lustrous lacquer on your lips, but has the hydrating consistency of a balm and is available in peach, pink, and pearl tones. Ta's hack to make these multipurpose glosses: Swipe them on your lids for an instagram-worthy glossy eye effect. "I use these on the eyelids as well, they're so moisturizing, and not sticky so it feels so soft on the skin," Ta says. Watch this video for proof.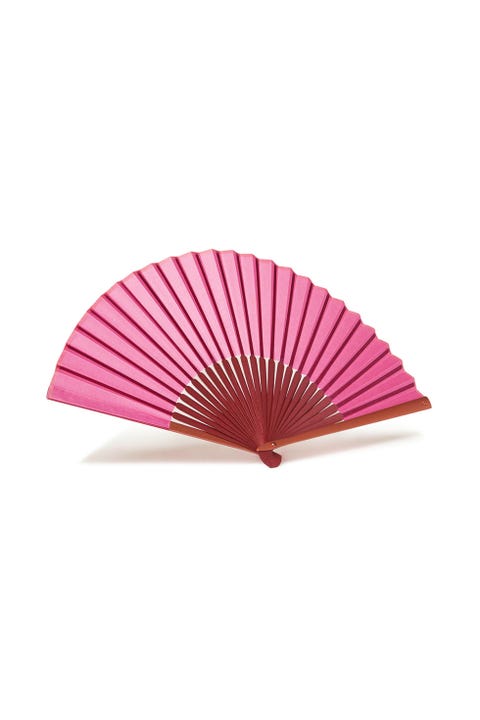 Introducing a revolutionary way to set and apply your makeup the fun way: a fab setting fan, of course. Ta recommends using the fan to set your makeup, and also angling it on your face wherever you want to apply the highlighting mist for a focused glow. "You can angle this to spray where ever you want a glow. You can also use it to set your makeup and help you apply any product," Ta explained.
This collection is live today on Patrickta.com and I suggest you act fast before these fly off the shelves.
...
For more stories like this, including celebrity news, beauty and fashion advice, savvy political commentary, and fascinating features, sign up for the Marie Claire newsletter.
This content is created and maintained by a third party, and imported onto this page to help users provide their email addresses. You may be able to find more information about this and similar content at piano.io