Editors handpick every product that we feature. We may earn commission from the links on this page.
Celeb MUA Patrick Ta Told Me All About His New Makeup Line for Glowy Skin
Each product will keep your skin's glow-up on 100.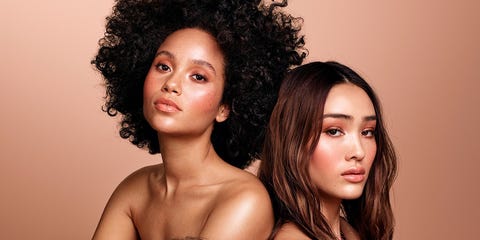 Celebrity makeup artist Patrick Ta not only works with supermodels like Gigi and Bella Hadid, Kaia Gerber, Adriana Lima, Taylor Hill, Rosie Huntington-Whiteley, and more on the regular—casual—but he's also has been quietly working on his very own makeup line for the past two years. Ta keeps his 1.3 million and counting Instagram followers floored with his breathtaking beauty looks that all have one thing in common: an insanely-amazing glow. Ta's mastered the art of the glow like nobody's business, so it feels fitting that his first line is focused on "Major Glow."
"When developing my first beauty line, it was my goal to create products to empower women to feel confident, beautiful, and comfortable in their own skin," Ta told Marie Claire in an interview. The line features nine products, available in stunning shades, and here just in time for your spring glow-up. Ta created a body oil, lip shine gloss, highlighting mist, and a setting fan—yes, friends, a fan that is fabulous (more on that later). Each product ranges from $22 to $52. "I'm known for glowy skin, so I wanted my first collection to be all about the glow. These products will give women just that from head to toe," he said.
What I find interesting is that you rarely see body oils in newly-launched makeup collections—But Ta wanted to make sure nothing on the skin was neglected when it comes to radiance. "I really believe glowy skin shouldn't just be on your face, it should be on your body as well," Ta told me. And he made sure to keep all skin tones in mind when formulating the shades. "Everything that I'm coming out with I'm truly really proud of," Ta shared. "All of the colors are so universal and made for all skin tones. They're very translucent, and it's all about the pearlescent finish."
Here, Ta breaks down how you can maximize your glow with each of his products.
This content is created and maintained by a third party, and imported onto this page to help users provide their email addresses. You may be able to find more information about this and similar content at piano.io