Editors handpick every product that we feature. We may earn commission from the links on this page.
12 Wine-Themed Beauty Products That Won't Give You a Hangover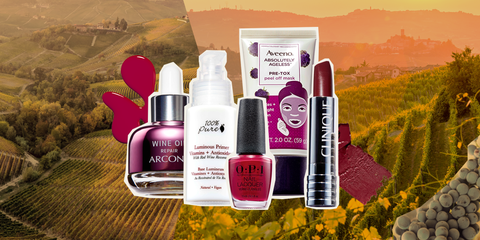 I recently learned the term glou-glou, an onomatopoeic French word for casual wines—usually light, chillable reds—that go down easy (glug, glug). It got me thinking that the beauty world has its own version of glou-glou: easy-to-use wine-inspired products that lack the complication of face-contouring makeup kits or multistep acid peels. Not sure how to update your makeup bag this fall? Universally flattering Bordeaux shades, like Clinique's lipstick, OPI's polish, and glosses from Tarte and Neutrogena, are always on trend, especially this time of year. Skincare with resveratrol, a gentle antiaging ingredient extracted from grapes, is also a no-brainer. Check out Arcona's face oil, Vine Vera's moisturizer, and 100% Pure's complexion primer. And when nights turn crisp, don't overthink your weekend plans. Pour a glass of wine, throw some bath salts from the Grapeseed Company in a tub of warm water, sink in, and sip.
This content is created and maintained by a third party, and imported onto this page to help users provide their email addresses. You may be able to find more information about this and similar content at piano.io