Editors handpick every product that we feature. We may earn commission from the links on this page.
12 Wine-Themed Beauty Products That Won't Give You a Hangover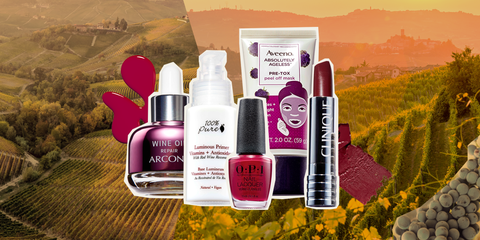 I recently learned the term glou-glou, an onomatopoeic French word for casual wines—usually light, chillable reds—that go down easy (glug, glug). It got me thinking that the beauty world has its own version of glou-glou: easy-to-use wine-inspired products that lack the complication of face-contouring makeup kits or multistep acid peels. Not sure how to update your makeup bag this fall? Universally flattering Bordeaux shades, like Clinique's lipstick, OPI's polish, and glosses from Tarte and Neutrogena, are always on trend, especially this time of year. Skincare with resveratrol, a gentle antiaging ingredient extracted from grapes, is also a no-brainer. Check out Arcona's face oil, Vine Vera's moisturizer, and 100% Pure's complexion primer. And when nights turn crisp, don't overthink your weekend plans. Pour a glass of wine, throw some bath salts from the Grapeseed Company in a tub of warm water, sink in, and sip.
Resveratrol Merlot Moisture Day Cream
Vine Vera
amazon.com
$53.99
This innovative formula harnesses the antioxidant-rich powers of merlot to combat fine lines and wrinkles. You can have wine night for you and your skin.
Vinopure Natural Salicylic Acid Pore Minimizing Toner
Caudalie
sephora.com
$34.00
Say goodbye to clogged pores with this powerful exfoliant. BHAs like salicylic acid might seem scary, but the unique blend of grape and rose water works to soothe your skin, and the antioxidant grape seed polyphenols prevent blackheads from ever coming back.
Wine Not Lip Gloss & Brush Set
Tarte
tartecosmetics.com
$19.00
Indulge in a little red wine during your morning routine with this deep red-tinted gloss. Follow up your wine experience with the fun wine-themed brush–its ergonomic handle and ultra-soft vegan bristles make for a seamless blend.
Arcona
dermstore.com
$58.00
This luxurious blend of grapeseed oil, linoleic acid, and oleic acid is a moisturizing powerhouse and full of resveratrol, a natural phenol found in red grape skins.
Grapeseed Company
thegrapeseedcompany.com
$24.00
The only thing better than a glass of wine after a long day is a blissful bath to pair with it. These formulations incorporate four different salts and pinot noir grapeseeds to create a bath experience you'll never want to end.

Absolutely Ageless Pre-Tox Peel Off Antioxidant Face Mask
In 15–20 minutes, this AHA, antioxidant-rich blackberry complex, and vitamin E–infused mask will give you that first-glass glow.
Pearl Foundation Primer, Muscadet
Paul & Joe
beautyhabit.com
$36.00
This is no ordinary skin-prepper—it uses light-reflecting gold and silver pearls to reduce redness and even out your skin, all while hydrating your skin and smelling deliciously like grape.

UnWined Red Wine 10-in-1 Leave-In Spray
It seems like there's nothing this spray can't do—it defrizzes, strengthens, nourishes, and protects your hair against heat. Plus, while this wine (-themed) spritzer is sure to put you in a good mood, it won't give you any side effects the next morning.
Luminous Primer Vitamins + Antioxidants with Resveratrol
100% Pure
dermstore.com
$39.00
Dull skin is no match for this resveratrol-infused and light-reflecting primer. With a glow this good, you'll have glass-half-full vibes all day long.
Nail Lacquer, Malaga Wine
With the holidays just a blink away, this vampy shade will give you a taste of the sultry glam you've been missing all summer long.
Hydro Boost Hydrating Lip Shine in Velvet Wine 70
Neutrogena
amazon.com
$15.73
This drugstore superstar glides rich, deep-red pigment onto your lips with a moisturizing yet non-sticky finish.
Dramatically Different Lipstick Shaping Lip Color in Wine and Dine
Clinique
nordstrom.com
$19.50
Another addition to the many makeup-but-also-skincare products hitting the market these days, this lip formulation smoothes and moisturizes like a lip balm and applies color like a lipstick.
•••
A version of this story appears in the October 2019 issue of Marie Claire.
This content is created and maintained by a third party, and imported onto this page to help users provide their email addresses. You may be able to find more information about this and similar content at piano.io