Found: The Best New Beauty Products to Try in Isolation
Scalp serums, body masks, and more to soothe your mind, body, and soul.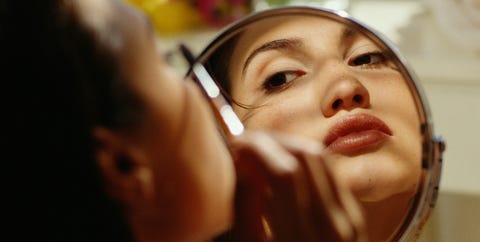 During heightened times of angst, worry, and uncertainty, beauty—and everything that encompasses it—is always there. Whether it be indulging in a luxuriating product to de-stress, or trying a new treatment to serve as a fun distraction from worrying, the power of products as a critical form of self-care is more important than ever before. During the global health crisis, I've found myself leaning on beauty products as a radical act of preservation. Doing something for yourself to feel good is vital. Supporting brands you love and small beauty businesses is vital. Treating your body with the utmost love and respect is vital. Gifting yourself or a friend a new product is a small act of kindness, which is vital.
Although the beauty landscape looks completely different now in the midst of COVID-19, there are still new launches that have landed in the market. Lots of the beauty brands listed below are doing their part give back to healthcare workers on the front lines. And, frankly, you don't need to search for an excuse to treat yourself to a new product. You deserve it. In this moment, spend time on yourself. Put on a full face of makeup to sit in your living room, or partake in a 15-step skincare routine to spoil yourself because you can. Ahead, 13 products to get you through.
The Concealer You'll Covet
Luminous Silk Concealer
Giorgio Armani Beauty
giorgioarmanibeauty-usa.com
$9.50
Excuse me while I do the happy dance: The foundation my face has been bowing down to for years just got a brand-new addition to its shade family—the luminous silk concealer (!). Everything everyone loves about the foundation (like the radiance from soft-focus pearls and emollients, long-lasting hydration, and crease-free formula) is now in concealer form to wake up your under-eyes before those endless Zoom meetings.
The Night Cream for Dreamy Skin
Retinal Night Cream
African Botanics
africanbotanics.com
$200.00
African Botanics, a brand birthed in South Africa, uses thoughtful and ethically sourced ingredients to create luxury products with highly effective results. This retinal night cream is filled with active anti-aging ingredients to boost collagen and increase skin elasticity overnight. Indulge in this before lights out time, then wake up with supple skin.
The Cool New Body Cleanser
Kamili Cream Body Cleanser
Drunk Elephant
sephora.com
$20.00
Now that shower time doesn't have to be rushed, make the experience that more magical. Upgrade the soap you've been using for way too long with this new option. Drunk Elephant's first foray into bodycare includes this cool cleansing agent that uses plant-based ingredients, like amino acids, and botanical oils, to luxuriate the skin in hydration with a soft and soothing lather that has a calming scent.
The Scalp Serum to Salvage Dryness
Scalp Serum
Dr. Barbara Sturm
molecular-cosmetics.com
$100.00
Now's the time to take hair health into your own hands, and Dr. Barbara Sturm is making it easier than ever to spoil your scalp with her latest launch. This serum targets dryness and irritation with the help of low and high molecular weighted hyaluronic acid for maximum moisture, and Purslane, for its calming benefits. Simply section your hair, then drench your scalp in this serum.
The Beauty Brand That's Giving Back
Candlenut Body Creme
Juara
juaraskincare.com
$35.00
Although this body cream is not necessarily new, the brand's recent efforts in regards to COVID-19 are praise-worthy. As of late March, over 200 Juara products were donated to doctors and healthcare workers in the midst of the global pandemic. It'll make you feel even better about using this body cream, which is rich in hydration thanks to its star ingredient, candlenut oil, to provide essential fatty acids and comfort your skin in a soothing veil of moisture.
The Tinted Moisturizer for Feel-Good Skin
Stripped Nude Skin Tint
Kevyn Aucoin
sephora.com
$42.00
If your skin is still craving a bit of coverage indoors, try this new tinted moisturizer made of hyaluronic acid, butterfly bush flower extract, and fruit extracts to keep you glowing and protected from free radicals. For the lightest touch, mix a dollop into your go-to moisturizer.
The Exfoliator for Extra Radiance
Yo Glow Facial Enzyme Scrub
Wishful
sephora.com
$51.00
Your skin may not be as exposed to pollution from environmental elements, but grime and build-up still occurs indoors. Show your skin extra love with this exfoliator full of AHAs, BHAs, and papaya enzymes, which are especially known for their brightening and smoothing powers. Start incorporating this into your routine once or twice a week for glow-inducing results.
The Skin-Firming Ampoule
LiftActiv Specialist Peptide-C Anti-Aging Ampoules
These trusty little ampoules are packed with powerful ingredients to keep your skin in tip-top shape. Infused with a potent dose of pure vitamin C, peptides, hyaluronic acid, and Vichy's signature mineral water, it smoothes fine lines, wrinkles, and tightens sagging skin. Here's to forever young skin.
The Candle Set to Gift Yourself
Floral Spring Gift Set
If you're dealing with a shortage in your candle stash from lighting them all day every day, raise your hand. *Raises hand.* Treat yourself to these florals and make your home smell like warmer spring days ahead. This candle burns slowly and surely, filling your home's aroma with scents of magnolia and peony.
The Body Mask You've Been Missing
Purifying Mask Kaolin Clay
You don't have access to a spa right now, but that doesn't mean you can't transform your bathroom into one. This purifying body mask will make the skin below your face feel just as important, for once. Lather your skin from the neck down in this kaolin clay for a deep clean that ensures baby-smooth skin afterwards.
The Blush Your Skin's Been Waiting For
Cheeks Out Freestyle Cream Blush
Fenty Beauty by Rihanna
sephora.com
$26.00
There's nothing a dab of blush can't do to liven up your mood...and your skin. You can go completely bare-faced if you choose, then sweep a bit of this buildable cream blush on for an instant skin pick-me-up. Available in 10 diverse hues, from poppy primary colors to toned-down neutrals, there's a shade for every skin tone.
The Pick-Me-Up Lotion
Jergens Sweet Citrus Body Butter
Settle into your morning routine with this energizing lotion that'll give your skin a quick boost because of the sweet citrus oils. The citrus coupled with shea, coconut, and mango butters makes for skin that feels like silk and smells like a tropical vacation.
The Color-Boosting Starter Pack
Color Revival Kit
Virtue Labs
virtuelabs.com
$49.00
If you're riding the hair struggle bus like everyone else in isolation, you'll appreciate this convenient color-boosting kit from Virtue. It comes complete with a recovery shampoo, color kick, and treatment mask to breathe life into your brassy roots. Tap into your inner stylist to save your strands.
This content is created and maintained by a third party, and imported onto this page to help users provide their email addresses. You may be able to find more information about this and similar content at piano.io