The Best-Selling Beauty Products on Amazon to Stock Up On
So long to the makeup-free days of the pandemic!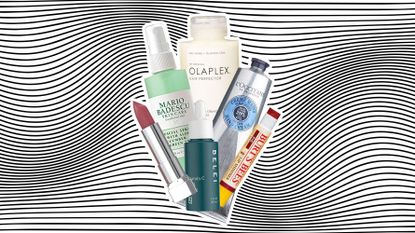 (Image credit: Morgan McMullen)
As you're probably already aware, you can pretty much buy your entire life on Amazon. It's where we get our jeans (opens in new tab), our favorite tea (opens in new tab), and obviously our go-to beauty products. Whenever we're running low on face wipes and mascara, there's never a need to panic, because 2-day Prime shipping is ready to replenish our stash. Seriously, where would we be without it?
Since we've already done the digging, save yourself some time and check out the best-selling beauty products on Amazon that are actually worth adding to your cart.
1/32
Lipstick Queen Lipstick in Frog Prince
Don't be scared of the green color because this lipstick actually goes on pink (opens in new tab). The moisturizing formula of this best-selling Amazon beauty product adjusts to your body's pH and skin tone so you basically get the perfect custom shade. So, get ready to pucker up.
2/32
Sol De Janeiro Brazilian Bum Bum Cream
The name might say Bum Bum Cream, but this lotion smells so good, you'll want to put it on everywhere. We even like it as a hand cream. Along with hydration, it contains caffeine from guarana extract, which has a tightening effect on skin.
3/32
Belei Vitamin C + Hyaluronic Acid Serum
When we first heard Amazon was launching its own skincare line, we freaked. Affordable prices, 100 percent recyclable packaging, active ingredients, and 2-day shipping? Yes, please.
Our favorite product of the bunch is this vitamin C + HA serum, which blends two of our favorite ingredients: vitamin C (opens in new tab) and hyaluronic acid (opens in new tab).
4/32
R+Co Television Perfect Hair Shampoo
The branding folks at R+Co were not playing around when they named this shampoo. The Perfect Hair Shampoo will help give you exactly that. It makes it sleek, shiny, and soft in just one wash, which is everything you could want from your shampoo.
5/32
Pure Daily Care NanoSteamer Ionic Facial Steamer
Bring the spa home with this handy facial steamer. This best-selling Amazon beauty product opens up your pores, making it easier to clear out blackheads and do extractions. Your skin will also absorb creams and serums even better.
6/32
IMAGE Skincare Ormedic Balancing Lip Enhancement Complex
We don't throw around the term "holy grail" lightly, but this is hands-down the absolute be-all, end-all lip treatment. This best-selling Amazon beauty product will drastically improve the condition of your lips, whether you're severely dehydrated and chapped, or you just want a little boost in volume.
7/32
Maybelline New York Color Sensational Lipstick in Touch of Spice
Maybelline's Lipstick offers serious pigment for your pout at an affordable price. The Touch of Spice shade is bold enough to make a statement, but also appropriate for daytime wear in the office.
8/32
C.S.M. Body Brush for Dry Brushing
Dry brushing might sound weird, but it's one of the best things you can do for your skin (opens in new tab)—it exfoliates and improves circulation. We like this option because it has the bonus of massage nodules.
9/32
Avarelle Acne Absorbing Cover Patches
We can all agree that pimples are the worst. But with these patches, you can clear them up quicker. The clear, round hydrocolloid stickers are barely noticeable, and they're infused with tea tree oil that helps speed up recovery time.
10/32
Beakey 5-Piece Makeup Sponge Set
If you love the classic Beautyblender (opens in new tab), but not the $20 price tag per sponge, these are an amazing dupe. For less than $10, you'll get a pack of five sponges, and the egg shape helps you reach the small corners around your nose and eyes.
11/32
Mario Badescu Spritz Mist and Glow Facial Spray Collection
Mario Badescu's facial sprays are practically iconic. With this trio set, you'll never have to choose just one, and all it takes is a spritz or two to keep skin feeling totally cool and refreshed.
12/32
Kitsch Spiral Hair Ties, Pack of 8
Elastic hair ties are out, and these coiled rings are in. Not only do they look way cuter on your wrist than a rubber band, but the stretchy plastic is way less damaging to your strands.
13/32
Crest 3D White Professional Effects Whitestrips
Even with all the whitening treatments available, we always go back to Crest's Whitestrips. They're almost always cheaper on Amazon than in stores, too.
14/32
Tweezerman Mini Slanted Tweezers
Quality tweezers are one of those things you probably never think about, but definitely need. This stainless steel pair from Tweezerman has a slanted shape and sharp tips that let you pluck and shape brows with ease.
15/32
Baby Foot Original Exfoliant Foot Peel
We've said it before (opens in new tab) and we'll say it again: If you have callused, unsightly feet, you need to give this exfoliating foot peel a try. This popular foot-peel mask will rid your feet of its driest, roughest layers to reveal smooth, baby-soft feet.
Seriously, your feet will be unrecognizably supple after using this mask.
16/32
Essence Cosmetics Lash Princess False Lash Effect Mascara
This is one of the best mascaras that Amazon (or any store, for that matter) has to offer. Don't let its $5 price tag fool you: This best-selling Amazon beauty product has thousands of sparkling reviews for its lengthening and volumizing formula.
17/32
OPI Nail Envy Nail Strengthener
Nails keep breaking? Ugh, that's the worst. OPI's Nail Envy puts a stop to it with this clear coat that contains hydrolyzed wheat protein and calcium to help them grow longer and stronger.
18/32
Neutrogena Makeup Remover Facial Wipes (2-Pack)
Neutrogena's makeup-remover wipes are a must-have for days when you're feeling too lazy to do a full skincare routine. They're a best-selling Amazon beauty product, and way cheaper than buying them at the drugstore.
19/32
Bioderma Sensibio H2O Micellar Cleansing Water
Another quick and painless way to remove makeup? With Bioderma's micellar water. This best-selling Amazon beauty product is a cult-favorite option (opens in new tab)that's a staple at French pharmacies.
20/32
St. Tropez Self Tan Bronzing Mousse
A natural glow is possible in any season with St. Tropez's self tanner. A best-selling Amazon beauty product for its streak-free formula, the brand's classic mousse goes on easy, doesn't smell weird, and lasts for up to 10 days.
21/32
BaByliss Pro BABNT053T Nano Titanium Travel Dryer
Because hotel hair dryers are the worst, we love this travel dryer that's just as powerful as a full-sized version, and it fits in the palm of your hand.
22/32
Burt's Bees Moisturizing Lip Shimmer
On busy days, we swear by tinted lip balm (opens in new tab)—because unlike a bold lipstick, it doesn't need constant touch-ups. Burt's Bees is a favorite because it's both hydrating and has a fun touch of shimmer.
23/32
ORIBE Dry Texturizing Spray
It's a sad day in our beauty routine when Oribe's Dry Texturizing Spray bottle runs empty. This stuff is a hairstyling essential.
This best-selling Amazon beauty product volumizes and thickens while adding hold and allover gritty texture. Sometimes we spray it at the roots in place of dry shampoo (opens in new tab), sometimes we spray it all over strands after curling instead of hairspray, and sometimes we combine it with both, depending on the look we're going for.
24/32
L'Occitane 20% Shea Butter Hand Cream
You can't go wrong with this hand cream from L'Occitane. The formula gives moisture back to dry hands with shea butter, honey, almond extracts, and coconut oil. Most importantly, it doesn't leave a greasy residue behind.
25/32
ELEMIS Pro-Collagen Marine Cream
Clinically proven to erase wrinkles and backtrack to beautiful skin, we can attest that Elemis Pro-Collagen cream is worth its price point. Apply over the course of 15 days, and this fast-action, anti-aging formula will have your skin tightened and toned.
26/32
Stila One Step Color Correct Primer
We love a multitasking product, because who doesn't want to cut steps from their routine? This primer from Stila does more than just prep your skin for makeup—it neutralizes redness, brightens, and hydrates.
27/32
Colorescience Sunforgettable Mineral SPF 50 Sunscreen Brush
Need to reapply your SPF mid-day? Once you're wearing foundation, it's just a recipe for a mess. That's why we're obsessed with this powder sunscreen. Just brush it on like a setting powder for a fresh layer of sun protection that won't interfere with your makeup.
28/32
Wunderbrow 1-Step Brow Gel
Thousands of reviewers swear by this brow gel. This best-selling Amazon beauty product transforms arches by adding definition and fullness. You won't have to worry about smudging; the formula is completely waterproof, and can last for up to three days.
29/32
DHC Deep Cleansing Oil
This cult-classic product from DHC is the first step in double-cleansing, a popular J-beauty technique (opens in new tab). It removes every trace of makeup, perfectly prepping your skin to be properly cleansed by your face wash of choice.
30/32
NEOCUTIS Lumière Bio-restorative Eye Cream
An eye cream is an essential part of your skincare routine. This one from Neocutis uses PSP (processed skin cell proteins) that was discovered through research in wound healing, and it plumps up skin and diminishes fine lines.
31/32
FOREO LUNA 2 Personalized Facial Cleansing Brush
Foreo's face cleanser tool makes skin super soft by removing dirt, oil, and leftover makeup, but our favorite part is that it's made entirely of silicone, so there are no expensive brush heads to replace. There are four types to choose from—normal, oily, sensitive, and combination—so it's like having bristles that are personalized to your skin.
32/32
Ella Sussman 'This Bag Contains My Face' Makeup Bag
OK, so this one is probably in the "want" versus "need" category, but we still love it. Beyond this makeup bag's cheeky design, it's pretty spacious and has plenty of room for all of your favorite cosmetics.
Ashley is the beauty and style editor at BestProducts.com, and her work has been featured on Cosmopolitan and Town and Country. She has an obsession with designer handbags, Liberty prints, 1960s fashion, and owns more shoes than she's willing to admit. She's been using her learnings from owning a boutique and her shopping addiction for good since 2015. She'll never accept that black isn't a color. Away from the computer, you'll likely find the Texas native binging on a British period drama or theorizing over Game of Thrones. She has yet to find a real cup of queso in NYC.