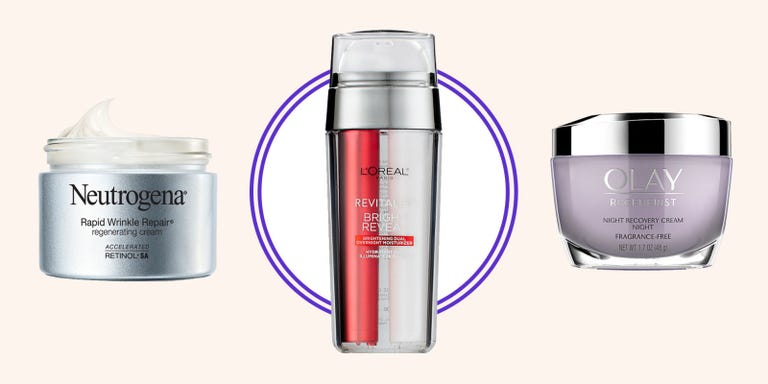 In an ideal world, we would all embrace and love our every bump, blemish, line, and scar. And we would also hold hands and run through grassy meadows in white cotton dresses and never feel bad about anything ever again.
But, alas, this is real life. And the reality is, many of us would very much like to stave off signs of aging for as long as possible—ideally also in the laziest, easiest of ways. Which is where anti-aging face creams come in: Filled with line-plumping humectants and collagen-increasing retinoids, these all-in-one formulas brighten, tighten, and hydrate skin, while you do virtually nothing but eat and sleep.
And, surprisingly, some of the very best over-the-counter formulas are actually found at the drugstore, with intensely-tested, science-backed formulas that really, truly work. Of course, some still stand out from the rest, and these five anti-agers, ahead, are the best in their league by far.
For finely lined skin that's dry and bumpy…
This ain't your grandmother's face cream—or, okay, it might be, but we're betting she looks really excellent, then. The cult-favorite formula is loaded with AHAs (alpha hydroxy acids) and collagen, leaving skin smoother, brighter, and firmer with consistent use.
Pond's Rejuveness Anti-Wrinkle Cream, $8
BUY IT: amazon.com.
For skin that's dull, blah, and spotted…
This dual-chambered night moisturizer is actually magical: It contains a hefty dose of vitamin C, which brightens skin and fades dark spots, glycolic acid, which exfoliates rough complexions on a cellular level, and retinol, which speeds up collagen production and turns your face into that of a cherub.
L'Oreal Paris Bright RevitaLift Bright Reveal Overnight Moisturizer, $11
BUY IT: amazon.com.
For "normal" skin with deep-set wrinkles…
What this little jar of cream lacks in appearances, it completely makes up for with a kickass formula. Filled with retinol, retinol-boosting ingredients, and hyaluronic acid, this silky cream gives you both immediate and long-term line-softening results.
Neutrogena Rapid Wrinkle Repair Regenerating Cream, $24
BUY IT: amazon.com.
For sensitive skin that's dry and crepe-y…
Though it's the most expensive drugstore option in the bunch, this intensely hydrating cream is worth the extra few bucks, thanks to its huge dose of line-smoothing amino peptides, which help build collagen in the skin, without being as irritating as retinol.

Olay Regenerist Night Recovery Cream, $30
BUY IT: amazon.com.
For oily skin that's starting to crease and sag…
Most anti-aging creams can feel heavy on your face, but this serum-laced moisturizer melts into your skin within a minute of massaging it on, while the vitamin E and retinol work to soften wrinkles.
Garnier SkinActive Ultra-Lift 2-in-1 Serum + Moisturizer, $13
BUY IT: amazon.com.