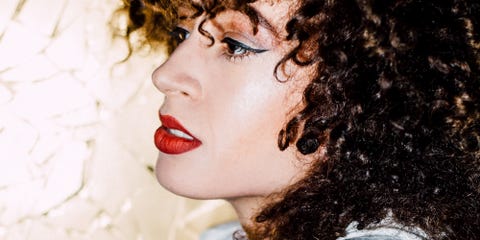 Here's a short list of things I hate: 1. smudged eyeliner. Yes, that's my entire list, because (almost) nothing frustrates me more than seeing my meticulously applied eyeliner melt beneath my lashes or leave a stamp of black across my lids by noon.
And if you know the marks aren't from your crappy mascara (try wearing your mascara sans eyeliner one day to make sure), and you've already tried this full-proof trick that keeps eyeliner from sliding, then you, my friend, have a bad product. Luckily, I've tested virtually every liner in existence and have compiled a definitive list of the best gel formulas that stay put all day long. Find your new favorite, ahead.
For Thin and Precise Lines...
Hourglass 1.55mm Mechanical Gel Eyeliner in Ocean Floor, $18
If you're looking for a super-precise flick, enlist the help of Hourglass' crazy-thin tip (1.55mm, to be exact). The waterproof formula has legit staying powers (even on naturally oily lids) and comes in five rich hues, like this steel blue.
For Jet-Black, Perfect-Looking Lines...
Bobbi Brown Long-Wear Gel Eyeliner in Caviar Ink, $27
There's a reason eyeliner pots lose the popularity contest to pencil liners: Painting on your eyelid with a brush requires skill and patience that, frankly, most of us don't have.
But trust me when I say that this cult-favorite eyeliner is worth the makeup lesson, since its hyper-pigmented and long-lasting formula won't budge until you want it to.
For Basic, I-Barely-Understand-Makeup Lines...
Revlon ColorStay Eyeliner in Black Brown, $5
This drugstore staple has been one of my go-to liners since the early aughts, thanks to its skinny tip and creamy formula—a combination that makes for smooth, precise strokes that never skip or tug.
For Subtle, Eye-Brightening Lines...
Marc Jacobs Beauty Highliner Gel Eye Crayon Eyeliner in Obey-Ge, $25
I'll be the first to admit that black eyeliner makes for the most striking eye look, but with a whopping 32 colors (20 bright, shimmery hues and 12 classic mattes), Marc Jacobs' gel liners make a solid case for trying something different. Plus, each crayon is loaded with skin-soothing ingredients, like vitamin E and wild rose extract, to keep your lids—and liner—from drying out.
For Truly Easy Cat Eyes...
The Vamp Stamp with Vink Eyeliner Ink + Verge Angle Brush, $38
Mastering the perfect cat eye–or, honestly, any cat eye—is super freaking difficult. So when I heard about The Vamp Stamp, a gel pot and stamp duo that's supposed to make winged liner easy for beginners, I was down to try the gimmick.
And surprisingly, it's awesome: Just dip the V-shaped stamp (which comes in three sizes) into the pot of liner, press it on the outer corner of your eye, trace the rest of your lid with liner, and boom—the perfect wing.