#BigLipstickEnergy: The 3 Lip Products I'm Obsessed With Right Now
"What lip is that?" A professional lipstick critic reveals all.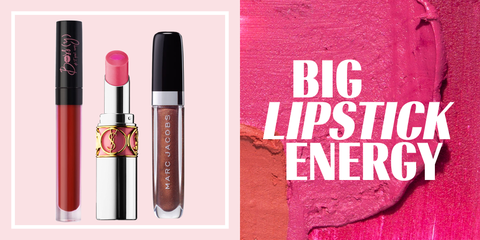 Design By Morgan McMullen
I'm a serial lipstick dater. So many lip products slide onto my desk. Some I double-tap and have all the heart eyes for. Others I ghost and leave on seen. This is #BigLipstickEnergy, an honest breakdown of how I feel about the latest lip launches. Read on for the three lipstick flings I'm keeping in rotation for now. Next week, I'll have a new roster.

This Golden, Bronzey Gloss
Enamored Hi-Shine Lip Lacquer Lipgloss in Get Lucky
Marc Jacobs Beauty
sephora.com
$28.00
THE DETAILS:
Listen, no lip gloss shines brighter than this one. The brand created a unique "Triple Shine Complex," which is a combination of ingredients that Marc Jacobs Beauty promises delivers the look of "30 coats of lacquer" to your lips. I can attest to this claim—the shine is practically blinding. And I can't get over how plump it makes my lips look.
WHY I'M OBSESSED:
My alter ego-slash-favorite rapper, Megan Thee Stallion, is the creator of the viral phrase "Hot Girl Summer" and recently defined exactly what it means on her Instagram: "Being a Hot Girl is about being unapologetically YOU, having fun, being confident, living your truth, being the life of the party, etc." This gloss makes me feel like the epitome of a Hot Girl. It's a deep bronze shade with iridescent specks of golden glitter. It's equal parts subtle and sexy, and truly a standalone shade that doesn't need much else to make a statement. I wore the gloss to the beach on Sunday—which was a 99-degree day—and after wearing it for hours, I snapped a beach selfie, and let's just say my DMs were popping (wink wink).


This Bright Berry Balm
Volupté Tint-in-Balm in 12 Try Me Berry
Yves Saint Laurent
yslbeautyus.com
$23.00
THE DETAILS:
If you can't seem to escape chapped lips, praise be for this luxurious balm. A few glides will impart long-lasting moisture and a sheer pop of color. With the help of hydrating jojoba oil and apricot butter, this balm will have your lips feeling as soft as fresh silk sheets. If you look closely, each bullet has a lip shade in the middle, which holds all the moisture. The outer area is where the vibrant color lies, leaving behind a gorgeous wash of color. So cute, right!?
WHY I'M OBSESSED:
I went to North Carolina last Friday for an outdoor wedding, and, y'all, it was 98 degrees. So many of my sorority sisters were in attendance, which meant 1,001 pictures were going to be taken. I wasn't willing to risk a vivid matte texture in the sweltering heat, so I relied on this hybrid of a lip balm and lipstick. It made my lips feel incredibly nourished and kept me completely covered me in the color department. This bright berry made my smile look so white in photos. And the opulent packaging made for a gorgeous accessory to carry in my clutch.

The Perfect Summer Red
Luscious Matte Lipstick in Ruby
Bossy Cosmetics
bossylipstick.com
$12.00
THE DETAILS:
Time: Who has it? I can't even think of when I last used a lip liner in the morning. In an ideal world, I'd prep my lips with liner before applying a matte liquid lipstick, but life just isn't set up that way. The pointed applicator of this liquid lipstick makes precisely outlining my lips a breeze. I fill in the rest of my mouth in 10 seconds flat because this is gorgeously pigmented. The velvety texture dries down in another 10 seconds, and doesn't move. I'll always vouch for a long-lasting liquid lipstick I can apply in 30 seconds or less.
WHY I'M OBSESSED:
Besides the fact that I'm in love with the orangey-red hue, which is perfect for off-duty activities (i.e. a boozy brunch or a day party), the charitable mission of this brand is what really drew me in. Bossy Cosmetics is committed to uplifting young girls and women worldwide. The proceeds of every purchase are donated to a charitable organization for women. A lipstick that gives back is the type of beauty product I can get behind.
...
For more stories like this, including celebrity news, beauty and fashion advice, savvy political commentary, and fascinating features, sign up for the Marie Claire newsletter.
This content is created and maintained by a third party, and imported onto this page to help users provide their email addresses. You may be able to find more information about this and similar content at piano.io