#BigLipstickEnergy: The 3 Lip Products I'm Obsessed With Right Now
"What lip is that?" A professional lipstick critic reveals all.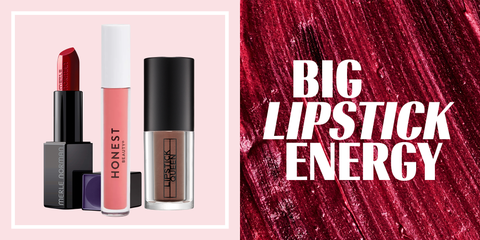 Design by Morgan McMullen
I'm a serial lipstick dater. So many lip products slide onto my desk. Some I double-tap and have all the heart eyes for. Others I ghost and leave on seen. This is #BigLipstickEnergy, an honest breakdown of how I feel about the latest lip launches. Read on for the three lipstick flings I'm keeping in rotation for now. Next week, I'll have a new roster.

The Most Comfortable Matte
Liquid Lipstick
Honest Beauty
target.com
$14.99
THE DETAILS:
I'm all about giving credit where it's due, and the truth is Jessica Alba's advocated for "clean beauty" before it became a big trend. In all honesty, it's hard to find a clean liquid lipstick that actually delivers and checks these boxes: hydrating, pigmented, with staying power. Alba whipped up magic with this matte liquid lipstick, which is full of hyaluronic acid and avocado oil to nourish your lips and keep dryness at a distance. To top it off, it won't move all day and the flexible-feeling formula is so weightless that you'll forget it's there.
WHY I'M OBSESSED:

It's a goal of mine to make more conscious choices with my beauty products. I care a lot about lipstick looking good (don't we all!?!), but I also want to feel good about what I'm putting on my body. The 100-percent clean ingredient list in this formula makes that easy, plus I don't have to settle for a subpar outcome, which is an issue I've come across with other "natural" lip products. This vivid pink shade is bright and bold, ideal for a fun, mid-week happy hour. It goes on shiny, but give it thirty seconds to dry down to a comfortable matte.

The '90s Shade of Your Dreams
Lipdulgence Lip Powder in Brown Sugar
Lipstick Queen
ulta.com
$24.00
THE DETAILS:
I'd never tried a "lip powder" before picking up this, and no lie, it's just as cool as it sounds. It's a semi-matte loose powder that leaves behind a semi-matte color. It's hard to describe what your lips will feel like with this on, but the brand's own characterization is pretty spot-on: "reminiscent of powdered sugar." It has a barely-there feel, with a gorgeously pigmented powder-to-cream finish. You just gotta try it for yourself.
WHY I'M OBSESSED:

Admittedly, actress Nia Long's iconic brown lipstick in my favorite movie, Love Jones, is a color I'm always down to recreate on myself, and this diffused brown gives me that nostalgic vibe. It's the perfect nude for my deep skin tone to wear everywhere, and I'm obsessed with its dusty, diffused effect. My favorite part about this powder is the application process. There's something truly satisfying about watching the powder transform into a creamy, semi-matte finish on my lips. When I'm feeling adventurous, I reach for this.

•••
For more stories like this, including celebrity news, beauty and fashion advice, savvy political commentary, and fascinating features, sign up for the Marie Claire newsletter.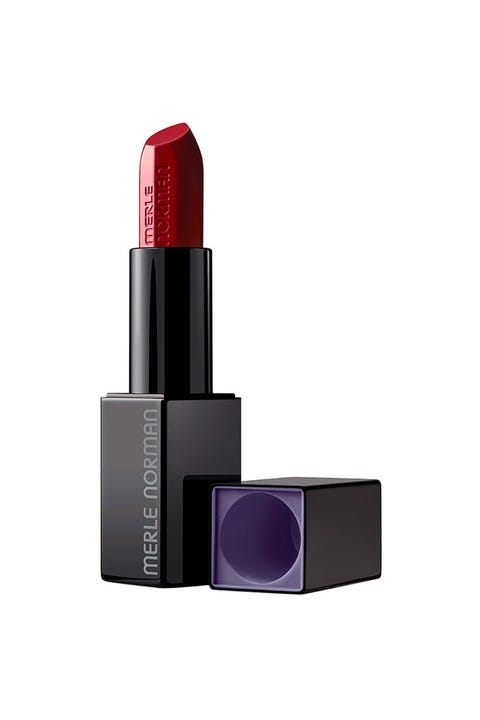 Merle Norman Plush Lipstick in Power Play
THE DETAILS:
"Satin" lipsticks used to scare me away because I assumed they wouldn't stay put and would end up smearing all over the place. The last thing I want is to look like a hot mess when I'm relying on lipstick to help me feel put-together. However, this plush satin formula made me a believer. The incredibly moisturizing blend of hyaluronic acid, vitamin F, and shea butter feels nice and pillowy, so yes, you may get addicted to applying it. And, to my surprise, the satin texture does not bleed or feather throughout the day.
WHY I'M OBSESSED:
I preach the gospel that red lipstick wins hearts. A bold red lipstick is my lucky charm—the signature shade I wear on job interviews, first dates, celebrity interviews, you name it. Once you find the one that works for your skin tone, it guarantees a compliment every time, promise. For dark skin tones, I recommend a blue-based red like this gem. In one glide, it'll coat your lips in an unapologetic scarlet shade that will make everyone do a double-take. And, the name "Power Play" is perfect—this color makes me feel like the ultimate boss.
This content is created and maintained by a third party, and imported onto this page to help users provide their email addresses. You may be able to find more information about this and similar content at piano.io