#BigLipstickEnergy: The 3 Lip Products I'm Obsessed With Right Now
"What lip is that?" A professional lipstick critic reveals all.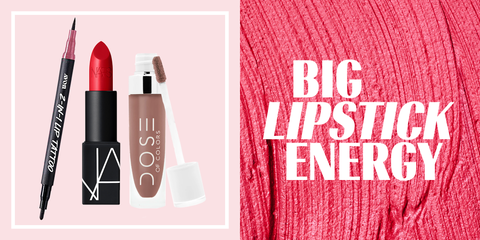 I'm a serial lipstick dater. So many lip products slide onto my desk. Some I double-tap and have all the heart eyes for. Others I ghost and leave on seen. This is #BigLipstickEnergy, an honest breakdown of how I feel about the latest lip launches. Read on for the three lipstick flings I'm keeping in rotation for now. Next week, I'll have a new roster.

The Most Powerful Red
Matte Lipstick in Inappropriate Red
NARS
narscosmetics.com
$26.00
THE DETAILS:
To celebrate 25 years of NARS, the brand dropped 60 new lipsticks—their most extensive shade range to date. So, there's definitely a shade for you. This matte blue-based red stands out to me the most. Hand me a comfortable matte lipstick, I'll commit to it for a while. Hand me a comfortable matte red lipstick, I'll commit to it forever. The passion fruit seed oil and moringa seed oil keep this formula hydrating and rich with bold color.
WHY I'M OBSESSED:
I've fallen for this shade, and I can't get up. Seriously, it's so ::insert curse word:: good. It's one of those universal "poppy" reds, as the brand describes it, that looks good on everyone. At the NARS launch event, so many women with different skin tones wore this bright, cherry apple shade and looked amazing, powerful, and fierce. It's my new favorite mood-boosting red, because it makes me feel like the ultimate boss.

The Coolest Nude
Lip Gloss in That's Cool
Dose Of Colors
ulta.com
$17.00
THE DETAILS:
An easy gloss will hold you down when the going gets tough. Oh, and when the sun is melting your face off during your morning commute and you can't even bother with a matte formula. This gloss is made from the recipe for success: highly-pigmented, goes on super-smooth, and stays shiny for hours.
WHY I'M OBSESSED:
Coming across as a cool, mauve, "nude" that doesn't make my lips look ashy as hell is hard. Usually nude lip colors have warm tones, but this guy has cool, grey undertones, which is a unique departure. I love pairing this gloss with a deep brown liner like MAC Lip Pencil in Chestnut ($18) to make the shade stand out even more on my deep skin tone.

The Lipstick You'll Never Have to Reapply
2-in-1 Lip Tattoo in Pinup Plum
THE DETAILS:
Don't let the "Lip Tattoo" name scare you away—if anything, it should excite you, because you'll never have to worry about your lipstick smudging with this "semi-permanent" formula. The staying power of this shade is not up for debate. Use the skinny felt tip to line your lips and color in the rest with the other side.
WHY I'M OBSESSED:
I can't think of the last time I've not had to touch-up a deep berry lip color. Usually, the shade is unforgiving—a high-maintenance hue that looks like a hot mess blotchy or faded. This lip stain, though, has changed everything. It's essentially a permanent marker for my lips, which is what my 12-hour days need. Any lip color that looks perfect after three coffees, breakfast, lunch, and dinner deserves a standing ovation. Plus, this wine-colored hue is a pregame for fall.
This content is created and maintained by a third party, and imported onto this page to help users provide their email addresses. You may be able to find more information about this and similar content at piano.io