#BigLipstickEnergy: The 3 Lip Products I'm Obsessed With Right Now
"What lip is that?" A professional lipstick critic reveals all.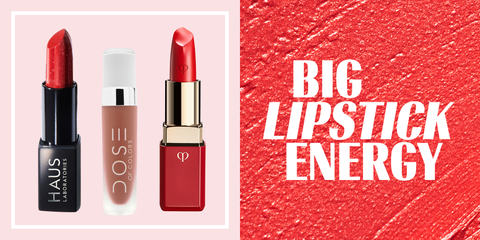 Design By Morgan McMullen
I'm a serial lipstick dater. So many lip products slide onto my desk. Some I double-tap and have all the heart eyes for. Others I ghost and leave on seen. This is #BigLipstickEnergy, an honest breakdown of how I feel about the latest lip launches. Read on for the three lipstick flings I'm keeping in rotation for now. Next week, I'll have a new roster.

A Sparkly Red
Sparkle Lipstick in Burlesque
Haus Labs
hauslabs.com
$20.00
THE DETAILS:
Like the rest of the world, I want Lady Gaga to tell me all her beauty secrets. But I'll take her Gaga-backed beauty products for now. Especially if she's bringing the festive heat like this every Christmas. Gaga is serving us lustrous sparkle, and I'm so here for it. This vegan formula is creamy, pigmented, and extra—an extra lipstick only divas will appreciate. It offers an elevated approach to glitter with a surprisingly subdued sparkle. More importantly, you're bound to have a good time when wearing this.
WHY I'M OBSESSED:
Any lipstick inspired by a burlesque show sounds like my kinda lipstick. What I love about this blue-based red is the added sparkle isn't what I was expecting. A lot of glitter lipsticks have launched in the past month and most of them have a very loud, out-there, obnoxiously glittery finish. These sparkles, on the other hand, settle into the lips in a more understated way. It's a red with a mystique that'll make you do a double-take at your own reflection in the mirror. And then tell yourself: Girl, you look good.

A Shade-Inclusive Neutral
Liquid Matte Lipstick in Nude Mood
Dose of Colors
doseofcolors.com
$18.00
THE DETAILS:
If you want a ride-or-die liquid lipstick that'll hang on for dear life, you need to try Dose of Colors. It's a matte that's in it for the long haul, meaning it won't smear, feather, or dry out your lips. It seriously stays put. The texture dries down to a cozy matte in about two seconds and then lasts all day. The brand just added a "Nude Mood" to its lineup of colors. Because, truthfully, how many nude lip colors is too many nude lip colors? The limit does not exist.
WHY I'M OBSESSED:
I've been stanning Dose of Colors liquid lipsticks for years, for all the reasons I mentioned above. So, each time the brand comes out with a new color I'm amped to try it. "Nudes" are a hit or miss for me if we're being honest. They can either be too beige, chalky, or ashy for my deep skin tone. This taupe tone is an inclusive hue that spans the spectrum of complexions it will work on, and I'm a tough critic and don't take that lightly. Creating a nude that works on a diverse range of skin tones is no small feat, so I'm always eager to praise the brands that get it right.

A True Red
Cashmere Lipstick in Red Passion
Clé de Peau
nordstrom.com
$65.00
THE DETAILS:
Instead of bothering with that extra (and annoying) step of applying a balm to prep and prime your lips before a bold lip color, use this hydrating lipstick instead. It's made with moisturizing ingredients that'll keep dryness at a distance. Just think about how blissful those four hours—which is how long the brand promises hydration—will feel on your chapped-free lips. Texture and color-wise, this has a soft matte finish fit for whoever can get down with a true red.
WHY I'M OBSESSED:
Lip liner—what's that? Okay, I'm obvi joking, but the truth is sometimes my patience is too thin and I just can't with liner. I was having a day where I wished I could simply snap my fingers, then boom, my lipstick would be on like magic. So, this petal-shaped bullet that seamlessly lines and fills in the contours of my lips came in clutch (no liner necessary). This gorgeous holiday packaging only comes around once a year and packs a bright cherry red punch. Go ahead and gift yourself for once.
For more stories like this, including celebrity news, beauty and fashion advice, savvy political commentary, and fascinating features, sign up for the Marie Claire newsletter.
This content is created and maintained by a third party, and imported onto this page to help users provide their email addresses. You may be able to find more information about this and similar content at piano.io