#BigLipstickEnergy: The 3 Lip Products I'm Obsessed With Right Now
"What lip is that?" A professional lipstick critic reveals all.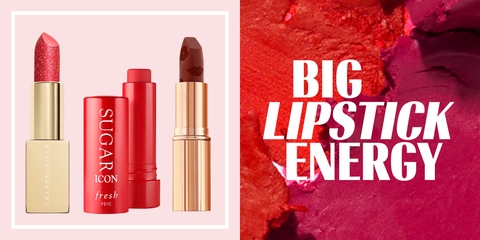 Design By Morgan McMullen
I'm a serial lipstick dater. So many lip products slide onto my desk. Some I double-tap and have all the heart eyes for. Others I ghost and leave on seen. This is #BigLipstickEnergy, an honest breakdown of how I feel about the latest lip launches. Read on for the three lipstick flings I'm keeping in rotation for now. Next week, I'll have a new roster.

This Ultra-Hydrating Lipstick
Sugar Lip Treatment Sunscreen SPF 15
THE DETAILS:
The hyped balm is known as one of the best in the biz for several reasons: Its highly nourishing oils and moisturizing sugar formula will shield you from winter's woes. What's even better is that the brand just introduced this brightly pigmented shade for red lip lovers. The "new red in town," as Fresh calls it, is formulated for all skin tones.
WHY I'M OBSESSED:
At this point, I've talked about my red lip obsession a million and one times. And this bright red balm is my new infatuation. It's a shame how chapped my lips get as soon as the temp drops; this saves my lips from peak dryness while adding a touch of color. During the day, I wear one glide for a subtle, red popsicle effect. In the evening, I double up on the swipes for a more vivid wash of cherry red.

This Sophisticated Sparkle
Lip Cristal Lipstick in Garnet
Chantecaille
nordstrom.com
$51.00
THE DETAILS:
I could simply marvel at how pretty this lipstick is, but there's definitely more than what meets the eye. This glitter free-formula is made with luminous pearl pigments for a "sophisticated holiday sparkle." A luxury lipstick at its finest.
WHY I'M OBSESSED:
Something sparkly in sleek gold packaging is my lipstick love language. The way this pearl-infused, bright red shade reflects light literally brightens up gloomy days. I'm not a fan of too much sparkle (brings me back to my middle school beauty days); this gem is one step up from my sparkly Lip Smacker gloss. It shines just enough with a creamy, bold finish that feels comfortable on the lips. Consider this $51 purchase worth it.

This Deep Cherry Shade
Matte Revolution Lipstick
Charlotte Tilbury
nordstrom.com
$34.00
THE DETAILS:
Have you ever seen a lip print design done so beautifully? I think not. This will 100-percent steal the show on your vanity. Once you're done taking a hundred photos of it for your IG story, you need to actually try this rich berry shade. The Charlotte Tilbury team is calling it "The Little Black Dress" for lips, deeming it an essential for holiday season—and honestly every season.
WHY I'M OBSESSED:
To keep it real, I haven't worn this lipstick that much—only a few tines. It's just TOO PRETTY. Once I actually allowed myself to use it, I was wowed by the way the wine-colored shade popped so gorgeously against my dark skin.
•••
For more stories like this, including celebrity news, beauty and fashion advice, savvy political commentary, and fascinating features, sign up for the Marie Claire newsletter.
This content is created and maintained by a third party, and imported onto this page to help users provide their email addresses. You may be able to find more information about this and similar content at piano.io