#BigLipstickEnergy: The 3 Lipsticks I'm Obsessed With Right Now
"What lip is that?" A professional lipstick critic reveals all.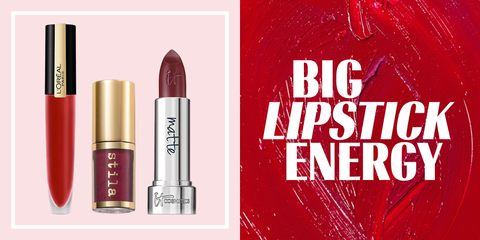 Design By Morgan McMullen
I'm a serial lipstick dater. So many lip products slide onto my desk. Some I double-tap and have all the heart eyes for. Others I ghost and leave on seen. This is #BigLipstickEnergy, an honest breakdown of how I feel about the latest lip launches. Read on for the three lipstick flings I'm keeping in rotation for now. Next week, I'll have a new roster.

This *Comfortable* Lip Plumper
Pillow Lips Lipstick in Lights Out
IT cosmetics
itcosmetics.com
$24.00
THE DETAILS:
You can choose from 14 shades and two textures, matte or cream, in this new and inclusive range of lipsticks from IT Cosmetics. And trust that the formula will make your lips feel hydrated while looking healthy and plump. Made with jojoba, peppermint, and vitamin E oil, the lipsticks deliver an intense color pay-off without sacrificing moisturizing benefits. Plus, the hyaluronic filling spheres and collagen help smooth fine lines and give you fuller-looking lips.
WHY I'M OBSESSED:
I've been blessed by the lip gods with naturally plump lips. But I'm an extra millennial who is down to try a lipstick with *safe ingredients* that can help my lips look even more juicy. This matte formula doesn't skimp on hydration and gives my lips the perfect pouty effect I crave for selfies, without the stinging or irritation that results from harsh lip-plumping ingredients found in other products. Color-wise, I'm a '90s baby and love the way this sultry mahogany hue looks on my deep skin tone. It makes me feel like Nia Long in Love Jones.

This Blinding Gloss
Shine Fever Lip Vinyl in Supercharge
Stila
stilacosmetics.com
$7.20
THE DETAILS:
This is not a sheer, swipe-forever-because-it-lasts-for-two-seconds, sticky lip gloss, by any means. Actually, it leaves behind a gorgeous, glass-like, reflective sheen—without whole lot of strokes or work needed to achieve a full-coverage finish, something lazy girls (like me) will love. That's because it's made of pure pigment flakes of natural esters, which guarantee a vivid wash of color.
WHY I'M OBSESSED:
Tacky lip glosses bring up bad middle school memories for me, and I'd rather keep those in the past now that I'm a 27-year-old woman. Instead, this coats my lips in a vinyl-like veil of hydration that lasts for hours on end. This magenta hue is brighter than the typical berry tones I go for, but I'm into it.

The Red You Never Knew You Needed
Rouge Signature Empowe(reds) in Empowered
L'Oréal
lorealparisusa.com
$11.99
THE DETAILS:
This one goes out to all my fellow red lipstick lovers: L'Oréal is here to feed our obsession with a line of eight new universal red shades. You've probably tried this cult classic lipstick before and know that it's non-drying and lasts all damn day—you'll forget it's there! And on this holiday, let me just say: Joy to the world for more red shades that are festive, inclusive for all skin tones, and definitely all different. (Red is a dynamic color that cannot be boxed in, okay!!!)
WHY I'M OBSESSED:
I never receive more compliments than when I'm wearing a baller red lipstick. This blue-based hue is a true red that jumps out on my complexion and makes me feel so confident. So, no, I'll never turn down an amazing $12 lipstick, and, actually, I'd have no problem buying this for myself again and again. And you shouldn't either. Go snag this perfect stocking stuffer right now if you want to make every woman in your life happy, but do your best to not hoard every shade for yourself.
•••
For more stories like this, including celebrity news, beauty and fashion advice, savvy political commentary, and fascinating features, sign up for the Marie Claire newsletter.
This content is created and maintained by a third party, and imported onto this page to help users provide their email addresses. You may be able to find more information about this and similar content at piano.io