Editors handpick every product that we feature. We may earn commission from the links on this page.
#BigLipstickEnergy: The 3 Lipsticks I'm Obsessed With Right Now
"What lip is that?" A professional lipstick critic reveals all.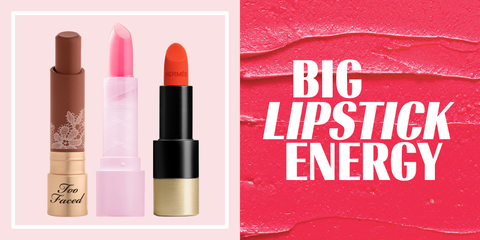 I'm a serial lipstick dater. So many lip products slide onto my desk. Some I double-tap and have all the heart eyes for. Others I ghost and leave on seen. This is #BigLipstickEnergy, an honest breakdown of how I feel about the latest lip launches. Read on for the three lipstick flings I'm keeping in rotation for now. Next week, I'll have a new roster.

A Boujee Beauty Purchase
Rouge Hermès, Matte lipstick, Rouge Orange
THE DETAILS:
Hermès Birkin bag lovers, rejoice, because now you can experience ultimate luxury in lipstick form with 24 colors to choose from. Ten of the lipsticks come in a velvety matte texture, while the remaining 14 have a soft satin finish. To top off the brilliance, the brand is making a powerful statement with eco-friendly packaging featuring a refillable and plastic-free tubes. Luxury, but make it sustainable—more of this in 2020, please.
WHY I'M OBSESSED:
Some lipsticks you wear, and others are simply collectibles. This collection is certainly the latter, but I'll bite the bullet (not literally) and wear the hell out of this vivid shade because spring is calling my name and this coral color suits the season. It has a soft matte texture and it's a mix between a bright orange and red hue: "the fire of vermilion and scarlet" is how Hermès describes it. All I know is, it looks fire and this lipstick is helping me manifest my starter pack for the many Birkin Bags I'll own one day.

A Dry Lips Savior
Watermelon Glow Lip Pop
Glow Recipe
sephora.com
$22.00
THE DETAILS:
Glow Recipe is blending the best of both worlds together with their latest launch, lip pop, a skincare-makeup hybrid of a lip product that bids dry lips adieu. Scratch a two-in-one—it's a three-in-one lip scrub, balm, and tint making it the ultimate do-it-all product to join my collection. Made with watermelon extract, coconut, and flower-derived AHA, it gently exfoliations, hydrates, and nourishes the skin leaving behind a pink tint that reacts to each skin tone's unique PH level.
WHY I'M OBSESSED:
When I forget to exfoliate my lips with a scrub, which is quite often, I suffer from dry, cracky, chapped, not-cute lips. This has been a recent lifesaver because it literally does everything for my lips. When I glide it back and forth, I feel the soft coconut flower sugar exfoliating my lips ever-so-slightly to shed layers of dry skin. But I don't have to rinse it because it imparts a silky balm-like tint of pink that's customizable to any complexion. On me, it looks rosy but it'll look different on you. Did I mention that it's only $22?

A Few Nudes
Natural Nudes Full Size Lipstick Trio
TOO FACED
nordstrom.com
$32.00
THE DETAILS:
There's no such thing as one perfect neutral and now you can mix and match three thanks to this trio. You can use this three-pack of nudes as you please. Blended in each bullet is coconut butter, so there's no shortage of moisture that comes with a satisfying coconut scent you may or may not get addicted to. If you have a long day ahead of you, give this eight-hour claim a test drive and report back.
WHY I'M OBSESSED:
Weirdly, my lips change colors throughout the seasons. In the winter, they're very pale so I'm partial to swapping out shades as the temperatures change. In short, no neutral on me looks the same and I'm all about layering, which I've been having fun doing with this trusty trio. I've been interchanging the muted petal pink hue with the chocolate taupe and loving the results. Plus, when it comes to hydration, the coco butter is the best thing to happen to my lips when it feels like Antartica outside.
•••
For more stories like this, including celebrity news, beauty and fashion advice, savvy political commentary, and fascinating features, sign up for the Marie Claire newsletter.
This content is created and maintained by a third party, and imported onto this page to help users provide their email addresses. You may be able to find more information about this and similar content at piano.io