Editors handpick every product that we feature. We may earn commission from the links on this page.
#BigLipstickEnergy: The Cult Classics Edition
While you're at home organizing your vanity, don't forget about these oldies-but-goodies.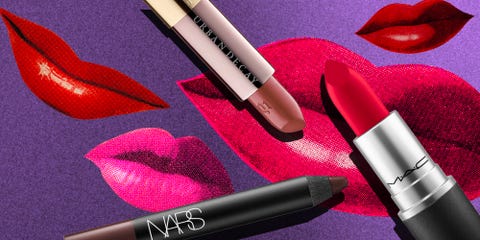 I'm a serial lipstick dater. So many lip products slide onto my desk. Some I double-tap and have all the heart eyes for. Others I ghost and leave on seen. This is #BigLipstickEnergy, an honest breakdown of how I feel about the latest lip launches. Read on for the three lipstick flings I'm keeping in rotation for now. Next week, I'll have a new roster.

Matte Lipstick in Ruby Woo
Mac Cosmetics
nordstrom.com
$19.00
THE HISTORY:
MAC created its most iconic red shade in 1999, and my lips haven't been the same since. It's the first red lipstick I ever owned—a high school purchase that gave me the grown woman fix my teenage self was searching for. It's legitimately the lipstick in my massive red lip collection I've been wearing the longest. But I'm a small fish in the ruby woo lipstick lovers pond: Ruby Woo was named the best-selling lipstick in the country in 2016, and makeup artists, celebs—Tracee Ellis Ross and I bonded over our shared love of Ruby Woo—and women everywhere call this shade their end-all-be-all. It's just that good.
WHY I'M OBSESSED:
I love how bright, poppy, and in-your-face this red is, especially on my skin tone. But it doesn't just look good on me; it's praised as the most universally-flattering red for a reason: The blue undertone of this cherry red hue magically complements every complexion and will make your teeth look so white. The texture is super-matte and will stay put for up to eight hours. Be sure to thoroughly hydrate your lips beforehand to avoid dryness. The velvety red finish definitely lives up to its reputation.

Urban Decay
urbandecay.com
$19.00
THE HISTORY:
Did you know that nude lipsticks make up on-third of all global lipstick sales? According to Byrdie, this neutral hue is the most popular in the U.K., where nude lipsticks actually contribute to more than half of all lipstick sales. My heart must also be in London because this is one of the first nude lipsticks I found that flatters my deep skin tone. There was once a time when "nudes" were viewed as one-shade-fits-all. After many trips back and forth down the drugstore makeup aisle and time spent at department store beauty counters, I started to give up on finding the perfect nude. Until I met this gem.
WHY I'M OBSESSED:
A tawny, easy-feeling neutral, this is quite possibly my second favorite lip shade of all time. When I don't feel like committing to a vivid color but still want to dress my lips up with a lil' something, I reach for this. It's been years and I can't even count how many bullets I've gone through. It has a creamy glide thanks to all of its oils, so nine times out of 10 I forget it's on. I'm forever grateful for this OG neutral loved by Black women!

Velvet Matte Lipstick Pencil in Train Bleu
THE HISTORY:
Allow me to bring the famous Train Bleu to your attention—a shade that has been worn by models on many runways and used by many makeup artists around the world. NARS is a legacy brand and this best-selling beloved shade is certainly a part of its cult collection of adored colors.
WHY I'M OBSESSED:
When I first got ahold of this shade five years ago, I was fascinated by the idea of a jumbo crayon. They're like lip liners, but better to fill and shade your lips in to your liking. Then, my interest moved to this sultry shade. Its a deep, inky, aubergine plum. Think: red wine-stained lips doused all over in color. It's rich in color, yet light in texture with a soft velvety feel. Usually, I only have to re-apply this bad boy once.
...

For more stories like this, including celebrity news, beauty and fashion advice, savvy political commentary, and fascinating features, sign up for the Marie Claire newsletter.
This content is created and maintained by a third party, and imported onto this page to help users provide their email addresses. You may be able to find more information about this and similar content at piano.io