Editors handpick every product that we feature. We may earn commission from the links on this page.
#BigLipstickEnergy: These 3 Lipsticks Give Back During COVID-19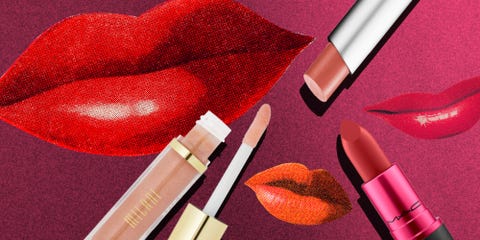 Design By Hanna Varady/Morgan McMullen
I'm a serial lipstick dater. So many lip products slide onto my desk. Some I double-tap and have all the heart eyes for. Others I ghost and leave on seen. This is #BigLipstickEnergy, an honest breakdown of how I feel about the latest lip launches. Read on for the three lipstick flings I'm keeping in rotation for now. Next week, I'll have a new roster.

BEAUTY THAT GIVES BACK
MAC Viva Glam Lipstick
Mac Cosmetics
nordstrom.com
$19.00
THE DETAILS:
The MAC Viva Glam campaign announced a donation of $10,000,000 to 250 local organizations around the world in communities at-risk and affected by COVID-19. To support the campaign, spokesperson Miley Cyrus launched a YouTube series titled Bright Minded, which is a way to connect with people during isolation. Since the launch of Viva Glam in 1994 as a response to the global AIDs pandemic, MAC has donated over $500,000,000 to communities in need.
WHY I'M OBSESSED:
Viva Glam is one of the most iconic MAC shades and one beloved for its universally-flattering essence. It's a rich, risqué red with deep undertones. Whenever I'm reaching for a red, this one is a no-brainer—a come-hither kind of shade that gives my makeup a sensual vibe. Now you know why it's perfect for a quarantine date night—wink wink.

BEAUTY THAT GIVES BACK
Wild With Desire Lipstick in Monterey
rms beauty
rmsbeauty.com
$19.60
THE DETAILS:
This shade, the newest to join the Wild With Desire family, is a special one not just because of how it looks. The brand released a statement confirming 50 percent of proceeds will benefit Coastal Pet Rescue to help animals in need who've suffered from fewer resources because of the coronavirus outbreak. "They are experiencing a dramatic decrease in donations, a decrease in volunteers and an increase in pet surrenders," Rose-Marie Swift, founder of RMS Beauty wrote on the brand's Instagram. "So many organizations are in need during this time and I hope you and your loved ones are all healthy and finding peace in this complicated time."
WHY I'M OBSESSED:
This burnt coral hue feels warm enough for a sunny spring day, yet chill enough for everyday wear to suit our new normal: back-to-back Zoom meetings. The texture is hydrating and creamy, thanks to the RMS beauty oil and antioxidants that make up the majority of the formula. On my deep skin tone, it works like a neutral with brown and amber undertones.

BEAUTY THAT GIVES BACK
Keep It Full Nourishing Lip Plumper in Champagne
milani
milanicosmetics.com
$8.99
THE DETAILS:
Milani Cosmetics is also playing their part to offset the global pandemic. Every time a purchase is made on MilaniCosmetics.com, each consumer receives a 10-percent credit from their order total for Givz, an organization that donates to the CDC Foundation, No Kid Hungry, and Meals on Wheels America. In other words, go re-up on a few makeup must-haves you won't feel bad about buying in bulk, then head to Givz to choose the organization you'd like to support.
WHY I'M OBSESSED:
I've been wearing Milani since middle school—the first time my eyes marveled at the makeup aisle in the drugstore. The brand has remained steadfast in innovation throughout the years, making it ride-or-die status for me. This lip gloss changed the way I think about lip plumpers for the better. It doesn't sting, agitate, or burn and instead it accentuates my naturally plump lips with even more suppleness. A win-win.
This content is created and maintained by a third party, and imported onto this page to help users provide their email addresses. You may be able to find more information about this and similar content at piano.io