High-Tech At-Home Skin Care
Time to ditch your dermatologist?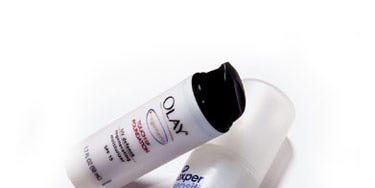 With increasingly high-tech at-home remedies, advanced skin care is going DIY. Time to ditch your dermatologist?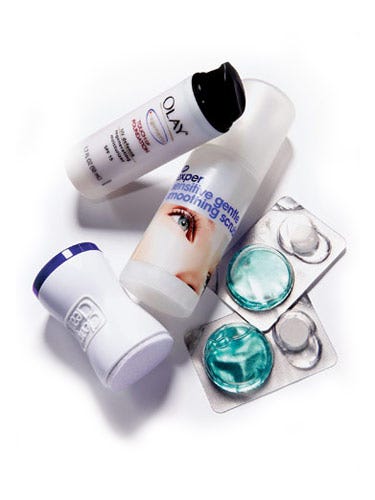 At-Home Skin-Care Products
SPEED ERASERS
Puffy eyes
Just like your morning espresso, caffeine-spiked eye masks deliver a jolt of diuretic-induced deflation for the sleep- and time-challenged. New high-tech, single-dose blister packs keep the treatment solution and clothlike pad separate, so you can enjoy a freshly soaked spa experience before you hop the morning train.
Large pores & fine lines
For immediate plumping that makes pores look tighter and wrinkles smoother, there's nothing like exfoliation and moisture. "At-home microdermabrasion, peels, and scrubs that induce swelling of the skin around pores will make them less visible," explains NYC dermatologist Neil Sadick. "Any good moisturizer or peptide treatment will also give you a short-term plumping effect." Now even sensitive skin can reap exfoliation rewards with some of the new, extra-gentle hypoallergenic formulas with soothing aloe and fine, rounded beads rather than gritty, potentially harsh granules.
MC RECOMMENDS: Olay Regenerist Touch of Foundation with peptides, Boots Expert Sensitive Gentle Smoothing Scrub, Skin Effects Penetrating Eye Treatment Mask, Clean & Clear Advantage Blackhead Eraser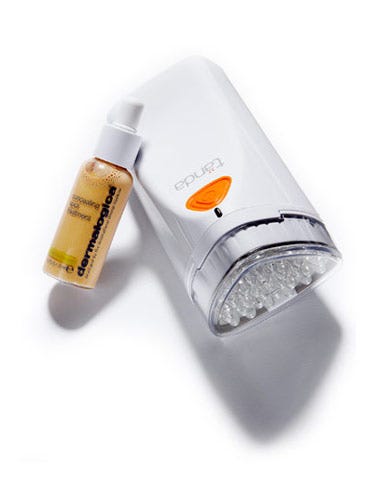 At-Home Skin-Care Products
TWO TO THREE DAYS
Acne
Insta-blemish-busters? Sadly, they're still in our dreams. Even derm-administered cortisone injections take two to three days to smooth bumps, explains Sadick. Still, there's good news for chronic acne sufferers who've been forever trekking to the skin doctor: portable at-home LED devices. "Though smaller than the professional versions, they use the same blue light to kill breakout-causing bacteria and cut the healing time of existing spots by half," says Sadick.
Older zit-zappers like Zeno and ThermaClear also use heat to kill facial bacteria but lack the anti-inflammatory benefits of LEDs. Also, as they're designed for spot treatments, they're not effective at preventing allover facial breakouts. Meanwhile, over-the-counter acne remedies have also progressed. With new formulas combining active ingredients like salicylic acid and sulfur with anti-inflammatory zinc and stimulating caffeine, zits can be cleared up in about two days without side effects like dryness or irritation. (For cystic acne, topicals won't be as effective as an LED in calming inflammation.)
To conceal while you heal, choose a topical with a touch of mattifying yellow or green, which will neutralize the redness. Reassuringly, even with all these acne advances, dermatologists aren't kicking back. Says Sadick: "We're hoping to have new technology as early as next year that combines the benefits of thermal and light therapy."
MC RECOMMENDS: Dermalogica Concealing Spot Treatment, Tända LED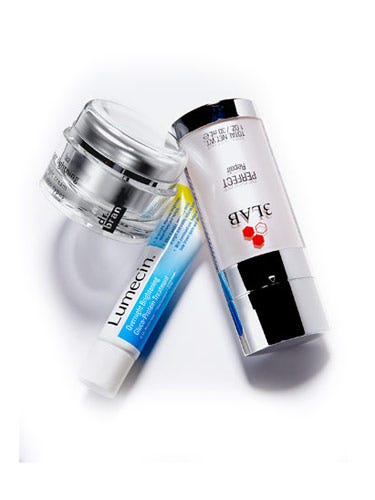 At-Home Skin-Care Products
ONE MONTH
Spotless skin tone
While most of us dread the end of beach season, those with clearly visible signs of sun damage — a.k.a. brown spots — are secretly relieved. For one thing, their preferred remedy, laser treatments, is a no-no in summer, as the process makes skin supersensitive to sunlight and burning. As Labor Day approaches, the best bet for dealing with discoloration is a gentle but effective surface exfoliator. Skin naturally renews itself every 28 days, and with the added brightening boost of a topical treatment that removes dull surface cells, a more radiant, even skin tone will emerge in about a month.
Less is more when it comes to exfoliating, as too much sloughing can cause stinging and irritation, especially if the brightening formulas contain significant amounts of peel-inducing vitamin C and glucosamine. And even if you're not sunbathing every day, that doesn't mean you should ease up on the broad-protection sunscreen. "You can't expect to reverse sun damage if you're still exposing yourself to UV," says Lupo.
MC RECOMMENDS: Dr. Brandt Laser Lightening Night Cream, 3Lab Perfect Repair with vitamin C, Lumecin Overnight Brightening Gluco-Protein Treatment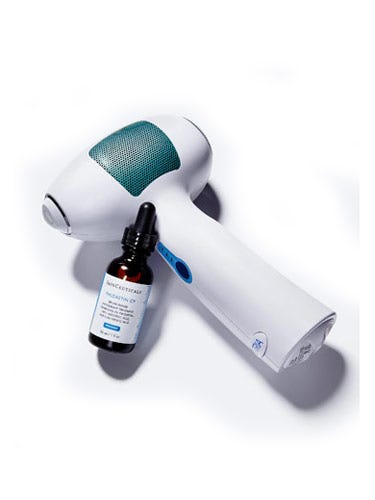 At-Home Skin-Care Products
TWO TO THREE MONTHS
Hair removal
When you consider that high-end laser hair removal can run you up to $3000 per area, the $995 you'll shell out for your own at-home laser kit is a deal. The downside: You won't be completely hair-free (i.e., you'll still be shaving) for a few months. It takes a full two weeks before you see any hair loss, and treatments are recommended every two to four weeks thereafter. As with in-office lasering, an average of 70 percent of hair is gone after three treatments (after eight treatments most hair follicles should be gone).
Pain is minimal and touch-ups (needed every six months to a year, depending on the individual) can also be done at home. Neither professional nor DIY lasers are recommended for those with blonde hair or dark or tanned skin tones, as the laser literally can't "see" the hair, which means it could target — and burn — skin instead. The new at-home versions are equipped with safe skin scanners: If your skin and hair are too close in color, the laser won't activate.
Redness
Had one too many power peels? Chances are you've traded wrinkles for redness. Time for some TLC. If used religiously for several months, new extra-potent antioxidants, like the apple-and-pear-derived Phloretin, will soothe redness and restore calm, while warding off free radicals. "By the third day, skin will already be less flaky, and after a week it will look plump and hydrated," says Lupo. "Three months in, the redness should be completely gone, and you'll see a new, luminous complexion."
MC RECOMMENDS: Tria Laser Hair Removal System, SkinCeuticals Phloretin CF antioxidant serum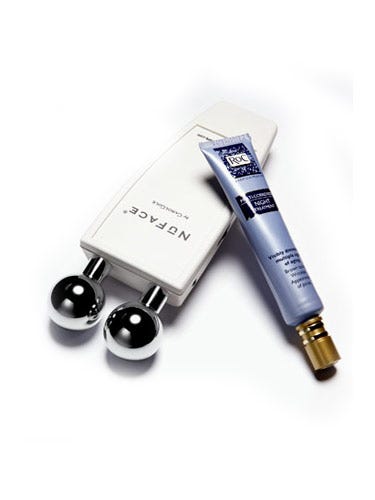 At-Home Skin-Care Products
THREE TO SIX MONTHS
Wrinkles
No wonder Botox injections are so popular: They promise immediate wrinkle reduction, while retinols, still the gold standard of topical antiagers, can take up to six months. Why? Because retinols are stimulating your skin's natural collagen to grow and fill out the fine lines you've acquired. "The longer you use retinols, the more dramatic the results," says Lupo. "Skin gets better every year, in fact, so you really are reversing the aging process." Of course, before reaching that happy ending, you have to survive a rough patch, warns Olga Lorencin-Northrup, cofounder of Kinara Spa in Los Angeles. "Retinols naturally inflame the skin, so it will look red and scaly for a few months," she says. "Use them only twice a week at first as you build up a tolerance, then increase frequency." To ensure that at-home users aren't mixing up potentially damaging cocktails, many new formulas are combining active retinols with brightening vitamin C and irritation-soothing moisturizers. "Emollients temper only the side effects, not the effectiveness," explains Lupo.
Sagging
Exercising facial muscles is gaining in popularity — with no expensive gym membership required. New machines designed for domestic use employ muscle-activating microcurrents to tighten and firm loose or droopy skin around the jawline. "Stimulating the muscles makes them swell, so you get an immediate, temporary plumping effect," explains Lupo. "Of course, as with any exercise program, the long-term benefits aren't obvious for a few months — about as long as it takes to see tone in your arms after you've started using weights."
MC RECOMMENDS: NuFace Microcurrent Device, RoC Multi-Correxion Night Treatment with retinol and vitamin C
This content is created and maintained by a third party, and imported onto this page to help users provide their email addresses. You may be able to find more information about this and similar content at piano.io