5 Fashion Designers' Beauty Secrets
Rocker chick or uptown girl: How do you translate your fashion sense into hair and makeup? Five designers share their beauty styling secrets.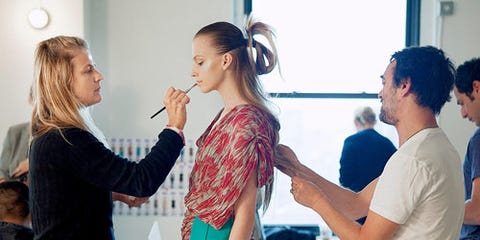 Rocker chick or uptown girl: How do you translate your fashion sense into hair and makeup? Five designers share their beauty styling secrets.Ready to change your look? Use our virtual makeover tool to see the new you now!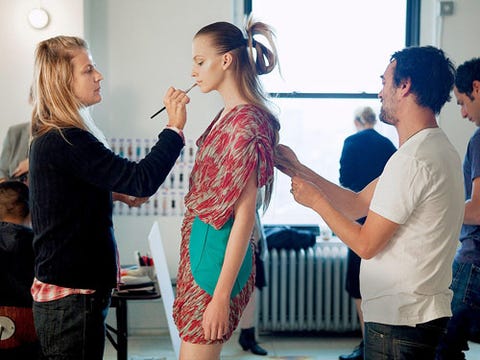 Thakoon
FASHION STYLE: Sexy CEO

BEAUTY PHILOSOPHY: "The object of a runway collection is to heighten the senses and stage a show. I don't want to do something that you would see on the street," explains Thakoon Panichgul. "But in reality, it's more chic to have a classic look you always do with your hair and makeup, and then just tweaking that a bit here or there depending on if you want to be edgier one morning or prettier the next."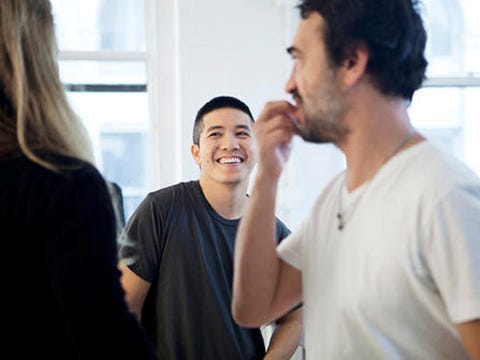 Thakoon
RUNWAY INTERPRETATION: Monochromatic makeup with structured hair.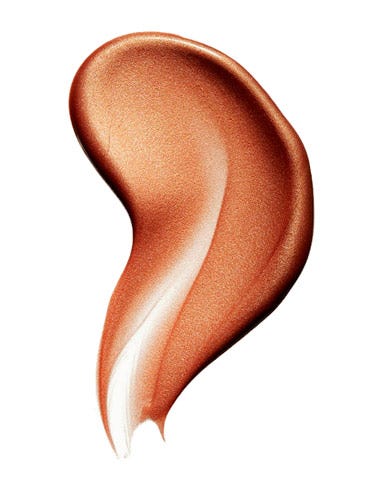 Jefferey Westbrook/Studio D
Thakoon
ABOUT FACE: "The makeup was less ethereal this season," explains Nars makeup artist Diane Kendal. "Inspired by samurai and surfers, Thakoon wanted to keep the faces very strong and beautiful without using a lot of makeup, so we went monotone with beiges and browns. We kept a luminous feel to reflect the warrior aspect. Highlighting strengthens the face without adding color, and I just focused on the brow- and cheekbones. With the runway lights, I didn't want the whole face to look greasy."

NARS ORGASM ILLUMINATOR, $29.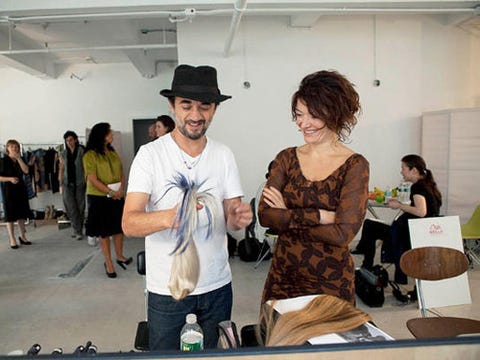 Thakoon
MANE EVENT: "The entire collection is body conscious, so I felt that the hair should be shaped close to the head," says Wella hairstylist Eugene Souleiman, who tied strands into samurai-knot-like shapes. "Thakoon designs for an intelligent and sophisticated woman who loves life. I wanted to create a sculptural style that wasn't too precious."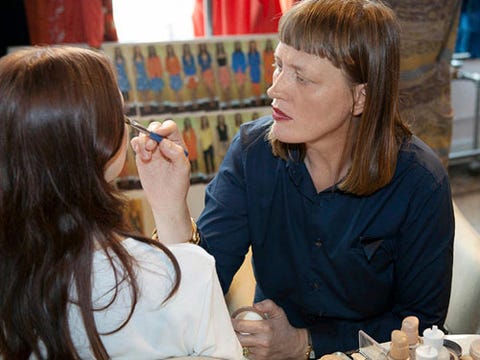 Tracy Reese
FASHION STYLE: Flirty femme

BEAUTY PHILOSOPHY: "I think makeup should be a little bit undone. I don't want it too pristine and perfect," says Tracy Reese. "Personally, I'm a little lazy with beauty. If I get my own brows and lashes on — and I only added mascara this year — I'm set. I'm not a spring chicken anymore, so I think doing my lashes every day is a good idea."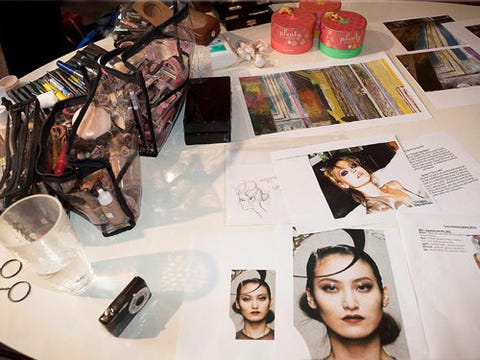 Tracy Reese
RUNWAY INTERPRETATION: Defined brows, major mascara, and a messy updo.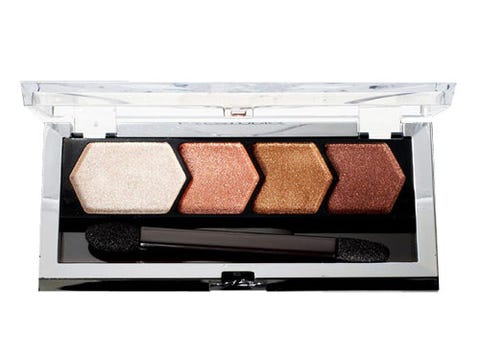 Jefferey Westbrook/Studio D
Tracy Reese
ABOUT FACE: "This is a modern take on '30s makeup with a thinner, drawn-in brow," explains Reese, who asked Maybelline makeup artist Charlotte Willer to apply gloss to models' eyelids to catch the runway lights. "We added shadow below the eyes so the shine would contrast with the smokiness underneath," says Willer. "Since we're not putting any color on the lid, we made the lashes spiky."

Maybelline New York Eye Studio Quad in Copper Chic, $9.99.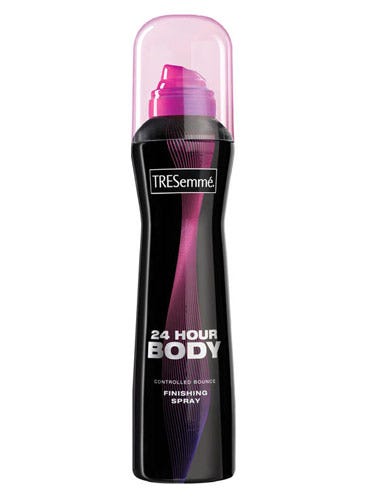 Jefferey Westbrook/Studio D
Tracy Reese
MANE EVENT: "Tracy's collection had a lot of layering, bright colors, and prints, so I didn't want to do anything too busy," says TRESemmé hairstylist Jeanie Syfu, who created the resulting updo based on the designer's drawing of a messy pompadour (but with extra height to add glamour). "In the '80s, I was queen of the pompadour," adds Reese

TRESemmé 24 Hour Body Finishing Spray, $4.49.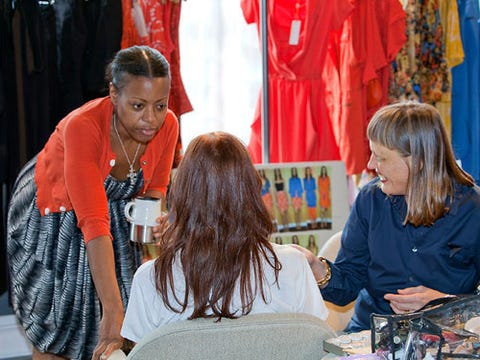 Tracy Reese
HANDS ON: "There's a lot of color in my runway collection, so I wanted blackish nail polish that would give just a little bit of edge," says Reese, who designed the shade Midnight in New York with Sally Hansen. "There's an iridescent coat on top [Sally Hansen's Hidden Treasure polish]. From one direction, the sparkles shine red, orange, pink; from the other side, they look green and blue. We're showing almost all black shoes, so the dark nail just works with everything."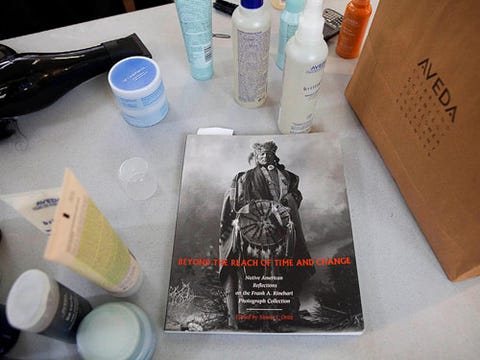 Rodarte
FASHION STYLE: Rebellious rocker

BEAUTY PHILOSOPHY: "This season, Laura and I wanted the hair and makeup to reflect the collection's inspiration, which centered around the idea of burning and ruin," says Rodarte codesigner Kate Mulleavy. "We looked at the California condor and its environment, which is a mangled, untamed landscape. The condor is very severe and stately, but at the same time, completely free and wild. We wanted to capture this with the beauty direction."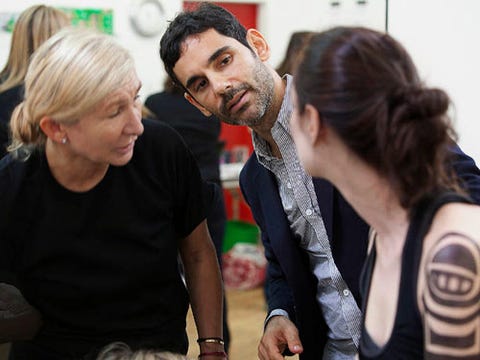 Rodarte
RUNWAY INTERPRETATION: Pale skin, vampy lips, and thick, wild hair.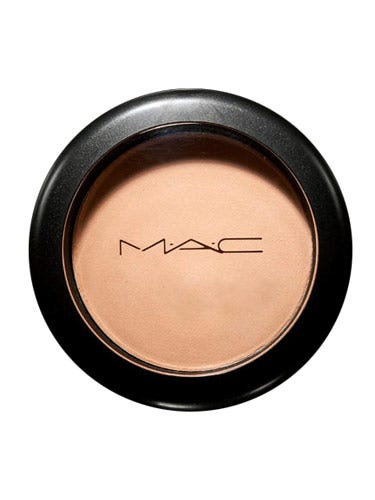 Jefferey Westbrook/Studio 6
Rodarte
ABOUT FACE: "The clothes are handmade and very delicate but with a lot of dark detailing, so I wanted to give the girls a real tough edge," says MAC makeup artist James Kaliardos. "This isn't about being pretty or red-carpet-ready; it's more of a gang girl with black tattoo-like lips. You can't wear an Oscar de la Renta dress and have black tattooed lips. I mean, I love Oscar de la Renta, but Rodarte is different. It's like they came from a menacing world that still has a royal glamour to it."

MAC Shaping Powder in Accentuate, $17.50.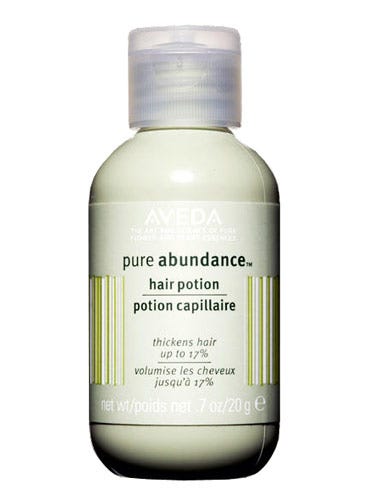 Jefferey Westbrook/Studio D
Rodarte
MANE EVENT: Aveda hairstylist Odile Gilbert wrapped black wool around braided hair to create a net effect that was inspired by Native American headdresses. "We used black because we thought it would be stronger — especially on a blonde girl. It looks more sophisticated," says Gilbert.

Aveda Pure Abundance Hair Potion, $23.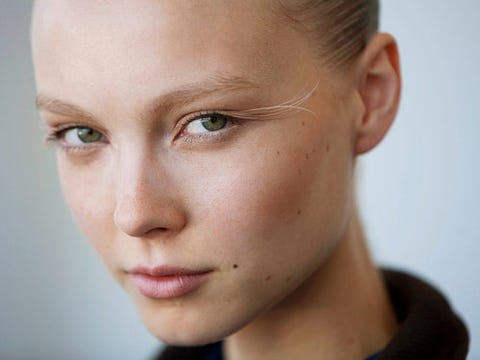 Marchesa
FASHION STYLE: Red-carpet siren

BEAUTY PHILOSOPHY: "The way you dress is an extension of yourself. The woman shouldn't try to fit the dress," explains Marchesa codesigner Georgina Chapman. "It's the same with beauty. There's nothing better than great skin. And with feather lashes as the focus on the face, we wanted a sleeker hairstyle. Hair down always feels more sexy and fun, but we didn't want to cover up the fresh skin with a lot of hair."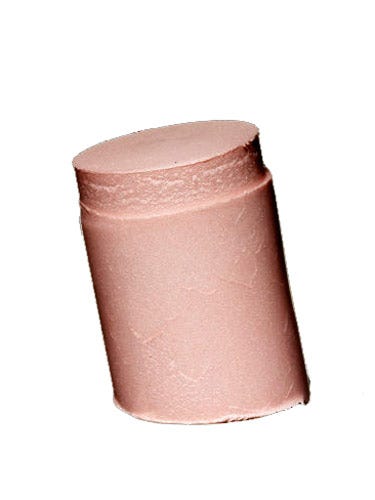 Jefferey Westbrook/Studio D
Marchesa
RUNWAY INTERPRETATION: Luminous skin, dramatic lashes, and a clean updo.

Nars Multiple in Luxor, $37.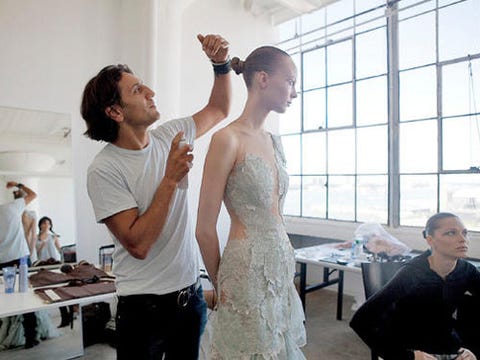 Marchesa
ABOUT FACE: "Marchesa had a presentation, which is not the same as doing runway," explains Nars makeup artist Talia Shobrook, who perfected complexions by mixing foundation with a liquid highlighter. "You're up close to the models, so you need them to look beautiful, but you don't need that flash boom." And according to Chapman, a presentation can't be too over the top: "In some shows, the makeup is strong and complements the clothes, but this season's theme [love and the opera Madama Butterfly] was very fragile, so we wanted a muted beauty look that wouldn't take away from the dresses. You have to be very careful about matching your makeup colors to your clothing."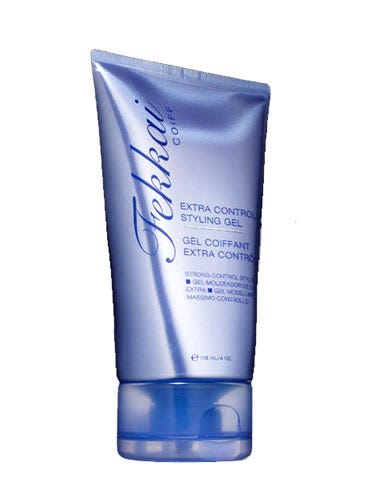 Jefferey Westbrook/Studio D
Marchesa
MANE EVENT: "To contrast with the elaborate collection, we wanted something graphic for the hair," says Fekkai stylist Renato Campora, who created a sleek, centered bun. "Slicking back the hair looks more modern and gives the face a mini lift."

Fekkai Coiff Extra-Control Styling Gel, $23.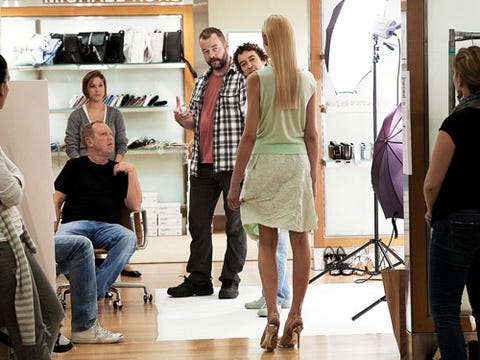 Michael Kors
FASHION STYLE: Modern heiress

BEAUTY PHILOSOPHY: "I wanted to play off the icy pastel colors of the clothes," explains Michael Kors, who listened to Lady Gaga's The Fame on a loop during his hair and makeup test. "I didn't want the look to be too sweet, so we made sure to keep it spare — almost '90s with a cool, graphic edge."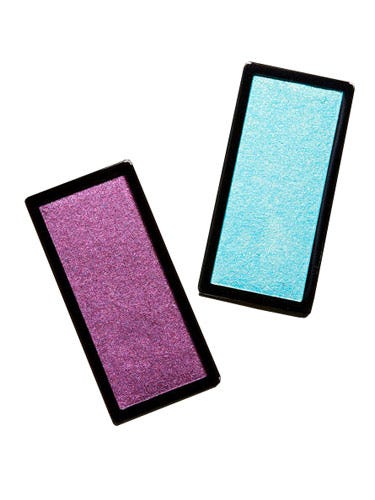 Jefferey Westbrook/Studio D
Michael Kors
RUNWAY INTERPRETATION: Bright eyes, slick hair.

Shiseido Luminizing Satin Eye Color in VI 399 & GR 222, $25 each.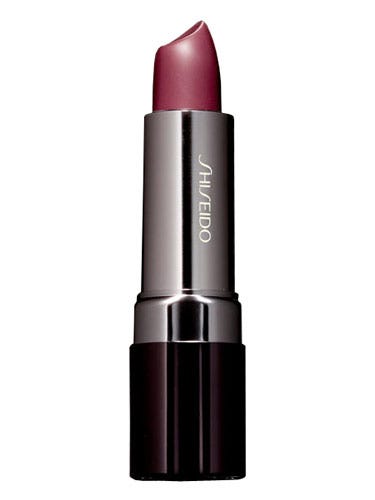 Jefferey Westbrook/Studio D
Michael Kors
ABOUT FACE: "Michael showed me a picture of Lady Gaga with a white lip, but I'm not a fan of white lipstick, so I made the mouth more silvery violet," says Shiseido makeup artist Dick Page. "I also picked up pastels from the collection and amped them up — a lavender fabric became the amethyst shadow. Michael gives me the track and I remix it."

Shiseido Perfect Rouge Tender Sheer Lipstick in RS 326, $25.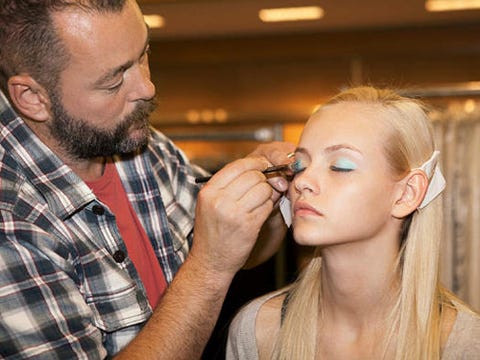 Michael Kors
MANE EVENT: "The direction Michael gave me was for something graphic with a lot of shine," says T3 stylist Orlando Pita. "He wanted to use these clear plastic headbands on every girl, and we were either going to do a ponytail or leave the hair down, but we did a ponytail last spring. I parted the hair on the right because Michael said that if he were sketching, he would draw the part on the right."


This content is created and maintained by a third party, and imported onto this page to help users provide their email addresses. You may be able to find more information about this and similar content at piano.io