3 Simple Spring Nail Art Ideas
We called upon brilliant nail artist Fleury Rose to help us translate the hottest Spring 2012 trends into designs that are super easy to DIY!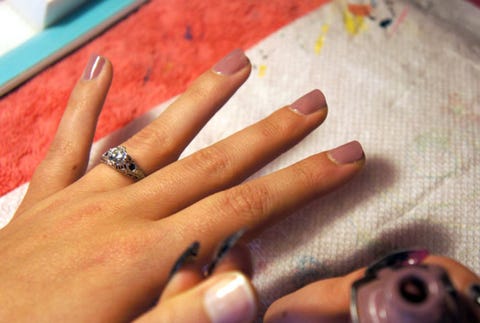 Zebra Print
After applying a base coat, choose a warm, greyish color as your first coat of polish — this one perfectly mimics the tribal feel of Michael Kors' Spring 2012 collection.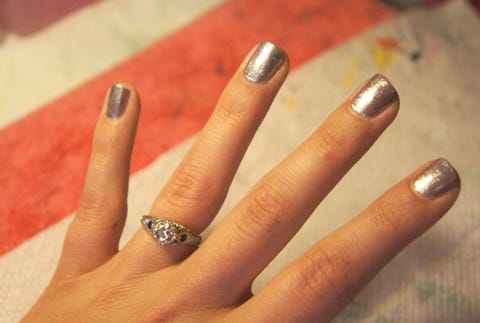 Zebra Print
As your second coat, pick a shiny silver polish to go on top of the grey. Make sure that you wipe the brush almost clean — that will give it a really cool, antiquated look, as well as let the base color peek through.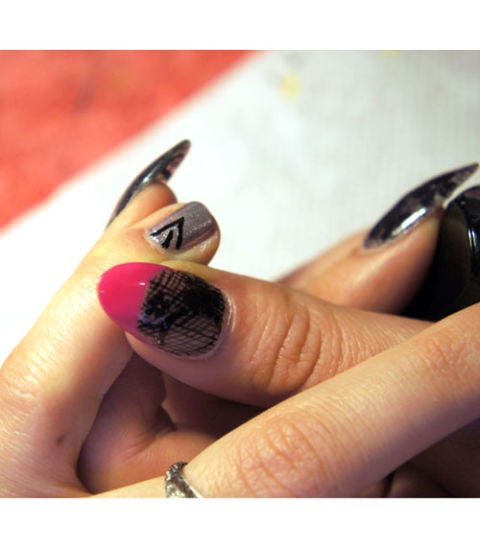 Zebra Print
This design is meant to be a realistic zebra print, so Fleury suggests using a fine black nail art brush (you can find these in any beauty supply store). Start by drawing a small line coming up from the bottom corner of your nail, and follow that line with an overarching "V" shape.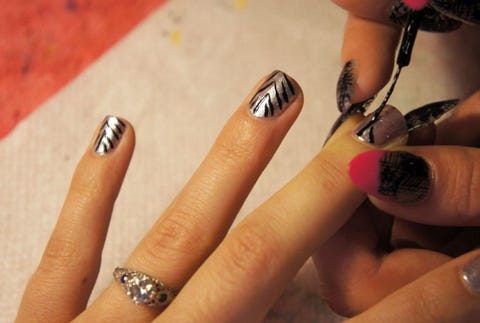 Zebra Print
Fleury suggests alternating between a small line and a "V" all the way up the nail, working toward the tip. For some variety, you can switch which side you start from and the direction of the lines. You can even start from the top corner of a few of your nails, but be extra careful not to smudge!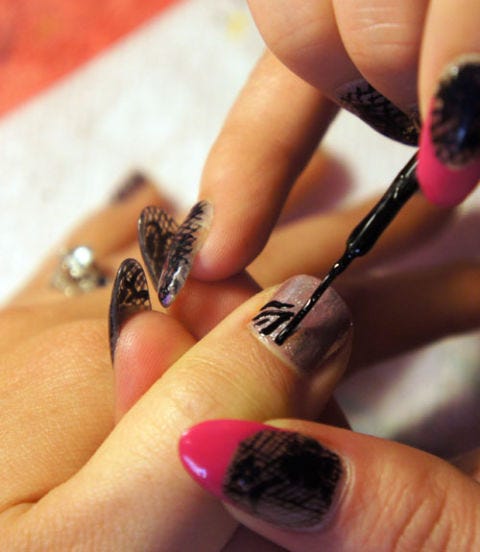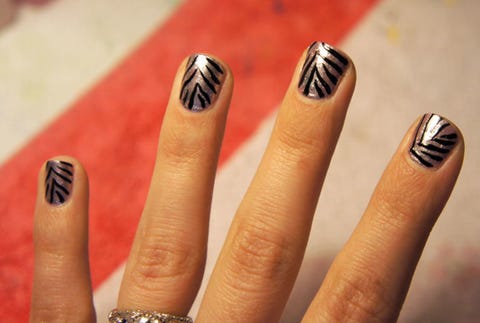 Zebra Print
Once the black polish has dried completely, apply a clear top coat.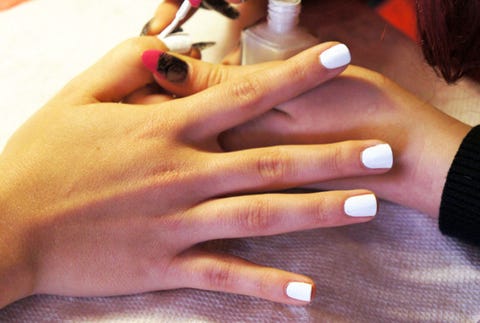 Sweet Sunflowers
Start with a base coat (Fleury recommends Essie Ridge Filler) and two coats of a flat white polish.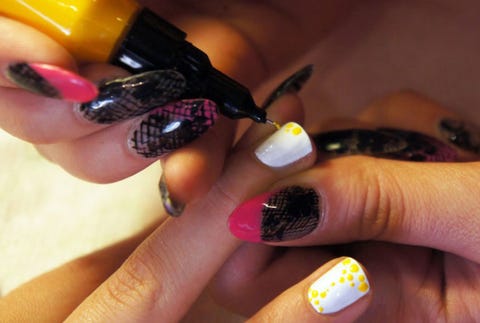 Sweet Sunflowers
With a yellow nail art pen, start placing polka dots in different sizes along the nail. Fleury suggests maintaining two triangle shapes with points that meet in the middle, as shown.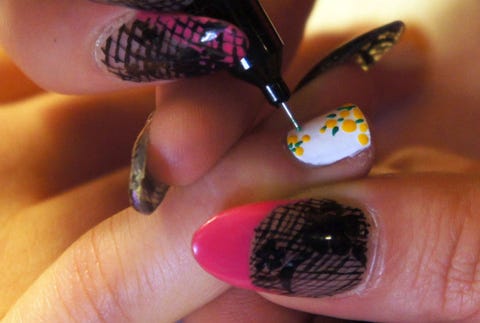 Sweet Sunflowers
Next, take a green nail art pen and draw the "leaves" that will connect the yellow dots. To make the leaf shape, Fleury suggests drawing a small polka dot and "flicking" it out with the pen tip into more of a line.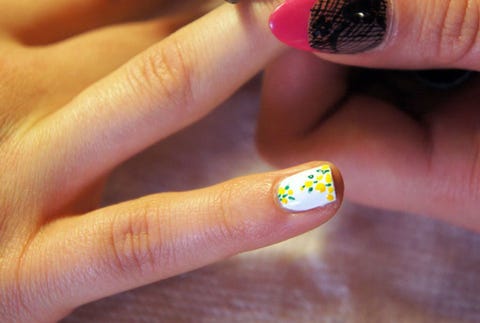 Sweet Sunflowers
Here's how your leaves should look when they're finished!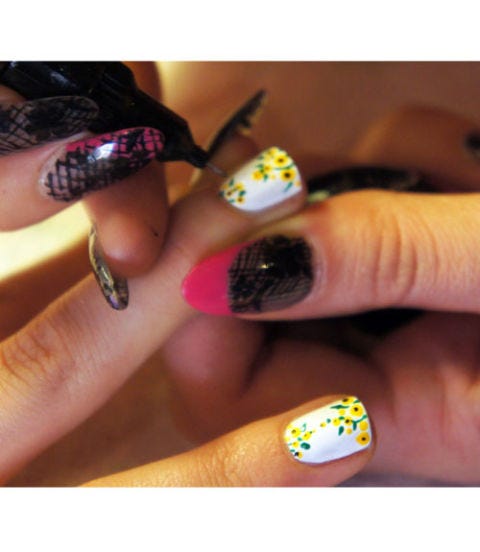 Sweet Sunflowers
The final step is drawing a tiny black dot with a nail art pen in the center of each "flower," or yellow dot. Keep in mind that they don't need to be perfect, and will often look better with some variation in the design.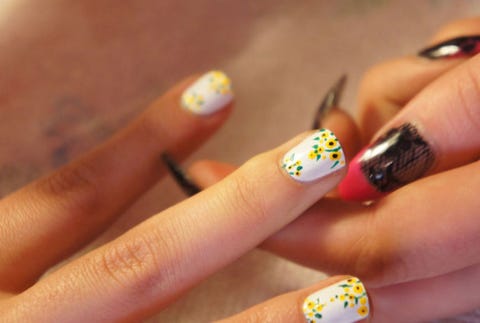 Sweet Sunflowers
The finished product! Make sure to let the black paint dry completely before applying a clear topcoat.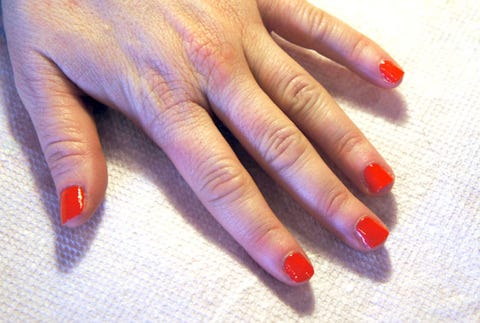 Prada Flames
Begin with a base coat, followed by two coats of a bright, orangey-red polish (Fleury likes Alarm by Illamasqua).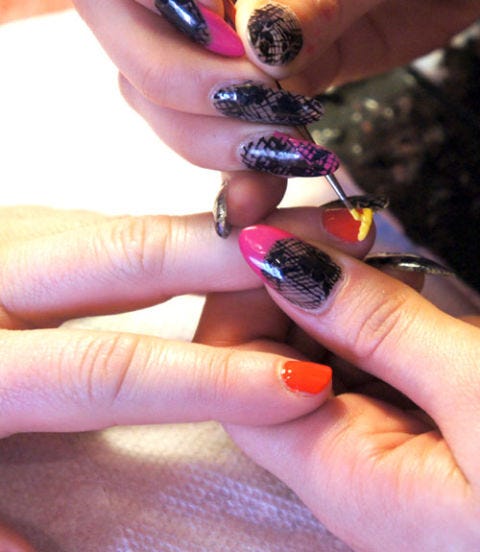 Prada Flames
Next, take a small eyeliner brush — you can buy disposable ones at Ricky's — and apply yellow polish at the tip of the nail, just like you're doing a French manicure. For this design, Fleury chose Lightening by Sally Hensen.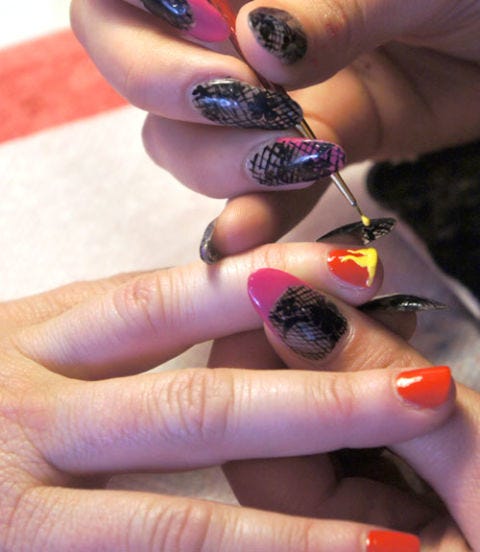 Prada Flames
Start at the top of the nail and paint "S"-shaped squiggly lines towards the cuticle. Add a few on each nail in various lengths, but always start at the tip.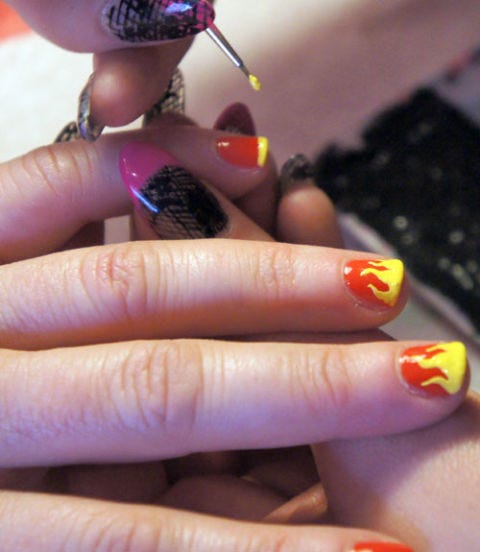 Prada Flames
Continue this pattern on each of your nails.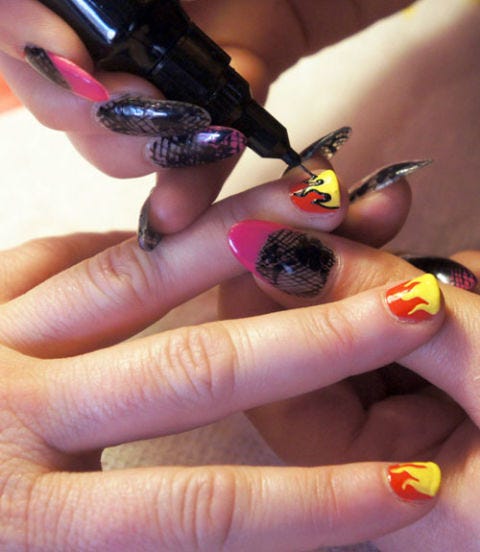 Prada Flames
After the flames have dried completely, take a black nail art pen to trace the design on each nail. Move from the free edge towards the cuticle to outline the yellow flames. Fleury says that the key is having the black lines around each flame come together to meet in the middle. Be very careful not to smudge!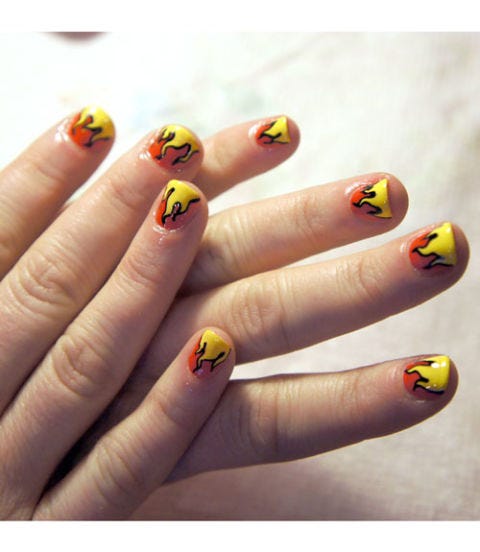 Prada Flames
Once the black paint has completely dried — this might take over an hour — apply a clear topcoat. And there you have it: Prada nails! Or, for all of you Hunger Games fans out there, Girl on Fire nails.
For countless more creative nail art ideas, head over to Fleury's Tumblr, or visit her at Tomahawk Salon in Brooklyn.
This content is created and maintained by a third party, and imported onto this page to help users provide their email addresses. You may be able to find more information about this and similar content at piano.io