8 Celebrity Halloween Makeup Ideas from a Beauty Pro
Let's face it sometimes celebrities' antics can be downright scary (Amanda Bynes freak-outs, anyone?). "When you feel such an affinity for a celebrity that you actually want to be them for a night, you'll use every tool, makeup, and technique possi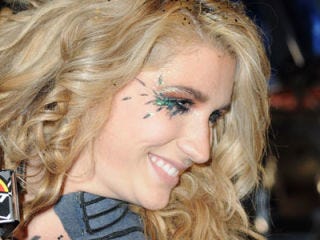 George Pimentel/WireImage
Ke$ha
This girl clearly has a blast with her Ziggy Stardust-meets-grunge getups and makeup. To get her look, Turnbow says you should start at the art supply store — pick up some gold or silver leaf. It's a thin sheet of metal that you can safely transfer onto your skin. Then, back in your makeup bag, reach for black eyeliner, and smudge it on to achieve a "slept-in" look. Bronze your skin, and apply a plum-tinted stain on your lips. Then apply that leaf — go for stripes, a star, or even just an abstract shape over one eye. Or, if you're not so sure about sticking metal on your face, try Illamasqua pure pigments from Sephora and draw the shapes on. Now you'll easily wake up feeling like P. Diddy.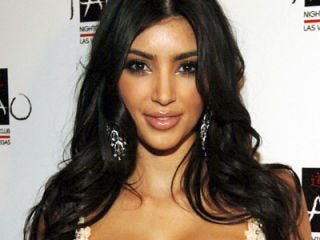 Denise Truscello/Getty Images
Kim Kardashian
The keys to this look are bold brows and a warm, chocolatey, smokey eye. First, line the inner rim of the eye with a black liner. Then, smoke it out with a chocolate brown shadow. Apply a strip of false lashes to the top, and use mascara on the bottom lashes. Next, Turnbow says: "Fill in the brow into that full, wide, almost Egyptian shape. It goes almost to the bridge of the nose and extends far out to the side." Turnbow recommends Benefit's eyebrow pencil. Use a peachy blush and a nude, matte lipstick like the new collection from Nars. "You might also want to accentuate the cleavage with bronzer," Turnbow says. We'll say.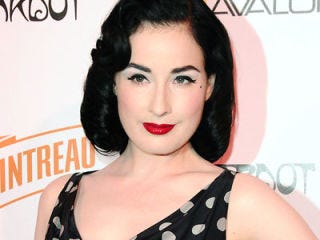 Dita Von Teese
Dita always stands out for her classic, porcelain skin. To achieve it, go for full-coverage matte foundation and a pinup-esque pink on the cheeks, such as Mata Hari from Nars. On the eyes, do a wash of pale blue up to the brow bone. Then use generous waterproof mascara on the top lashes and just a small amount on the bottom lashes. Fill in the brow to a classic old-Hollywood shape, and add a mole on top of the cheek bone with liquid liner so it lasts and doesn't smear. On the lips, use an intense matte ruby red to contrast with the porcelain skin. Finally, Turnbow says, "Powder the crap out of your face with a porcelain loose powder to make it look really vintage."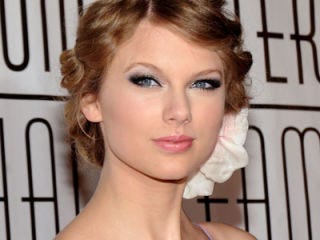 George Napolitano/FilmMagic
Taylor Swift
Much like the country crooner's music, Taylor's look is soft and pretty. Use a lilac eyeshadow, and then line the top lid with liquid liner with a soft wing — her trademark. Smudge a bit of brown liner on the bottom lash line as well. Use a pretty pink blush on the apple of your cheek and apply bronzer to the cheekbone. On your lips, line with a pink pencil first and then top with lip gloss. "Just using lip gloss by itself doesn't pop as much as if you layer it with a matching lip pencil," Turnbow says. Don't forget to steer clear of dudes dressed like Kanye, though.
Christina Aguilera
To achieve the Burlesque star's look, think Marilyn Monroe. "It's like the way-exaggerated version of Marilyn," Turnbow says. Start by filling in the eyebrow in an exaggerated shape with a brown pencil. Then highlight the eyelid with a cream-colored shadow, and use liquid liner in a subtly winged shape that's thick in the middle. For the lips, line with MAC lipliner in Cherry, and then fill in with matte lipstick. Leave the rest of the face simple and matte.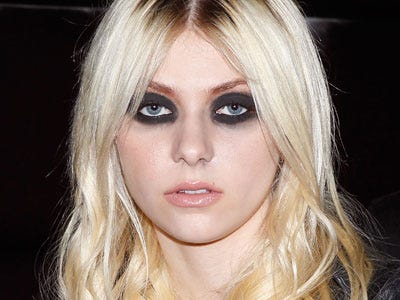 Taylor Momsen
Little J's not so little anymore — and neither is the amount of eyeshadow she uses. "To avoid having a huge mess on your hands, apply all that eyeshadow before you do anything else. That way, you can clean the fall-off from your face before it ruins the rest of your look," Turnbow says. Start by lining your eyes with thick black liner. Then take a fluffy eyeshadow brush and fill in a thick round line on the top and bottom lids — make the center of the eyes darkest and graduate the line out so it's cloudier at the ends. When you're done, use a baby wipe to wipe off any excess that has fallen on your face, then apply concealer and foundation. "Bring a couple of Q-tips in your purse to clean up smudges, and stick with long-lasting eyeshadows and mascaras," Turnbow says.
This content is created and maintained by a third party, and imported onto this page to help users provide their email addresses. You may be able to find more information about this and similar content at piano.io