The Fall Hair Colors You're About to See Everywhere
Move over, pumpkin spice—these are going to be an even bigger trend.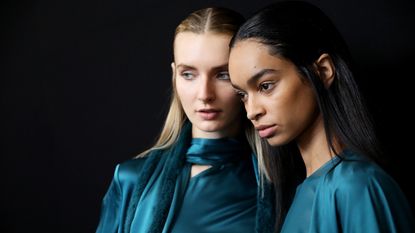 (Image credit: Monica Schipper/Getty Images)
Rather than stick to your same ol' hair color for another season, consider mixing it up with some of the ridiculously pretty fall hair colors we've seen popping up on celebs and models recently. Because when the air turns crisp, pumpkin spice lattes start littering your Instagram feed again, and you've pulled your trusty black leggings out of hibernation (just kidding, you've been wearing them for the past year and a half), you know it's time to revive your hair shade. And now that we're all not just surviving with our unfortunate quaren-cuts and dry, grown out roots, we're thriving by experimenting with intricate, more complex hair color again. Because hey, it's time for a new us.
Since film and TV are rolling once again and street style is on the upswing, we're seeing more and more inspo from our favorite celebs that we need to throw in our save folder. And guess what? They're going all out too. From Sophie Turner's red return to models going bleach blonde, our faves are mixing it up as much as we are. So whether you're looking for a complete hair color do-over or just a post-quarantine update, we're betting there's a shade on this list that you'll want to try yourself. From raven black to creamy blonde to caramel balayage that just screams 'fall weather,' here are the perfect colors to complement the season (and your new version of yourself, whoever that may be.)
1/63
Golden Black
When opting for a dark color this season, go for an almost-gold undertone for your hair. It lightens your precious strands while maintaining the black shade you can't part with. (We've all been there.) Take it from supermodel Naomi Campbell, who's known to frequent the hair color.
2/63
Golden Black
Tessa Thompson's slicked-back curls.
3/63
Golden Black
Kacey Musgraves' red carpet blowout.
4/63
Golden Black
Yara Shahidi's tightly-wound finger coils.
5/63
Cool Silver
Just because the weather is getting drab doesn't mean your hair has to. Opting for a silver allover color or just highlights instantly takes you to a new level of cool. Look to Winnie Harlow, whose silverly side part proves the color looks great no matter how you wear it.
6/63
Cool Silver
Iska Lawrence's grey-blonde beach waves.
7/63
Cool Silver
Jourdan Dunn's futuristic silver ombré bob.
8/63
Cool Silver
Kelly Osbourne's silver frost warms up a touch with a pretty lavender wash.
9/63
Mushroom Blonde
Want to hold on tight to your dark roots, but have a hankering to see what you'd look like as a blonde? Take baby steps with mushroom blonde. It's more of a neutral blonde with a few lighter ombré highlights, so your dark hair can still shine. Just consider how good it looks on Suki Waterhouse.
10/63
Mushroom Blonde
Lily Rose Depp's soft smoky blonde waves.
11/63
Mushroom Blonde
Gigi Hadid's loose curls with brown undertones.
12/63
Flaming Red
With our favorite celebrities stuck in quarantine, we're getting to see them experiment with colors we never thought we'd see. Red hair is having a major moment—fire engine red, Jessica Rabbit orange, and everything in between—are becoming popular again. Dua Lipa DIYed her bright red hair and we're loving it.
13/63
Flaming Red
Jessica Chastain's natural red.
14/63
Flaming Red
Madelaine Petsch's old-school Hollywood waves.
15/63
Fiery Red
Florence Welch's dreamy bangs.
16/63
Old Hollywood Red
Sophie Tuner's classic waves.
17/63
Classic Brown
Salma Hayek's warm-toned brown hair.
18/63
Classic Brown
Lily Collins' girl-next-door waves.
19/63
Classic Brown
Rashida Jones' bob and bangs.
20/63
Classic Brown
Issa Rae's polished waves.
21/63
Classic Brown
Kate Mara's tight topknot.
22/63
Classic Brown
Indya Moore's voluminous curls.
23/63
Classic Brown
Whitney Cummings' deep side part.
24/63
Bright Colors
Meghan Trainor is one of many celebs who isn't afraid to try new things. Celebrities and normal people alike have been way too bored the last few months, which makes that box of Manic Panic dye look really good. Whether you're doing for a full head of neon or pastel colors, or just a stripe here and there, unnatural is the new natural.
25/63
Bright Colors
Lena Waithe's multi-colored buzzcut.
26/63
Bright Colors
Ruby Rose's pink and blue buzzcut.
27/63
Creamy Blonde
Creamy blonde hair like Reese Witherspoon's has been spiking on our social feeds this month, and for good reason: The milky blend of platinum and blonde is the perfect transitional shade for any bleach-blondes looking to go a bit darker for fall, without having to deal with a huge contrast shock. See more celebrities rock the look, ahead.
28/63
Creamy Blonde
Amandla Stenberg's braided bob.
29/63
Creamy Blonde
Kirsten Dunst's shoulder-skimming lob.
30/63
Creamy Blonde
Zoë Kravitz's choppy pixie cut.
31/63
Creamy Blonde
Elisabeth Moss's subtle bends.
32/63
Creamy Blonde
Lili Reinhart's side-swept waves.
33/63
34/63
Bronde
While bronde was a serious contender for the most-talked-about hue of last year, this low-maintenance blend of blonde and brunette colors, like Jessica Alba's, is still going strong for fall, mostly because of its magical ability to add warmth to even the most-pale of skin tones instantaneously. See more celebrities rock the look, ahead.
35/63
Bronde
Ashley Olsen's whimsical waves.
36/63
Bronde
Karlie Kloss' wispy topknot.
37/63
Bronde
Margot Robbie's messy, just-woke-up waves.
38/63
Bronde
Yvonne Strahovski's easy side part.
39/63
Bronde
Taraji's sleek, blunt-cut bob.
40/63
Bronde
Hailey Bieber's easy chignon.
41/63
Bronde
Sofia Vergara's voluminous waves.
42/63
Caramel Highlights
Selena Gomez's face-framing waves are complemented by painted on caramel. Go subtle, like Selena, or go for more intense color like J Lo below.
43/63
Caramel Highlights
Ciara's center-parted waves.
44/63
Caramel Highlights
J Lo's flowing locks.
45/63
Caramel Highlights
Natalie Portman's wavy bob.
46/63
Brassy Tones
Yellow eyeshadow had quite a year, and our obsession with this sunny shade has spread to our tresses. This yellow is less honey blonde and more Goldilocks, meaning you can put down that purple shampoo and embrace those infamous brassy tones (to a certain point, at least). See more celebrities rock the look, ahead.
47/63
Brassy Tones
Jennifer Aniston's dimensional layers.
48/63
Brassy Tones
Sophie Turner's mid-length waves.
49/63
Brassy Tones
Miley Cyrus's quasi-mullet.
50/63
Brassy Tones
Florence Pugh's wispy waves.
51/63
Brassy Tones
Jennifer Lopez's sleek lob.
52/63
Dark Hair, Light Ends
An inversion of the ever-popular light hair and dark roots, Kate Hudson's dark hair and light ends is the sophisticated, grown-up version of the blonde dip dye you wanted so badly in middle school. See more celebrities rock the look, ahead.
53/63
Dark Hair, Light Ends
Bella Hadid's straight cut.
54/63
Dark Hair, Light Ends
Annie Murphy's polished waves.
55/63
Dark Hair, Light Ends
Rita Ora's blonde curls with dark roots.
56/63
Dark Hair, Light Ends
Ashley Benson's wavy strands.
57/63
Dark Hair, Light Ends
Drew Barrymore's messy, face-framing waves.
58/63
Dark Hair, Light Ends
Cara Delevingne's two-toned finger waves.
59/63
Brack
Move over, raven black: the new dark is mingled with a hint of brown. The moodier older sister of bronde, brack allows you to deepen your look without having to commit to a full-on black. The key to making this shade is glass-like shine, so spritz your hair with a good shine spray before you head out for the day. See more celebrities rock the look, ahead.
60/63
Brack
Kerry Washington's accessorized braids.
61/63
Brack
Rooney Mara's slicked back updo.
62/63
Brack
Meghan Markle's middle-parted layers.
63/63
Brack
Jennifer Connelly's straight side part.
...
For more stories like this, including celebrity news, beauty and fashion advice, savvy political commentary, and fascinating features, sign up for the Marie Claire newsletter (SUBSCRIBE HERE).
Marie Claire email subscribers get intel on fashion and beauty trends, hot-off-the-press celebrity news, and more. Sign up here.
Taylore Glynn is the Beauty and Health Editor at Marie Claire, covering skincare, makeup, fragrance, wellness, and more. If you need her, she's probably roasting a chicken, flying solo at the movies, or drinking a bad Negroni at JFK.