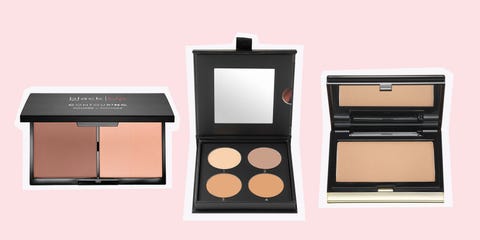 Contouring: When it's good, it's cheekbones-that-could-cut-glass great. When it's not? Well, we know what that looks like. Second to blend, blend, and blend some more, the other critical ingredient to a great sculpt is choosing the right shade for your skin tone. If it's too dark, you'll look ridiculous. If it's too light, it's wasted effort. Here, find out how to choose the best sculpting palette for your complexion.
Since fair skin makes all of the undertones in a color cosmetic more perceptible, opt for a cream contour verses a powder so you can blend it out more into the foundation. "Neutral is key since anything too orange will read as really orange, so a contour that has grayish tones will be more believable and undetectable," says makeup artist Fiona Stiles.
Try: Cover FX Contour Kit, $48; sephora.com.
According to Beyoncé's makeup artist Sir John, a taupe blush will be your best bet for natural-looking contour. "I blend it under the cheekbones, on the temples and eyelids, and underneath the jawline to create a sense of depth," he says.
Kevyn Aucoin The Sculpting Powder in Medium, $44; sephora.com.
For warm, deeper skin tones, Sir John uses contour shades with gray undertones to increase the depth of the contour. "A cool matte recedes for that sculpted, hallowed effect," he says.
Try: Fiona Stiles Sheer Sculpting Palette, $28; ulta.com.
For darker skin tones, go two shades darker than your foundation, but be sure to strobe with a warm highlighter to really make the sculpt pop. "Brush the highlight on the planes of the face where light would hit naturally—above the cheekbones, under the brow bone, down the bridge of the nose, and on the cupid's bow," says makeup artist Renee Sanganoo.
Black Up Contour Powder in 05-Deep, $59; sephora.com.