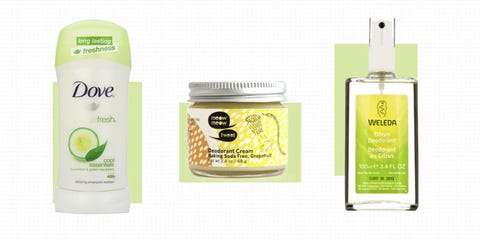 Welcome to the sticky, icky time that comes along with warm weather and sunshine and happiness. Here, 10 of the best deodorants to combat being *that* person, especially on public transit.
Arrowroot helps this lime and vetiver cream dry to a powder finish, so you won't feel like there's frosting gluing your arms to your sides, ew.
$16, dermstore.com.
Specially designed to not leave white streaks on your black T-shirts, nor yellow stains on your white ones.
$5, target.com.
A fan favorite for the "Oooh, that's me" scent (in a good way). And you've known about its staying power since seventh-grade phys ed.
$25 for four, amazon.com.
Contains no aluminum, and, despite the name, smells less of rose-garden rose than "wild rose that grows amongst your herb garden if the sage weren't sad and half-dead."
$24, dermstore.com.
French women don't sweat (haha) because they wear this extra-strength, unscented antiperspirant.
$17, amazon.com.
Another Frenchie roll-on sans aluminum and avec a clean scent certain parts of the beauty community call "a revelation."
$16, walmart.com.
Even though it's a cream you will, yes, have to touch your armpits to apply, this stuff won't let you down in the keeping-you-fresh department—nor will it transfer. Promise.
$16, amazon.com.
If you're none to keen on massaging messy creams into your underarms, go for this lemony spray, which promises to aid "your body's natural detoxification process." Cool!
$14, dermstore.com.