Ever Noticed How Much Your Favorite Celebrities Look Like These Random Objects?
"Mariah Carey as toasters."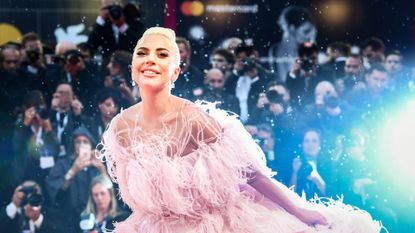 (Image credit: Getty Images)
Celebrities, they're just like...common household utilities, or random accessories, or fruit, or Finding Nemo characters—at least, according to the internet. People on Twitter have taken it upon themselves to compare celebrities we love, like Halsey and Kacey Musgraves to things that we also love, just in a different way. It's like Twitter knew I didn't have time to read the whole 400-page Mueller report, but I absolutely had time to scroll through threads upon threads of Kacey Musgraves' outfits next to rainbows and butterflies.
Look, it was hard to narrow down my favorites threads. But don't call it an act of bravery. Instead, call it a service to the American public (and a service to your long workday). Take a peek, have a laugh, and maybe waste a little time looking for more miscellaneous items similar to beautiful celebs when you're done. You'll be surprised at how similar your broom might look to, say, Justin Bieber.
Naturally, the Queen of Yee-Haw's sparkly ensembles are getting a hat tip (get it?) to the good ol' cowboy hat. The accessory is a perfect mix of country and style, just like Kacey. But we really need to know how Valentino Couture feels about the comparison.
If you think really (really) hard about the meaning behind this one, it could be a tribute to how thin and frail the JoBros once were as pre-teen heartthrobs. Remember when Nick Jonas didn't have ab pics on Instagram because he didn't have abs to put on Instagram (and also there was no Instagram)? Those were dark days.
The sixth one down is my favorite. The fourth one down is...not.
Glimmering. Rare. Beautiful. All of which, in my opinion, can describe Mr. Styles and/or pretty crystals.
Helium (colorless, oderless, tasteless, non reactive— UNBOTHERED) pic.twitter.com/Yz1kgsaYIcApril 13, 2019
See more
Leave it to Queen B to make Uranium look good. (Side note—it would have been much easier to memorize the elements in college if a Beyoncé photo was positioned next to each letter.)
Have you ever seen something so wrong, yet so right?
God, i love this boy!!! 😍 pic.twitter.com/Jn3gNYbOVQApril 3, 2019
See more
God this looks delicious!!! 👌😋 pic.twitter.com/Jh2OyJQXogApril 3, 2019
See more
The cakes are pretty, but Timothée's ability to perfectly mix angst, mystery, heat and steam into a character is prettier.
Never in the history of time have pineapples SERVED this much. Halsey, too. But, wow, those pineapples are gorgeous.
Perhaps this c
omparison is the sole reason Jessica Alba created her billion-dollar company!
Keep it crispy, daahhling.
Get it, because Thor? And also because Mr. Hemsworth is masculine, but approachable. Just like a hammer.
See? The internet is a beautiful place filled with potentially life-changing discoveries. And if you don't agree that these were life-changing, that's fine, too. I'll just be over here, eating and photographing galaxy cake and pineapples.
For more stories like this, including celebrity news, beauty and fashion advice, savvy political commentary, and fascinating features, sign up for the Marie Claire newsletter.
RELATED STORIES