Jennifer Lopez and Alex Rodriguez Have Broken Up
The power couple had been together four years and engaged for two.
Marie Claire Newsletter
Celebrity news, beauty, fashion advice, and fascinating features, delivered straight to your inbox!
Thank you for signing up to Marie Claire. You will receive a verification email shortly.
There was a problem. Please refresh the page and try again.
Update, 3/12/2021: Sad news: Jennifer Lopez and Alex Rodriguez have reportedly broken up, Page Six reports. The couple had been engaged for two years and together for two more, but had repeatedly postponed their wedding, citing COVID-19 concerns. "He's now in Miami getting ready for baseball season, and she's filming her movie in the Dominican Republic," a source told Page Six. On Instagram before the news broke, J.Lo posted: "Find a good reason to laugh today…Sending everyone love."

Original post: After Jennifer Lopez and Alex Rodriguez got engaged, the relationship of the decade entered its most exciting phase to date. We've been waiting with bated breath to catch a glimpse of their wedding since this very public, very demonstrative, very sweet relationship become official. Rodriguez and Lopez don't hold back when it comes to talking about their love for each other and their blended family, so the nuptials are pretty much guaranteed to be epic and public.
Unfortunately, COVID-19 forced them to pause their celebrations for the time being. But the couple and their family unit remain incredibly strong, and it's likely only a matter of time before they can have the wedding of their (and our) dreams. Here's everything we know so far. (Currently taking predictions about Lopez's wedding dress: one million sparkles? One million sparkles!)
When will J.Lo and A-Rod get married?
In May 2020, two months after COVID-19 was declared a pandemic, Lopez told NBC's Today show: "There's no planning right now. You just have to kind of wait and see how this all plays out…I'm a little heartbroken because we did have some great plans but I'm also like, you know what, God has a bigger plan, so we just have to wait and see. Maybe it's going to be better. I have to believe that it will be."
Their summer wedding had been postponed, with a source telling E!: "They have been struggling for weeks over this decision, but with no return to normalcy in the near future, the couple felt postponing the wedding was the safest and smartest choice...Guests have recently been notified that the wedding will not be happening in late summer as anticipated."
Lopez divulged more details to Andy Cohen later in 2020. Turns out, their wedding plans were cancelled not once but twice, and they'd planned to have a ceremony in Italy in June. "So we canceled it and then we tried to regroup for later in the year, you know, a few months ago, and it was like, nope, still not the right time, so it was just a little disappointing," she explained.
She also explained that she and Rodriguez had considered not getting married (that sound you hear is a million hearts breaking). "But the same thing with like the Goldie [Hahn] thing and Kurt [Russell], you think, 'Do you have to, should we?' It just kind of gave us a moment to pause and think about it," she shared. "And I think it's something that maybe is still important to us, but there's no rush, you know, there's no rush. It'll happen when it happens." Phew!
This will be Lopez's fourth wedding—in addition to her union with Marc Antony (with whom she has twins Max and Emme), and briefly to Cris Judd and Ojani Noa. But she's said that she feels like fourth time's the charm. In a video from her It's My Party tour, she said, "It seems like in this [showbiz] life, you're always surrounded by people, you're never lonely—but it's very lonely. So you always want somebody with you. I felt like if I got married, I would always have somebody, but that's not how life works. That's not how it goes. It's a bad reason to get married. The right one is when you find someone who really makes you better."
Meanwhile, A-Rod calls their blended family "the most important thing in [his] life."
How did Alex Rodriguez propose?
Fans were so smitten with the couple, they'd basically begged Rodriguez to pop the question ever since the two started dating. The big reveal happened in mid-March 2019: he proposed on a beach at sunset, she was totally surprised, and it was incredible. Rodriguez later divulged all the deets: "I planned it for about six months and it was on a beach in the Bahamas...I had the ring, but what was interesting is the three days prior to me going down on one knee and getting engaged was I rehearsed three days in a row." The pair got together with family and friends to have a characteristically blinged-out celebration of their love in Los Angeles. And then the wedding discussions began!
A source talking to Us Weekly dished that their blended family would be a crucial part of their celebrations: "Marc Anthony will be at J.Lo and A-Rod's wedding," and that Anthony and Lopez "have always sustained a healthy and respectful relationship" even after they broke up in 2011. Less clear is whether Rodriguez's ex Cynthia Scurtis would have been invited, although the two exes also remain on good terms. Regardless of whether she's invited or not, the coparenting skills for everybody involved is honestly very impressive.
Both Rodriguez and Lopez have made it crystal clear that their kids are also a huge part of their lives. Lopez told ET that her son, Max, would be walking her down the aisle! And in a video from her 2019 tour, she added, "I'd like a big wedding. And I'd like to get married in a church this time. I've never been married in a church."
Rodriguez re-proposed and Lopez said yes.
In one of their most adorable couple moments, Rodriguez re-proposed adorably in a video of the two exercising. He quietly came up to her and showed her his water cup—a "Marry me?" sticker was displayed front and center. Lopez smiled, laughed, and then said "Yes," again.
It's the closest we're ever going to get to actually being there when Rodriguez first dropped onto one knee earlier this year and did the thing for real.
That wedding dress photo was from a movie set.
J.Lo fans were taken aback when they spotted Lopez in a gorgeous wedding dress in a photo she shared on her Instagram stories—lit from the back, with an enormous train. Unfortunately, it was just a photo from behind the scenes of Shotgun Wedding, in which Lopez stars with Josh Duhamel.
Interestingly, this isn't the only upcoming wedding-snafu-comedy movie J.Lo is in: She'll also star in Marry Me with Owen Wilson, coming out in 2022. It seems like she has weddings on the brain? It's more likely a coincidence, but that's how I like to think about it. (Also, she's the rom-com queen, so it makes sense.)
Celebrity news, beauty, fashion advice, and fascinating features, delivered straight to your inbox!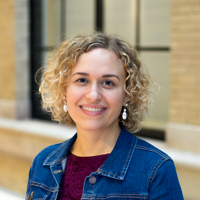 Katherine's a Boston-based contributor at Marie Claire who covers fashion, culture, and lifestyle—from "Clueless" to Everlane to news about Lizzo. She's been a freelancer for 11 years and has had roles with Cosmopolitan and Bustle, with bylines in Parents, Seventeen, and elsewhere. It's "I go to dinner," not "Her huge ego," but she responds to both.