17 Things You Didn't Know About Princess Diana
Seriously surprising stuff, right this way.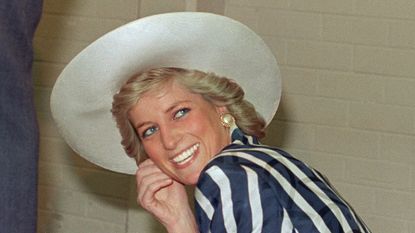 (Image credit: Getty Images)
We love seeing photos and hearing stories about Prince William, Duchess Kate, and their adorable kids! But it was Princess Diana who truly captured our hearts through her many philanthropic activities, her role as a mum, her chic fashions, and her nontraditional approach to royalty. And despite all we know about her public life, we were able to dig up a few little-known facts about our beloved princess.
She was homeschooled until age 9
At the time, it was common for upper-class children to be taught at home by a tutor. After her parents' divorce, Diana attended Riddlesworth Hall in Norfolk, where her family resided. At 12, she was sent to an exclusive boarding school, the West Heath School.
She was not a strong student
After failing two exams, she left the West Heath School when she was 16. Her father enrolled her in a Swedish finishing school but she insisted on returning home.
She was a kindergarten teacher
After leaving finishing school in Sweden, Diana worked part-time as a cleaning woman and babysitter before finding a job at the Young England School.
She wanted to be a ballerina
She studied ballet as a child, but became too tall to continue to excel. But her love of classical dance led her to become a big supporter of the English National Ballet until her death. Here, she greets ballerinas at the Royal Albert Hall before a performance of Swan Lake.
Her grandmother, Ruth Fermoy, was lady-in-waiting to the Queen Mother
Lady Fermoy served the Royal family for nearly 40 years. She was a close friend of Queen Elizabeth, The Queen Mother, and many assumed the two encouraged the marriage of their grandchildren. However, they denied this and it was reported that Diana was not on speaking terms with Lady Fermoy, who died in 1993.
Her sister dated Prince Charles first
While Lady Sarah Spencer and Prince Charles were seeing each other, Diana met the Prince at a family gathering. She was 16.
She became engaged to Prince Charles at age 19 and married him at age 20
The Prince, who was 12 years her senior, was under increasing pressure to find a bride.
She selected her engagement ring from a catalog
Although royal engagement rings are usually custom made, Diana selected hers from the Garrard jewelry collection catalog. The ring, which consists of 14 solitaire diamonds around a 12-carat sapphire set in white gold, now belongs to Duchess Kate Middleton.
The heavy, 25-foot silk train on her wedding dress is the longest in Royal history
The dress was decorated with sequins, embroidery, and 10,000 pearls. Diana had several practice sessions walking in it.
She chose to abandon the royal wedding vow tradition of saying she would "obey" Prince Charles
Three decades later, William and Kate followed Princess Di's lead.
Her favorite dessert was bread and butter pudding
Her long-time personal chef, Darren McGrady, said the Princess would often enter the kitchen while he was making this dish and snack on the raisins off the top. You can find Diana's favorite recipes, including this one, in McGrady's book Eating Royally.
She took her sons on outings not typical for royal children
They ranged from Disney World and McDonald's to AIDS clinics and homeless shelters. Here, the Princess rides a log flume with both boys at Thorpe Park in Chertsey, England.
Her favorite color was pink
And she was often seen wearing outfits in all shades of the color.
She bears a striking resemblance to her niece
Lady Kitty, the daughter of Princess Diana's younger brother Charles Spencer, was most recently spotted at Milan Fashion Week.
She was also a devoted godmother
Her goddaughter, Domenica Lawson, now 20, recently responded to comments by a British television star who criticized people with Down's Syndrome. Here, Domenica attends the grand opening of The Princess of Wales Memorial Playground in Kensington Gardens in June 2000.
She auctioned off 79 of her dresses, raising $5.76 million for AIDS and breast cancer charities
Prince William actually suggested to his mother that she sell some of her dresses to raise money for charity. Christie's New York held the auction just two months before Princess Diana's death.
She's buried on an island
The island sits in the middle of Oval Lake on the grounds of Althorp Park, her family home. Originally, Diana was to be buried in the Spencer family vault of a church, but the plan was altered to find a more private location.