Blake Lively's Favorite iPhone Apps
It may have taken Serena, Blake Lively's Gossip Girl alter ego, three seasons to finally get a smartphone, but this tech-savvy star is not shy about sharing her favorite iPhone apps. Here, her picks!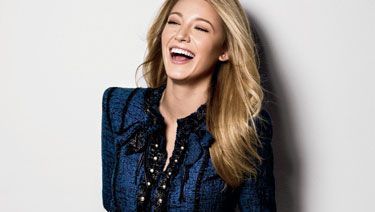 (Image credit: Mark Abrahams)
Gossip Girl and Savages star Blake Lively was our July cover girl, with a shoot that was almost as fierce as her bubbly personality. We discussed just about everything with the blonde beauty, except, you guessed it, iPhone apps. We got the scoop from her with apps that handle everything from food to fashion. Check out her picks and what she has to say about them:
Hipstamatic: "This is my most used app! It turns normal photos into art. As a foodie and cook, I especially appreciate the Loftus lens. People can't believe the images are captured from an iPhone. The quality is truly superb."
Martha Stewart Everyday Food: Fresh & Easy Recipes: "Anything Martha does is magic. I use this as a daily dose of inspiration."
iTunes U: "Tunes U is a full education on the go. You can download course content from universities like Yale and Stanford, or art institutions like MoMa. It has everything from French courses to Spanish history. It's incredible to have such vast access to any subject I'm interested in right there in my pocket."
8mm: "This is the moving hipstamatic! This app creates such ambience and character in any setting. It brings your video back to any era. And the shutter sound and pulsing borders are such great details!"
Quad Camera: "I love this when photographing a meal I've made. It takes a series of photos with one click. You can time it out just right to give yourself time to get each image in your compilation. Or if you're doing an action shot like jumping and want to capture each moment like a flip book you speed up the shutter. The post effects are great, too!"
Pandora Radio: "Words don't do it justice. This is a must. Any music, any time — based on your favorites and intermixed with ones you've never heard, so you're constantly discovering new favorites. It's on in my home 24/7."
Pano: "I love to photograph the gorgeous landscapes when I travel. This app is the best! It's also fun when there are only two people and you switch taking the Pano photo so when it's complete it looks as if you were in the photo together."
Dictionary.com: "I write a lot. This thesaurus is my most valued tool. It allows you to paint your writing with such details and beauty."
Project 365: "The best way to document your year. It also forces you to make every day worth a photo."
TOTALe Companion: "This is an amazing app for learning and practicing a new language. I use it to keep up on my French! It even has speech recognition for pronunciation practice."
Action Movie FX: "This is endless fun with my nieces and nephews. I can't tell you how many tornados I've been in. Dorothy has nothing on me!"
Gucci Style: "This one is so great because I can not only shop the newest pieces, but browse through the archives for inspiration. And my favorite part is that it also has a soundtrack made by Frida, a travel guide to the French Riviera (my favorite place in the world), and early previews of movies at Cannes and info on film restoration. One of the reasons I appreciate working with Gucci so much is how prominent philanthropy is in their foundation. This keeps you up to date on all that they're creating. I'm proud to have a home there."
Style.com: "This is also one of my most used apps because I do my own styling. I find all my looks for events on this site by browsing all the runway shows. It updates quickly during fashion week and also has a great history of shows that have passed for pulling pieces from archive. I truly couldn't do it without Style.com.