The Biggest Feminist Triumphs of 2014
From Mo'ne Davis to Notorious RBG, it was a big year for women—and awareness around women's issues.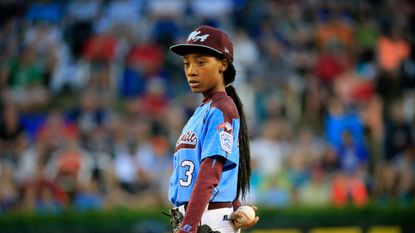 (Image credit: Getty Images)
Marie Claire newsletter
Celebrity news, beauty, fashion advice, and fascinating features, delivered straight to your inbox!
Thank you for signing up to . You will receive a verification email shortly.
There was a problem. Please refresh the page and try again.
In some ways, it seems like feminism had a rough 2014. There was the UVA rape debacle, which some argue trivialized the very important issue of sexual assault on campus. Jill Abramson, the New York Times's first female executive editor, was unceremoniously fired from her job. Justice Ruth Bader Ginsburg went on record about how women had been maltreated by several recent Supreme Court decisions.
But looked at from another angle, all of these moments were feminist triumphs. Arguably, there's more awareness about rape on campus than ever before, and Rolling Stone's faulty reporting doesn't erase this awareness and the activism surrounding it. Jill Abramson getting canned opened up space for a lot of powerful women to talk about the sexism they encountered at work. And the Notorious RBG has become an icon for a new generation of women.
Here, a list of this year's seven stand-out feminist moments. Some of them are triumphs, some of them are failures—but the idea that those failures are being addressed and called out is a triumph in itself. Add your favorites in the comments.
100 Women Are Elected to Congress
Though the 2014 Midterms were a mixed bag for so-called women's issues, there are now 100 women in congress for the first time ever. We still have a long way to go to reach parity, but we've come a long way in just the past decade. In 2003, there were just 74 women in congress. No small thing.
Mo'ne Davis Is Sports Illustrated's Kid of the Year
The 13-year-old pitcher from Philadelphia is the first girl to win a Little League World Series game. And baseball isn't even her primary sport; it's basketball, and she dreams of playing in the WNBA. Her feminist shines through: "It does mean a lot to be the first American girl [to win the Little League World Series], but more girls should start joining boys' teams," Davis told the Philadelphia Daily News. "The attention should not just be on one girl; more girls should join boys' teams so it is a tradition and it won't be so special."
Beyoncé Declares Herself a Feminist in Huge Block Letters
Though I don't think we should be constantly asking young celebrities if they're feminists and then berating them if they don't say the right thing, I do think it's awesome when famous women are vocal about their feminist beliefs. Enter Queen Bey. She did a medley at the MTV VMAs that included lines from the Chimamanda Ngozi Adichie speech she samples in "Flawless" emblazoned in huge letters behind her. The word "feminist" stood out starkly.
Nobody Puts Jill Abramson in a Corner
The reasons for New York Times executive editor Jill Abramson's firing seemed to be gendered—right before she was canned, she complained to top brass about the pay discrepancy between herself and her male predecessor, and underlings reported that she was brusque and pushy (but not that she was bad at her job). She told Cosmopolitan that she is not ashamed of being fired, and the day after her dismissal was made public, her daughter posted an Instagram pic of her in boxing gloves looking ready to rumble. It ended up on the cover of the New York Post.
Rape on Campus Gets National Attention
Though Rolling Stone's story about a UVA student's gang rape has fallen apart under scrutiny, to paraphrase Slate's Amanda Hess, rape activism can stand without it. Earlier this year, Columbia's Emma Sulkowicz was featured on New York Magazine's cover for protesting her college's poor response to her sexual assault by carrying her mattress everywhere she went. Sulkowicz's activism was called out by Hillary Clinton, and President Obama has launched initiatives and task forces to address the issue.
NFL Cheerleaders Sue for Unpaid Wages
Professional football is a multibillion-dollar industry, and yet it seems to treat its cheerleaders like garbage. One Buffalo Bills cheerleader named Alyssa says she made $420 for 800 hours worth of work. Another, Maria, made $105 for those 800 hours. That's about 13 cents an hour. So the cheerleaders sued the Bills for violating minimum wage laws. While the lawsuit is active, the Bills have disbanded their cheerleading squad for the year. But good for Maria, Alyssa, and the other cheerleaders who have sued their employers; women deserve to be paid for their hard work.
Notorious RBG Dominates
This year, Supreme Court Justice Ruth Bader Ginsberg got angry. She gave a speech to a law school over the summer in which she compared the judicial progress for same sex marriage to the judicial setbacks that women have experienced. She railed against the Hobby Lobby decision, which allows corporations to refuse to pay for contraception for their employees based on religious beliefs. She also took the decisions about equal pay and medical leave to task.
In doing so, she cemented her status as a feminist icon and spawned the Notorious RBG meme. I'll leave you with this exchange she had with the curators of the Notorious RBG Tumblr after she had heart surgery in late November:
The editors: How are you feeling? It's amazing you're back at work so quickly.
RBG: Well I have a stress test tomorrow. I'm not allowed to work out with my trainer until after that.
The editors: Is there a message you'd like to give your fans?
RBG: Let them know I'll be back doing pushups next week.
Photos: Getty Images
Related: Going From Class To Class With Emma Sulkowicz And Her Mattress
Related: This 13-Year-Old Girl Has Already Made Baseball History