7 Things You Need to Know Before the Women's World Cup
Team USA is about to dominate the finals.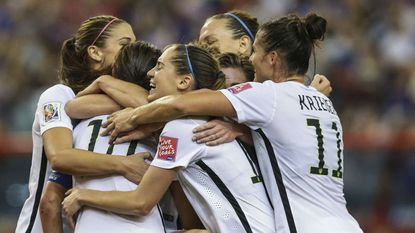 (Image credit: Getty Images)
Hell. Yes. After a blowout win against Germany (opens in new tab) Tuesday night, America is heading to the finals of the Women's World Cup. The U.S. is one of the most dominant countries in the sport, but you might not have known that: Soccer is barely noticed in the States, and women's soccer gets ignored even more. But here's why you absolutely have to watch Sunday's finals.
1. Team USA breaks records.
This is the fourth time the U.S. has made it into the finals, and that's a world record (opens in new tab). And if they win against England or Japan, they will have won a world record third trophy, on top of four Olympic gold medals. They just beat the number-one ranked team in the world, so they have a great shot at making history.
2. You will be mesmerized by Abby Wambach's skills.
Check out this insane goal she made during a 2011 match against Brazil. Or just Google "Abby Wambach insane goal" and lose an entire afternoon.
3. The team is fighting for equal rights.
For some reason, all female players at this year's World Cup have to play on artificial turf, not natural grass. And that not only changes the way the ball bounces but creates a potential for players to get injured. Guess who doesn't have that problem? The men. Team USA's Abby Wambach, along with players from various other countries, sued FIFA for that injustice. She told NBC News (opens in new tab) that it's a "gender issue through and through." Here's how that gender issue affected teammate Sydney Leroux back in 2013. Ouch.
This is why soccer should be played on grass! pic.twitter.com/fsNGi27oRYApril 15, 2013
See more
4. They shrug off haters in the best way possible.
Leroux doesn't just have to deal with banged-up legs. She also has to deal with sexists. The forward has been criticized (opens in new tab) for wearing false eyelashes on the field. And though she has never even claimed to wear them, people give her all sorts of crap for daring to look nice while playing a sport. (Tell that to David Beckham or Cristiano Ronaldo, and see how it goes.) She seems to give zero fucks though, and even posts hilarious Instagram videos about ridiculous makeup tutorials:
5. They're about to be immortalized in a big way.
For the first time (opens in new tab), women will be included in the insanely popular FIFA video game series. American players suited up in motion-capture outfits to showcase their skills, and now you can live vicariously through their video game avatars.
6. It's the first big moment since soccer's massive scandal.
In case you missed it, FIFA, the governing body of world soccer, has been under a blockbuster investigation for alleged racketeering and bribery, especially around the locations for the men's World Cups in 2018 and 2022. FIFA chief Sepp Blatter, who says he'll resign once they find a replacement, says he won't be at the women's match because of "personal reasons (opens in new tab)." So this match really represents a new chapter in the history of the sport, which has huge effects around the world. It's a news event as much as it is a sports event.
7. There's a chance for the perfect Independence Day victory.
If England beats Japan to make it to the finals, the U.S. will face off against the Brits the day after the Fourth of July. How amazing would that be?
Megan Friedman is the former managing editor of the Newsroom at Hearst. She's worked at NBC and Time, and is a graduate of Northwestern's Medill School of Journalism.