This Amazing Woman Got Floral Nipple Tattoos to Reclaim Her Body After Having Her Breasts Removed
"It's my way of taking back control."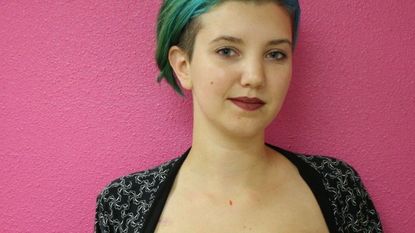 (Image credit: Courtesy of Nikki Black)
Marie Claire Newsletter
Celebrity news, beauty, fashion advice, and fascinating features, delivered straight to your inbox!
Thank you for signing up to Marie Claire. You will receive a verification email shortly.
There was a problem. Please refresh the page and try again.
Nikki Black was just 23 when she was diagnosed with breast cancer earlier this year. "I let it go for about a month because I was 23, no family history of cancer at that time, and no reason to think it was anything other than an accumulation of fatty tissue," she told Cosmopolitan.co.uk.
"I started having nipple discharge and my dog became very fixated on my left breast, which was one of the things that finally pushed me to go get it looked at. I went to my primary care physician and even she was convinced it couldn't be breast cancer, but sent me in for a mammogram anyway. The mammogram looked suspicious, so they did a biopsy, which confirmed that I did, indeed, have breast cancer. "
After the diagnosis, Nikki acted quickly to remove the cancer from her body.
"The tumour was about 5x5cm - so it was pretty large. I scheduled the mastectomy for as soon as I could get it, which was about a month after diagnosis - and I still had to go through chemo."
A keen artist, Nikki used her creativity to help her cope with the emotionally and physically draining process of chemotherapy.
"A few days after treatment, my bones would feel like they were made out of fibreglass, just shattering over and over again every time I tried to move a joint. My periods stopped and I got hot flashes. My body was a very uncomfortable place for me to be."
"I also started using makeup to express myself and feel like I had some kind of ownership and control over my body.
"I did deer skulls, to represent the thoughts I was having at the time about fall and mortality, how sometimes the seasons of life come out of order. I also did a series with a bottle that said "Drink Me", inspired, of course, by Alice in Wonderland. It reminded me of the chemo - taking a mixture I didn't really understanding and just hoping it would do me some good."
But why the tattoos on the breasts - and why no nipples?
"Keeping my nipples was an option," says Nikki, "but honestly, I just felt like, "Why would I do the same thing twice?" I spent 23 years with nipples and there are infinite possibilities! I put something on myself that is really symbolic and meaningful for me. Some women love the nipples, but for me, they're just a body part. Losing them doesn't mean losing myself, so I didn't feel any need to literally replace them. "
"When you are diagnosed with cancer, you do a lot of Googling. One of the organizations I came across was P.ink and I started looking at pictures of these women with these beautiful tattoos. It was a really hopeful and positive thing for me to be able to focus on while I was going through treatment. A little light at the end of the tunnel.
"Getting the tattoos for me was a way of taking back control of my body. I didn't want my pre-cancer body back, but I wanted the body I have to be mine. So many people had put their mark on it, and I wanted to reclaim it as mine."
"I'm a pisces, so the fish are representative of that. My mom also has a koi pond out back, and she set me up with a meditation pillow next to it while I was going through treatment, so the fish remind me of my mum, and to centre myself, as well."
Nikki opted not to get reconstructed nipples, and has been vocal about her disappointment with the 'sexualization' of breast cancer.
"It's an extremely sexualized disease," she says."I had guys asking me what size I was planning on getting, telling me that they would miss the boobs I had. I had somebody tell me I could probably do fetish porn after I recovered. The slogans for breast cancer awareness month are even "Save Second Base" and "Save the Tatas". What about the woman? Why can't we just save women?"
"Chances are, we're losing our breasts anyway, so you can see how it might affect your self-worth if all the world cares about are the things you lost.
"I even got it from people I felt very close to, and that was disappointing. A guy was mad at me for not dating him while I was going through chemo because, as he put it, he wanted to go on my "body acceptance journey" with me. That made me so sad. I felt small and consumable and like everyone was viewing me as a science experiment, a product, an experience they could try to own."
Since she's gone public with her story, the response has been "incredible" - but sadly there are always gonna be a few weirdos because of the Internet. Sigh.
"Unfortunately I am seeing some comments like, 'I have the weirdest boner right now'... obviously that stuff is going to happen, but men you are missing the point. Nobody cares about your penis."
"Putting these photos out there has really let me feel like I'm back in the driver's seat of my life.
"I have gotten messages from people who have either been through it, or know somebody going through it, and I think that's great. That's what I wanted going public with this - to put something positive and fun out there in the hopes other women would get something out of it. I can feel the love through the computer screen and that's pretty amazing."
Follow Marie Claire on Instagram for the latest celeb news, pretty pics, funny stuff, and an insider POV.
Celebrity news, beauty, fashion advice, and fascinating features, delivered straight to your inbox!