The 19 Books Everyone Will Be Talking About This Summer
Get ready for the beach.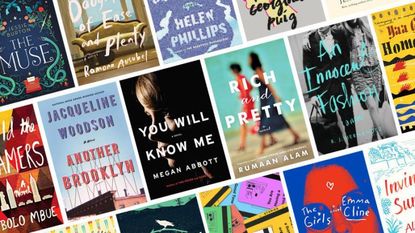 (Image credit: Archives)
Marie Claire newsletter
Celebrity news, beauty, fashion advice, and fascinating features, delivered straight to your inbox!
Thank you for signing up to . You will receive a verification email shortly.
There was a problem. Please refresh the page and try again.
It might be just barely spring in many parts of the country, but that doesn't mean we can't look forward to warmer months—and the relaxation that comes with them. But the old definition of a "summer book" as a throwaway novel just won't do: one size definitely doesn't fit all. Here's a list of new and upcoming reads to serve a wider spectrum of warm-weather experiences. Find everything from the calm, cool relaxer to books that transform downtime into an opportunity to stretch your limits.
Helen Phillips's stories are endlessly funny and razor sharp—and, okay, a little weird—filled with strange scenarios that'll have you asking, "What if?" Playing with sci-fi and surrealism à la Kafka, we meet futuristic strippers and characters of ambiguous genders in worlds that are just slightly off. We explore how our relationships with each other may not be quite what they seem. (May 31)
Rich and Pretty (opens in new tab) by Rumaan Alam
We're not fast and loose with the term "love" around here, but we're going to say it: Rich and Pretty is a novel you may well fall head over heels for as the perfect summer read. Following two close long-term pals in New York City whose lives begin to take diverging tracks, Rumaan Alam beautifully frames the nuances of female friendship: that complex alchemy of expectations and envy, and how they chafe with a lingering deep affection for each other. And did we mention he's a guy writing about this stuff? It manages to be pitch perfect and wise—and, no, not mansplainy. (June 7)
Homegoing (opens in new tab) by Yaa Gyasi
Yaa Gyasi's debut is stunning. The novel is a sweeping, multigenerational story that begins with two separated half-sisters in Ghana who are unknown to each other. Each leads entirely different lives—one ends up as royalty, the other imprisoned as a slave. The novel traces their descendants through hundreds of years and across continents, chronicling their histories and hardships before ending up in 20th-century Harlem. It's not an easy book—but it just may be one of the richest, most rewarding reads of 2016. (June 7)
Marrow Island (opens in new tab) by Alexis Smith
What's going on at Marrow Island? That's the question journalist Lucie Bowen is trying to answer in Alexis Smith's eerie novel. Twenty years prior, an earthquake turned this Pacific Northwest island into an environmental disaster zone. But now, a mysterious colony has sprung up on Marrow Island, and Lucie's instincts tell her something's awry. Smith's excellent command of language gives life to arresting characters and their creepy surroundings, keeping the suspense in this dark environmental thriller running high. (June 7)
The Girls (opens in new tab) by Emma Cline
Big debut alert. After scoring a major book deal (opens in new tab) and winning The Paris Review's Plimpton Prize in 2014 (opens in new tab), Emma Cline has many people (including us) anxiously awaiting her novel. And she's delivered: The Girls is seductive and mesmerizing, packed with language that'll leave your pages dog-eared. You'll feel like you're in a fever dream as you read about an infamous cult of young women in 1960s Northern California. (And if it sounds familiar, it is: The book is based loosely on of the Manson Family cult (opens in new tab) of the late 1960s.) The Girls is a book that'll stay with you all summer. (June 14)
In perfect alignment for those summering in New England, Ramona Ausubel serves up a novel about an unraveling family in Martha's Vineyard in 1976. For the Keatings, the money is there… but then, suddenly, it's not. We'll just say they don't take it terribly well. Ausubel's often whimsical prose is in top form yet again as she imbues the story with her signature touch of magic. This one's just lovely. (June 14)
Alice Adams's Invincible Summer follows four British college friends over 20 years, tracing the ties that bind them together as well as the things that pull them apart. At its core, the book is mostly about how people keep relationships intact, chronicling the lives of her characters as they go from being college students to thirtysomethings. Invincible Summer depicts what happens when things move out of the dream stage and reality starts to bare its teeth. Easy yet not insubstantial, this debut is a sweet toast to enduring friendship. (June 28)
Here's a thriller we can sink into. Deeply psychological and nuanced, Huntley's We Could Be Beautiful follows one wealthy Manhattan woman who has nearly everything. The one thing she lacks, however, is a relationship. That is, until her white knight comes along one evening. But it never quite works out that way, does it? (Not in a book like this, certainly.) Huntley's novel is a twisting, turning, secret-filled story that's worthy of your precious summer reading time. (June 28)
These short tales from Vice fiction editor Amie Barrodale focus on precarious relationships: moments with psychiatrists, actresses, and misfits—people who make us nervous. For fans of Lydia Davis and David Foster Wallace, her debut is incisive, risky, and a little irreverent, and a real writer's book. (July 5)
Lose yourself in the world of a fictional fashion magazine with An Innocent Fashion, the story of an idealistic dreamer who wants to shed his working-class Texas background and climb the ladder at cutthroat mag Régine. But, like counterparts in the The Devil Wears Prada before him, Elián—now reinvented as Ethan—quickly finds the realities of media to be a lot less cushy than he imagined. Hernández creates a hybrid coming-of-age story mixed with a fashion industry tale that's fast-paced and full of drama. (July 7)
Slate editor Jessica Winter's debut novel takes place in a feminist start-up where intentions are good, but actual execution could use a bit of massaging. In this cutting commentary on workplace toxicity and how its tendrils can strangle relationships, Winter uses humor to illuminate the state of modern work, family, and friendship. She does a stellar job at depicting a place we likely know—or have run from, screaming. (July 12)
Here Comes the Sun (opens in new tab) by Nicole Dennis-Benn
In Here Comes the Sun, Nicole Dennis-Benn takes readers to the richly rendered shores of her Jamaican homeland. Despite the colorful façade, Benn demonstrates that the inhabitants of the island nation struggle with immense hardships, among them inadequate resources, severe income inequality, and the lack of freedom to love members of the same sex. Written in Jamaican patois, this buzzy novel dives under the shimmering surface of paradise to expose its dark secrets. (July 19)
The Hopefuls (opens in new tab) by Jennifer Close
In June, the author of Girls in White Dresses delivers her latest novel about a couple navigating the political ladder in D.C. Inspired by Close's own experiences moving to Washington for her husband's work on the Obama campaign, The Hopefuls is blisteringly honest about the circus of American politics and Washington's exhausting culture of competition—one that that renders people outside of political circles virtually invisible. (July 19)
Multiple Choice (opens in new tab) by Alejandro Zambra
You won't want to read Multiple Choice if you're trying to get a break from school, as the book is written in the form of a standardized test. (The Chilean author actually modeled the entire book of shorts about family, death, and relationships on the Chilean Academic Aptitude Test!) This pretty darn brilliant book is like a literary exercise for the mind, but strangely fun to decode. Keep yourself sharp with one of the most interesting writers working right now. (July 19)
The Muse (opens in new tab) by Jessie Burton
If you read and loved The Miniaturist, Burton's enchanting bestseller set in 17th-century Amsterdam, The Muse arrives just in time for the end of summer. Burton's latest historical novel will carry you to 1967 London and 1937 Spain to follow two women and a mystery about a lost painting that ties them together. The masterpiece links their stories over decades as the writing rotates between time periods. Love, war, desire, and art—it's all here. (July 26)
You Will Know Me (opens in new tab) by Megan Abbott
If you consider yourself a thriller lover and you haven't read Megan Abbott's Dare Me or The Fever, your required reading list just got a lot longer. Crime writer Abbott's ability to build suspense and feed on readers' fear is nearly unparalleled. With her new novel, Abbott writes about a competitive gymnastics community rocked by a death and the creepy rumors that surround it. Her thousands of fans (opens in new tab) have been hungry for this book for a while, and with good reason: It's both terrifying and gripping.
Satire, social commentary, and Texas: just a few of the riches you'll find in A Wife of Noble Character. Inspired by Edith Wharton's The House of Mirth, this sharply drawn novel about Houston's oil-money elite strikes a beautiful balance—rollicking at times while deeply felt at others. It's a comedy of manners about what it's like to be wealthy in name only. (August 2)
Another Brooklyn (opens in new tab) by Jacqueline Woodson
You've heard Jacqueline Woodson's name recently because of the luminous Brown Girl Dreaming, a National Book Award–winning middle-grade book in verse about the author's childhood. But did you know she writes adult books, too? We're so excited for Another Brooklyn, her lyrical tale of four black teenage girls maturing in 1970s Brooklyn.Written in vignettes, this story may be slim, but its power isn't. (August 9)
Imbolo Mbue's Behold the Dreamers is a debut novel about an African immigrant couple trying to get their own handle on the American Dream after they move to Harlem in the fall of 2007—right on the cusp of economic implosion. Mbue's story sheds light on so many different corners of the emotional struggle of not only getting ahead, but simply existing, especially as their livelihoods are threatened with the collapse of Lehman Brothers. An incredible effort. (August 23)
Follow Marie Claire on Instagram (opens in new tab) for the latest celeb news, pretty pics, funny stuff, and an insider POV.