Yanny or Laurel? Do You Hear the Same Thing as Your Favorite Celebrities?
"It's so clearly 'laurel.' I can't even figure out how one would hear 'yanny.'"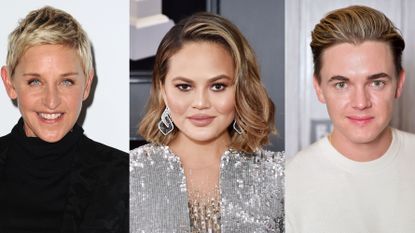 (Image credit: Getty Images)
ICYMI: "Yanny or Laurel" is the new great debate that's taking over Twitter. It's like The Dress debate of 2016—is it black and blue or gold and white? (The world still may never know. Except, we do, it was black and blue. Anyway.)
It all started two days ago when Cloe Feldman tweeted an audio recording of a robotic-like voice saying either of the two words: "yanny" or "laurel," which seemingly sound nothing alike. In the tweet, she simply wrote: "What do you hear?! Yanny or Laurel."
What do you hear?! Yanny or Laurel pic.twitter.com/jvHhCbMc8IMay 15, 2018
See more
While Feldman herself says she hears Yanny, a lot of other people have made a case for Laurel—and a lot of people hear both (ME!!!). And, of course, like all drama on the interwebs, stars have their own opinions. So, are your favorite celebrities #TeamYanny or #TeamLaurel? Scroll down to find out.
Mindy Kaling
Ruby Rose
Ike Barinholtz
I truly do not understand where Laurel comes from. I only hear Yanny. This is not a bit, I am so confused https://t.co/1rdGD3r5cZMay 15, 2018
See more
Sarah Hyland
Ok I lied. I didn't hear #Yanny ..... I heard #yammy...May 16, 2018
See more
Chrissy Teigen
it's so clearly laurel. I can't even figure out how one would hear yanny.May 15, 2018
See more
Ellen DeGeneres
Literally everything at my show just stopped to see if people hear Laurel or Yanny. I hear Laurel. https://t.co/efWRw1Gj0LMay 15, 2018
See more
Zach Braff
Ingrid Nilsen
Jesse McCartney
Not to be a total nerd, but this is a frequency debate. Everyone will hear something different depending on the highs and lows they're lacking. The real question is, "How's your Hearing?" Btw...I hear laurel. Lol. #YannyorLaurel https://t.co/q8IWJfcYgiMay 16, 2018
See more
JJ Watt
I could only hear Yanny at first. Then @DerekWatt34 told me about the high/low pitch and now I can only hear Laurel haha https://t.co/dv58tIt6YVMay 15, 2018
See more
Emmy Rossum
Stephen Colbert
5:30 - Yanny 9:30- Laurel What...is...happening?May 16, 2018
See more
I'm currently working at Dotdash Meredith as the Celeb & Entertainment E-Commerce Lead contributing affiliate content for People.com and InStyle.com. I'm basically like your personal shopper, from writing about that cozy loungewear set you didn't know you needed to keeping tabs on the best sales and deals on the internet. I'm also a pro at finding affordable dupes for celebrity looks and I love to dig into the data to strategize content opportunities.