Miss USA Is Already Getting Backlash for Calling Herself an "Equalist" Instead of a "Feminist"
Twitter was not having it.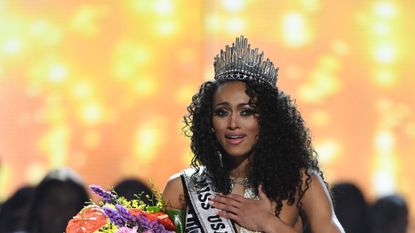 (Image credit: Getty Images)
Objectively, the fact that the new Miss USA is a black woman, a nuclear scientist, and an advocate for science education is pretty fantastic. Miss District of Columbia Kára McCullough dazzled her way to her crowning moment, but unfortunately not without perpetuating one of the oldest myths about feminism as an ideology.
In response to the question, "What do you consider feminism to be and do you consider yourself a feminist?", McCullough took a moment before responding with:
"As a woman scientist in the government, I'd like to transpose the word feminism to equalism. I try not to consider myself this diehard, like, I don't really care about men."
McCullough then went on to explain that she not only appreciated, but wanted to inspire more women in and into leadership roles, especially in her own field of science. But by equating feminism with hating men, she inadvertently dismisses not just the many men who identify as feminists, but more importantly diminishes the gender equality that feminism has championed over the years—including workplace equality.
Twitter users quickly chimed in with their "Girl, what…" reactions. (Many of the responses also side-eyed McCullough's assertion that healthcare is a privilege, not a right.)
What's wrong with being a feminist Miss DC USA!?!? Who says feminists hate men? Gurl!!! #MissUSA pic.twitter.com/jr5Hc5p2DNMay 15, 2017
See more
I was happy that they crowned another black woman Miss USA... until I heard her thoughts on feminism and healthcare pic.twitter.com/TXQ31rijcjMay 15, 2017
See more
So I'm glad the new miss USA is a black girl with natural hair buuuuuuut someone needs to educate her on feminism and healthcare because... pic.twitter.com/RV0KVd9yQLMay 15, 2017
See more
me hopping on twitter and seeing that the newly crowned miss USA thinks that feminism means you hate men pic.twitter.com/SmIc9pPLFkMay 15, 2017
See more
Me bc Miss DC won after those bum answers #MissUSA pic.twitter.com/BmcSw6lIO8May 15, 2017
See more
For those users who found fault with McCullough's equalist answer, they latched onto Miss New Jersey Chhavi Verg's response to the same question:
"I do consider myself a feminist. There's this misconception when people that feminism is women being better than men, but it's really not. It's a fight for equality."
#MissUSA #NewJersey IT SHOULDA BEEN @MissNJUSA CHHAVI VERG!... AHHHHHHHHHHHHHHHH! pic.twitter.com/4t7pT4pJ45May 15, 2017
See more
#MissUSA Me writing a letter about how DOC shouldn't have won and how New Jersey got robbed pic.twitter.com/m0V0Lb7ynGMay 15, 2017
See more
Hands down New Jersey had the best answer #MissUSAMay 15, 2017
See more
I feel like people are afraid of the word, "feminism." Miss New Jersey is the only one that FULLY answered that question. #missusaMay 15, 2017
See more
Now that's how you answer that final question. Miss New Jersey USA did it for me. #MissUSA pic.twitter.com/Z6ScUVhMCmMay 15, 2017
See more
Follow Marie Claire on Facebook for the latest celeb news, beauty tips, fascinating reads, livestream video, and more.