Mood Lighting: 3 Best Outdoor Lighting Tips
We asked Apartment Therapy's lighting expert, Laure Joliet, about effortless (and tiki-free) evening illumination.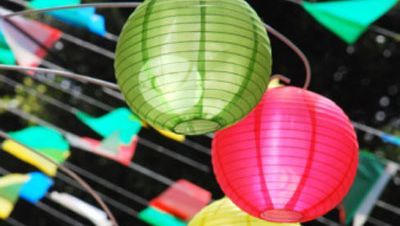 (Image credit: Getty Images)
Firefly envy: Round up mason jars and glasses from your kitchen, and place a tea light into each — you can score 200 of these mini candles for $8 from Ikea. They're striking when grouped. Added bonus: If you're too blitzed to bring them in after the party, they won't get ruined in the rain or morning dew.
Kill the floodlight: Make sure your backyard buffet is well lit, but not so glaring it resembles the salad bar at Sizzler. Above the food table, string up three paper lanterns with bulbs of 60 watts or less to give the entrées an appetizing glow.
Mark the spot: Never dangle bulbs directly over where guests sit — they cast strange, harsh shadows. Instead, string twinkle lights in an "X" formation from the corners of your backyard, and place four large lanterns along the periphery. This will light people's faces evenly for a more flattering effect. Bonus: You'll get the matchmaking credit when your friend meets her latest flame.