Jewelry for a Cause
100 percent of net profits go to cancer research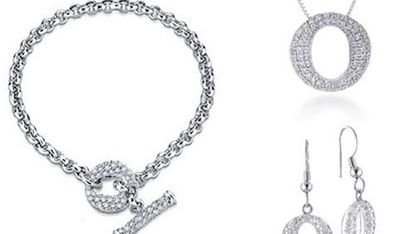 (Image credit: Archives)
L'Oréal Paris proudly commemorates the 10th anniversary of its partnership with The Ovarian Cancer Research Fund (OCRF) and its ongoing commitment to women's health and empowerment causes.
L'Oréal Paris has just added two new pieces to its Color of Hope Jewelry Collection. Designed exclusively for this initiative, the sterling silver Pavé Pendant with Chain ($24.95 retail) and sterling silver Pavé Earrings ($29.95 retail) join the signature sterling silver Color of Hope Bracelet ($24.95 retail) and the brilliant 14k white gold and pavé Diamond Bracelet ($795.00 retail).
All four pieces feature an "O"-shaped clasp that can be viewed as a circle representing life, endurance, love or a symbol for ovarian cancer.
L'Oréal Paris is donating 100 percent of all net profits ($5 for each sterling silver item and $150 for the diamond bracelet) from the Color of Hope jewelry collection to OCRF.
All of the items from the collection may be purchased online at lorealcolorofhope.com and at L'Oréal Paris retail stores: Connecticut, 860-561-0220; Los Angeles, 310-360-6555.