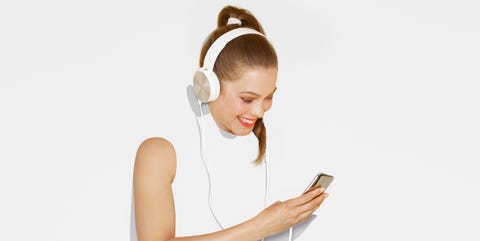 Listening to other people talk doesn't sound terribly fun, and yet, a podcast can make a long train ride fly by, a snoring seat-mate almost tolerable, and the pain of having zero friends slightly less lonely. Technology is amazing! Here, 10 of the year's best, covering everything from design to dating to porno dads. (We repeat: Technology is amazing!)
They say: "Everything you want to know about modern and contemporary art but were afraid to ask."
We say: Like an art history seminar but without the aesthetics bros or having to memorize dates. You'll learn something, even if you already know your Courbet from your Calder.
They say: "Stories about sex, romance, race, hair journeys, living in New York, and Billy Joel. Plus a whole bunch of other sh*t."
We say: Fifty-three friends have recommended it, and they're not wrong.
They say: "Join Gaby [Dunn] for conversations with comedians, artists, musicians, actors, her parents, a financial psychologist, her boyfriend, and many others about the ways that money makes us feel confused, hopeless, and terrified."
We say: Super, psychically relatable, and great that someone's being open instead of getting all squirmy and pinchy-mouthed about money.
They say: "A thought-provoking internet podcast which profiles industry-leading graphic designers, change agents, artists, writers and educators."
We say: Superb interviewer and raises thoughtful questions about work and focus you'll connect with, even if you're not a design nerd.
They say: "An audio art project about intimacy and humanity."
We say: Nothing else quite like it.
They say: "Imagine if your dad wrote a dirty book. Most people would try to ignore it—but not Jamie Morton. Instead, he decided to read it to the world...With the help of his best mates, James Cooper and Alice Levine, Jamie reads a chapter a week and discovers more about his father than he ever bargained for."
We say: Everybody's dad should write a porno to be distributed across the internet. "F*cking hilarious," to quote a colleague.
They say: "Lifelong fans of true crime stories Karen Kilgariff and Georgia Hardstark tell each other their favorite tales of murder and hear hometown crime stories from friends and fans."
We say: You will laugh about murder, which feels wrong. You will also feel weirdly at ease listening to Kilgariff and Hardstack's advice for survival.
They say: "A freewheeling conversation about politics, the press and the challenges posed by the Trump presidency."
We say: Soothing in this political climate. Plus they interviewed Obama.
They say: "Phoebe Robinson is tired of being the token black woman in an ocean of white dude comedians. So in this podcast, Phoebe's calling the shots."
We say: Great guests who—say it with us—are funny people who aren't straight white guys. More, please.
They say: "About a man named John who despises his Alabama town and decides to do something about it. He asks Brian to investigate the son of a wealthy family who's allegedly been bragging that he got away with murder. But when someone else ends up dead, the search for the truth leads to a nasty feud, a hunt for hidden treasure, and an unearthing of the mysteries of one man's life."
We say: Lives up to the hype.