Exclusive Look: Marie Claire's Golden Globes After-Party
After the awards were said and done, Hollywood's biggest stars partied until dawn at the MC/Weinstein Company's after-party (also presented by Chopard, HP, Laura Mercier, Lexus, and Yucaipa Films) at The Beverly Hilton. Take an inside peek at how y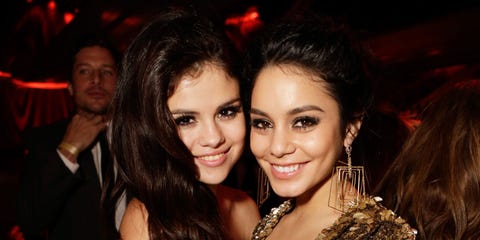 After the awards were said and done, Hollywood's biggest stars partied until dawn at the MC/Weinstein Company's after-party (also presented by Chopard, HP, Laura Mercier, Lexus, and Yucaipa Films) at The Beverly Hilton. Take an inside peek at how your favorite celebs celebrated one fantastic night.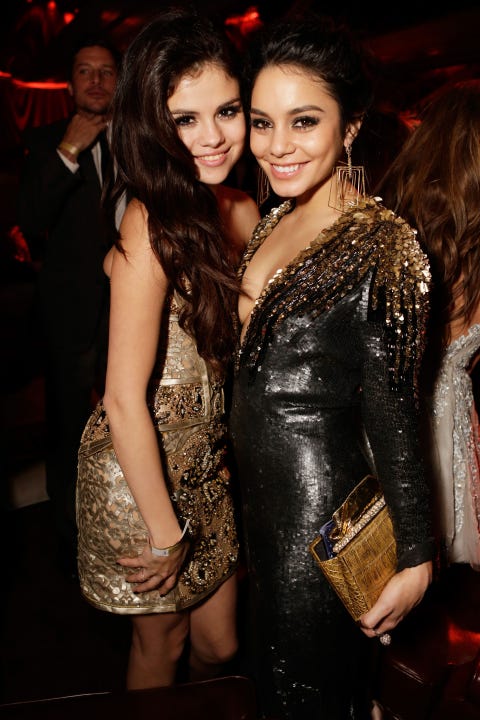 Disney Princesses
Selena Gomez and Vanessa Hudgens bonded over their onetime Disney stardom and, apparently, love for gold embellishments. In this shot, the two could even be sisters!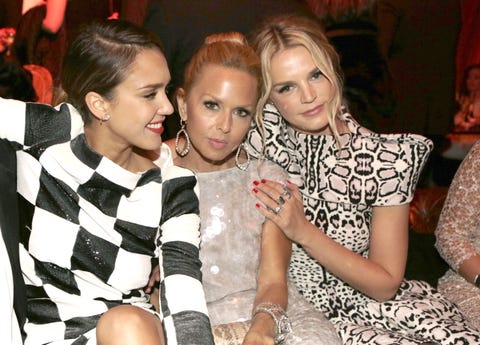 Three's Company
Jessica Alba, who earlier that evening presented the award for Best Actor in a Miniseries, changed out of her coral Oscar de la Renta gown for the after-party and chatted with celebrity stylist Rachel Zoe.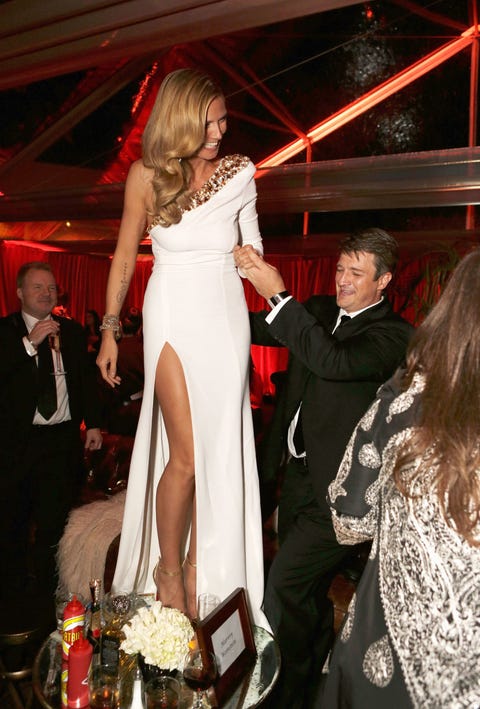 Dancing on Her Own
Our oh-so-glam February cover girl Heidi Klum jumped — literally — at the opportunity to samba on one of the party's tabletops, with actor Nathan Fillion acting as her spotter.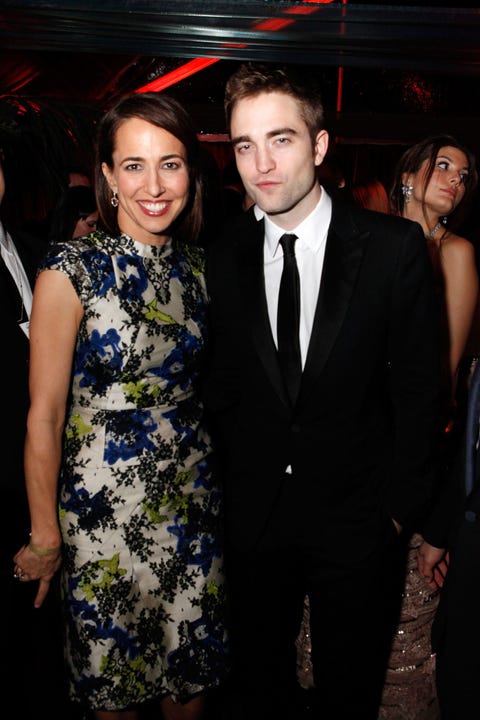 Team Edward
As Marie Claire editor-in-chief Anne Fulenwider — dressed in a fitted floral dress by British designer Erdem, H.Stern jewels, and Alaia shoes — caught up with Robert Pattinson, it's clear which side of the famed Edward vs. Jacob Twilight rivalry she's on.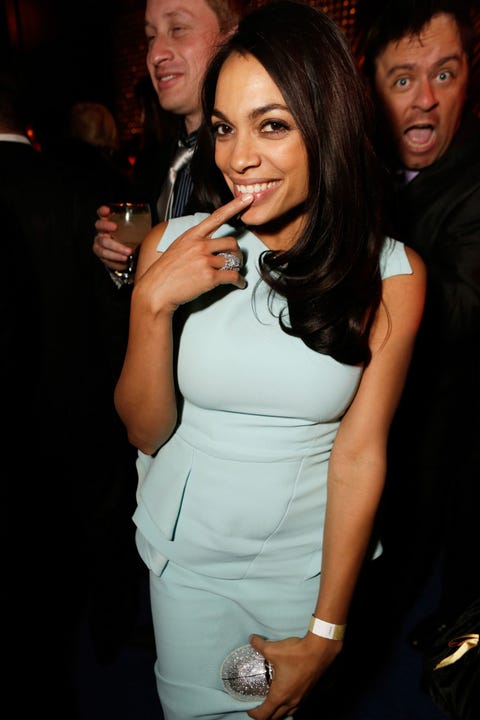 Who, Me?
Looking incredibly fresh-faced, the actress playfully posed in a powder blue Antonio Berardi gown.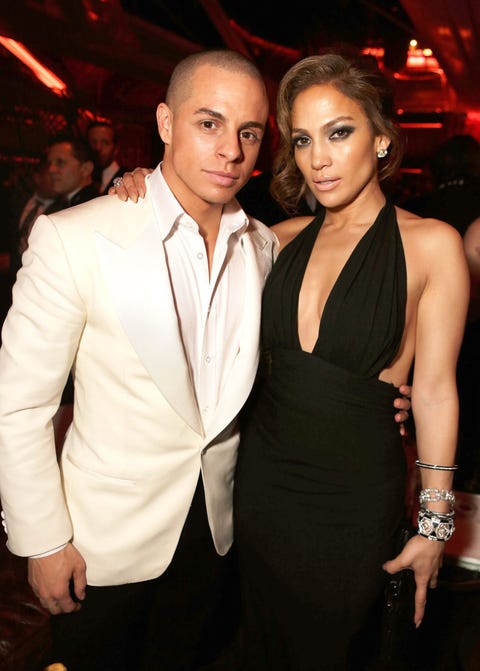 Sizzling & Sultry
Jennifer Lopez and her backup dancer boyfriend Casper Smart looked sexy and radiant among the party's A-listers. Now that, ladies, is what we at MC call a smoky eye.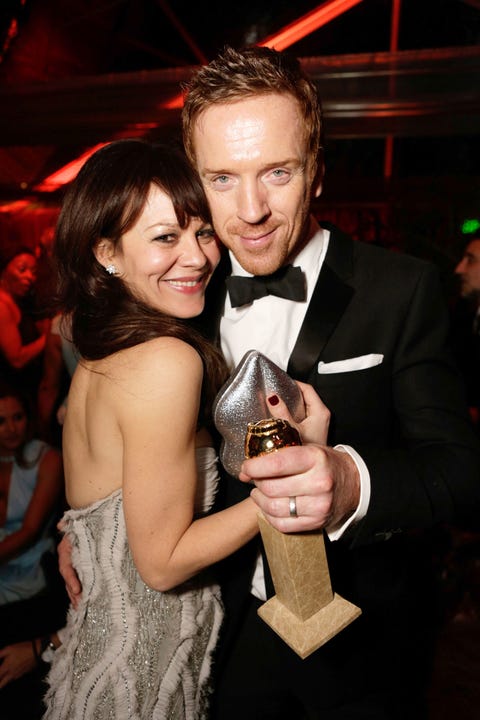 Winning Shot
Damian Lewis celebrated his Best Actor in a TV Drama win with his wife, fellow actress Helen McCrory, by allegedly grooving to Psy's "Gangnam Style" in the middle of the party's dance floor.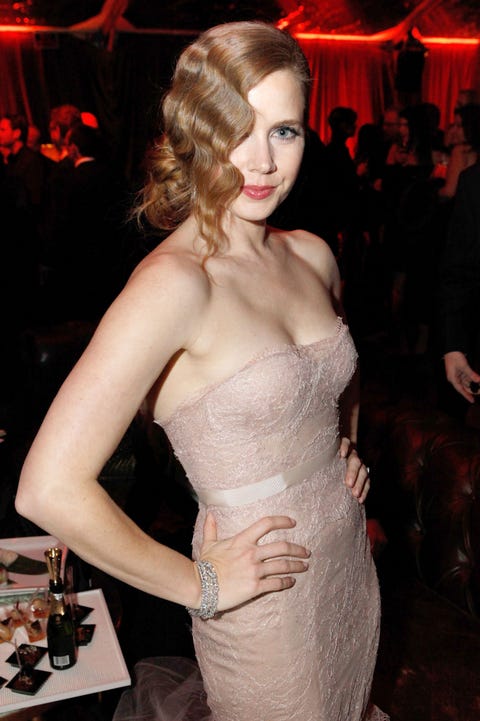 Prima Ballerina
Amy Adams — whose signature red locks were worn in a wavy Old Hollywood-style up-do — posed solo while channeling her best ballerina in this self-described "ballet pink" Marchesa gown. How chic is she?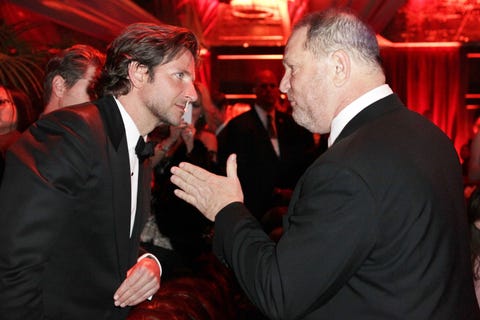 A Brewing Bromance
At one point in the evening, the very studly Bradley Cooper was deep in conversation with his Silver Linings Playbook producer Harvey Weinstein. What we would have done to be a fly on the wall in that conversation!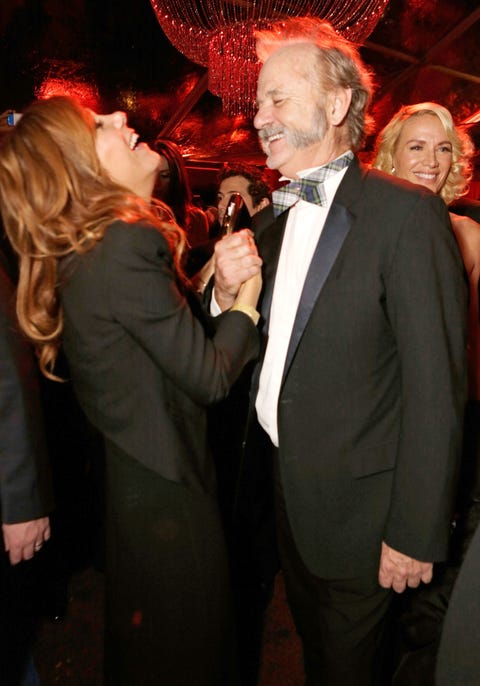 Funny People
SNL veteran and our August cover girl Kristen Wiig and Moonrise Kingdom's Bill Murrary kept each other entertained — perhaps still thinking about Kristen's hilariously ad-libbed presentation of Best Actress nominees alongside Will Ferrell.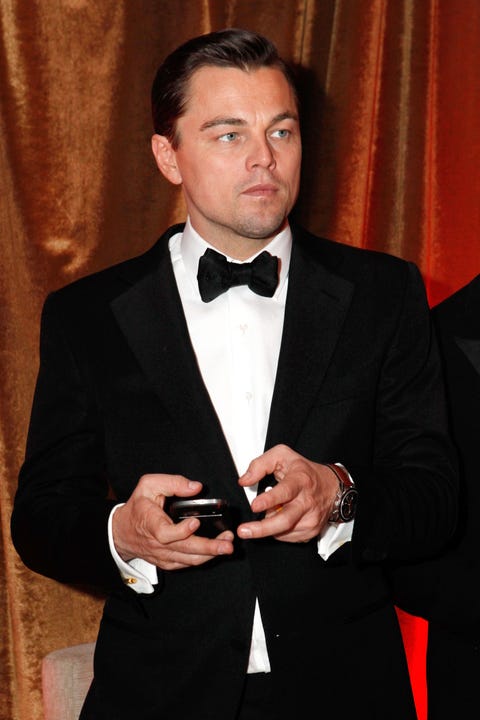 Candid Camera
Though Leo didn't receive a Best Supporting Actor win for his powerful performance in Django Unchained, he certainly was a top contender for the best dressed male at the Golden Globes in this classic tuxedo. How dreamy!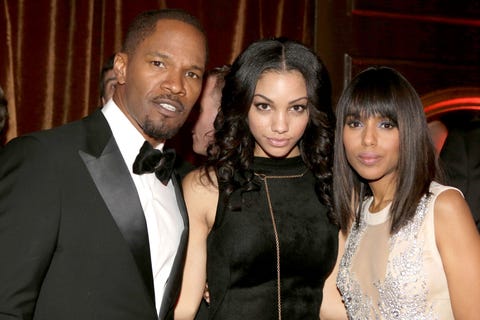 It's All in the Family
Actor Jamie Foxx celebrated his big night with his daughter, Corinne Bishop, and his fellow Django Unchained cast member Kerry Washington.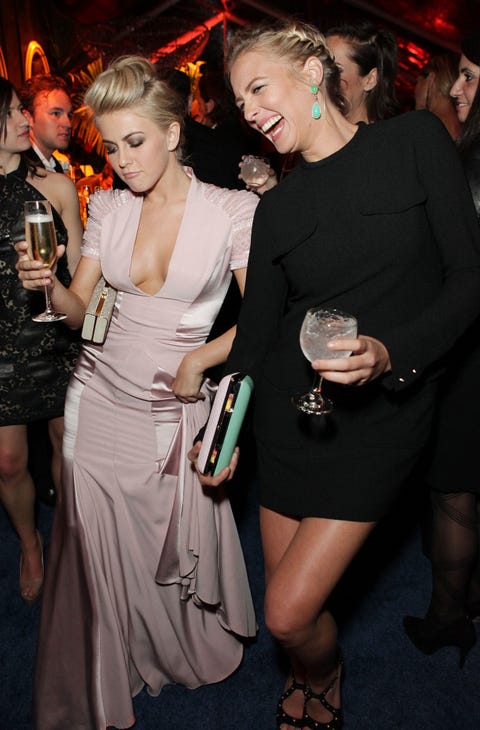 Dancing Queen
The star of the upcoming movie Safe Haven, Julianne Hough swayed and shimmied in a blush-toned, deep-v dress while sipping on some champagne sans her busy boyfriend, Ryan Seacrest.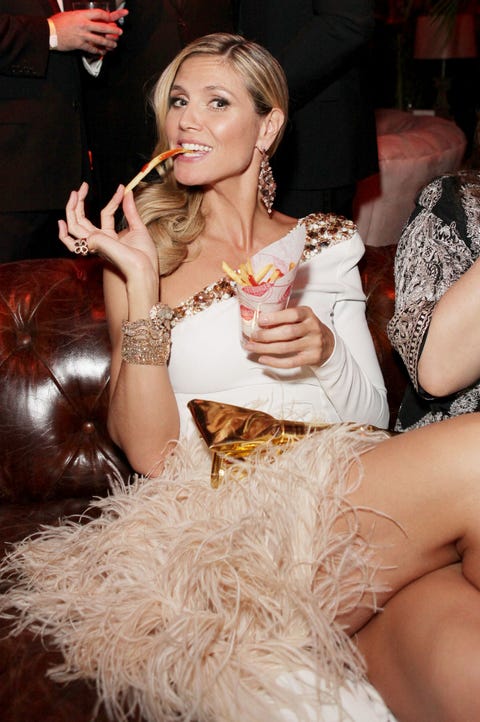 Chow Down
Heidi Klum chows down on the party's tasty treats. In our February cover interview with the star, she discussed her obsession with french fries, cheeseburgers, and McDonald's. We love a star with an appetite!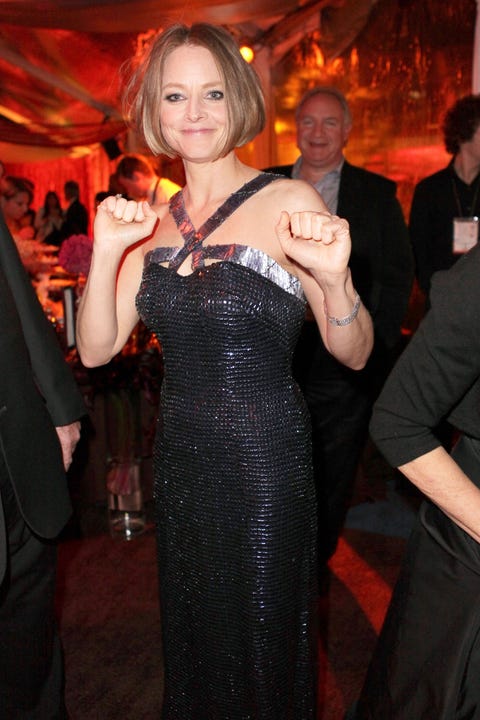 Lifetime Achiever
Jodie Foster, who delivered a personal, moving speech during the awards ceremony, let loose after receiving the Cecil B. DeMille lifetime achievement award. You go, girl!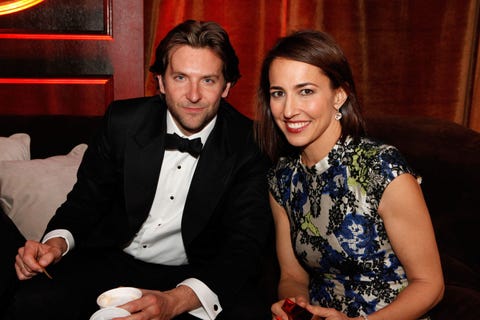 Man of the Hour
Our lovely editor-in-chief celebrated with Bradley Cooper, whose performance we absolutely adored in Silver Linings Playbook. Not to mention, his suit isn't too shabby, either!
This content is created and maintained by a third party, and imported onto this page to help users provide their email addresses. You may be able to find more information about this and similar content at piano.io