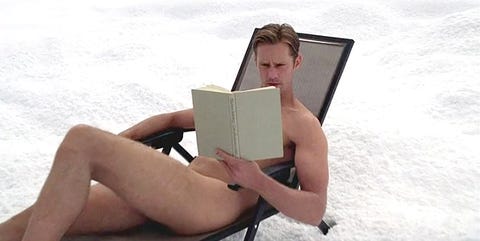 There are nude scenes on TV, and then there are NUDE SCENES ON TV. The kind of scenes that definitely warrant all caps due to their ability to send the internet into a complete frenzy, start twitter trends, and end up in the more...um...colorful corners of the web (yes, I'm talking about Pornhub). Here are the TV nudity moments that pulled a Kim Kardashian and truly broke the internet.
8
The Random Soldier's Penis in 'War and Peace'
Back in 2016, BBC aired a production of War and Peace (the same one that aired on Lifetime over here in the U.S.). Pretty standard BBC-y stuff, right? WRONG. Viewers were left in complete shock when a soldier walked out of a lake with his penis on full display. It's like, one moment you're sitting in the living room for nerdy movie night with your family, the next you're dealing with on-screen genitalia.
Chris Meloni spent much of Oz naked, but the scene where he peed definitely qualifies as a viral nudity moment. Apparently, the actor himself asked to pee on camera rather than use a prop or special effects. Truly method acting.
10
Lena Dunham in 'Girls'
Girls frequently featured various members of the cast naked, but the internet lost it over the episode where Lena Dunham's character spends the day nude in a Brooklyn brownstone—and even plays ping-pong without a shirt or bra. Not a big deal, but you know how Twitter can be.