Here Is the Playlist the Spice Girls Should Perform at the Royal Wedding
Slam it to the left If you're havin' a good time, Harry!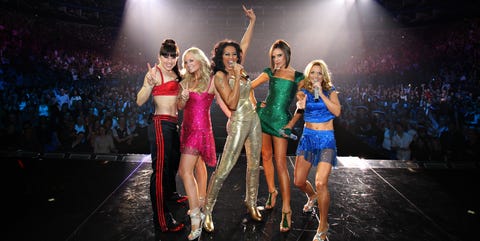 If you woke up this morning thinking, gosh, what is the one thing that could make the royal wedding better?, Mel B has answered your question. THE SPICE GIRLS ARE PERFORMING AT MEGHAN MAKRLE AND PRINCE HARRY'S WEDDING. Yes, that is the one way to make the royal wedding better! What songs will they sing?! What will they wear?! Why did I go to eight weddings last year that included zero performances by the Spice Girls?! So many questions!
We won't know the answers to any of these until May, but here is the answer to one: What songs the Spice Girls SHOULD play at Harry and Meghan's wedding. Below, the Spice Girls' perfect royal wedding playlist:
Kate Middleton and Prince William love this song, TBH.
And who doesn't love a royal wedding slow dance?!
"Stop right now, thank youuuu very much!"
Dance like no one is watching, Harry!
*Actual footage of the Queen slamming to the left.*
Plus, Harry's been practicing.
This content is created and maintained by a third party, and imported onto this page to help users provide their email addresses. You may be able to find more information about this and similar content at piano.io