MC Does Lollapalooza
To end festival season with a bang, we headed to Chicago (with 300,000 of our closest friends) for the 2013 edition of Lollapalooza.
To end festival season with a bang, we headed to Chicago (with 300,000 of our closest friends) for the 2013 edition of Lollapalooza.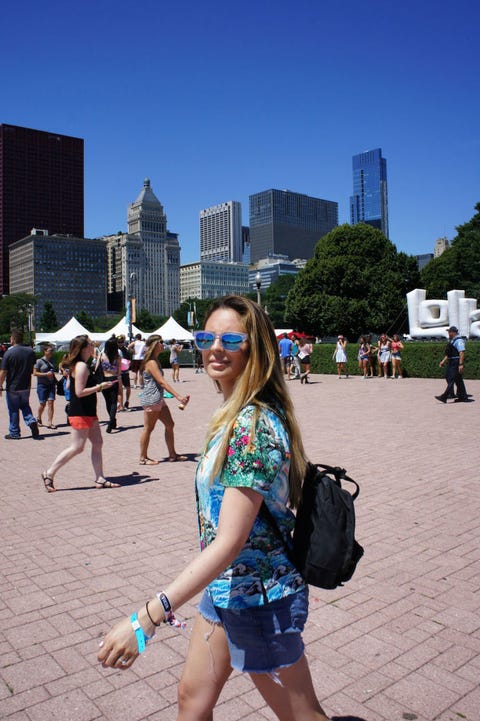 Welcome to Grant Park
For the second year in a row, I headed to Chicago to partake in one of the country's best music festivals, Lollapalooza. Three days, eight stages, 150 acts, 40 gourmet food stands, and an estimated 10 miles of walking later (I have the blisters to prove it), I bring you the best of the 2013 fest.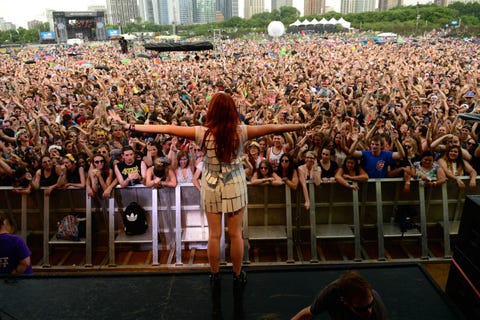 "Matt Ellis, Lollapalooza"
Icona Pop
One of the first acts I saw upon my arrival on Friday was Icona Pop, the Swedish electro-pop duo who I caught up with earlier this year at Governors Ball. On the heels of their smash single "I Love It," the girls are releasing their debut full-length album entitled This Is... Icona Pop in September, and are preparing for their first headlining tour. Judging by the size of their midday crowd, Icona Pop's star is still very much on the rise.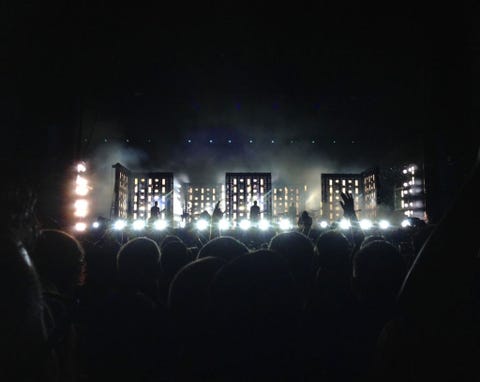 Nine Inch Nails
My highlight of the weekend was Trent Reznor's triumphant return to Nine Inch Nails for the band's first U.S. show in four years. The Lollapalooza performance kicked off NIN's "Tension" tour in support of their new album, Hesitation Marks, which is due out on September 3rd. If you've never seen them perform live, be sure to catch them when they come through your town. Trust me on this.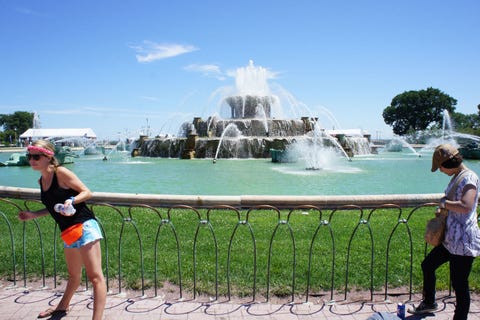 Day Two
I started the second day of Lolla with a stroll through the park, stopping for a moment at Chicago's iconic Buckingham Fountain. The calm before the storm, if you will.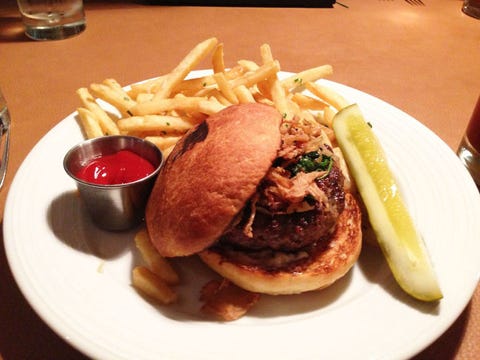 Primehouse Lunch Break
Many Lolla-goers forget to make time for proper meals, and I wasn't about to make that mistake. I stopped by David Burke's Primehouse at the James Hotel in Chicago to try one of their signature burgers. Festival fuel, indeed.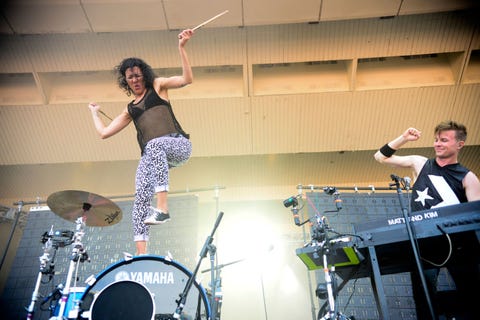 "Matt Ellis, Lollapalooza"
Matt and Kim
I chatted with the Brooklyn duo, whose fourth full-length album Lightning is dropping this fall, before their high-energy set on Saturday. Kim was kind enough to share her philosophy on festival dressing:
"We get pretty crazy out there, and it's almost like a workout, so I do have to go for function. There are some things I would love to wear on stage, but you know what happens when you're playing drums and you're wearing a dress? You get stuck — it's happened before. And then I stopped wearing dresses. Also, hoochie hoops! I once had a stick go through the one of my hoop earrings, and luckily it came right out, but I immediately took them off. So, you know, it's kinda tough. There are things that I want to wear, but you know, the show comes first."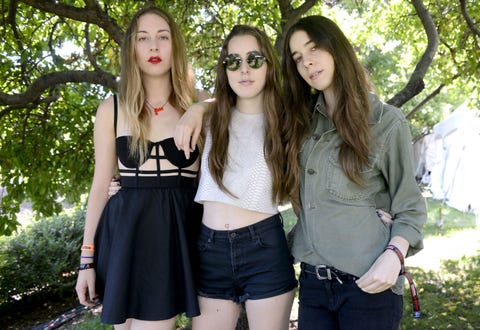 Haim
One of my favorite acts this festival season hands-down is Haim, the immensely talented trio of sisters who have taken the world by storm. The ladies were admittedly freaking out before their Saturday evening set at Lollapalooza, but they kept their cool for yet another impressive performance. Their debut album Days Are Gone is set for a September 30th release, and you can read our exclusive chat with them from earlier this summer right here.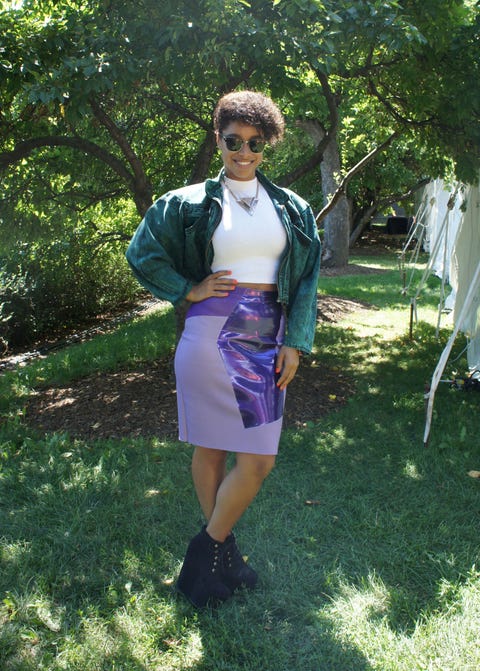 Lianne La Havas
I spoke with British songstress on the rise Lianne La Havas backstage before her Sunday performance, and she spilled all kinds of style secrets:
"Normally I don't care about comfort on stage. I always think about photographs—if anyone is going to take a photograph, you want to have a memorable silhouette, or a color, or a sparkle or something. When it comes to style icons, I love Erykah Badu, she has fabulous
style. I love Marilyn Monroe, and I also love Will Smith in the Fresh
Prince of Bel Air."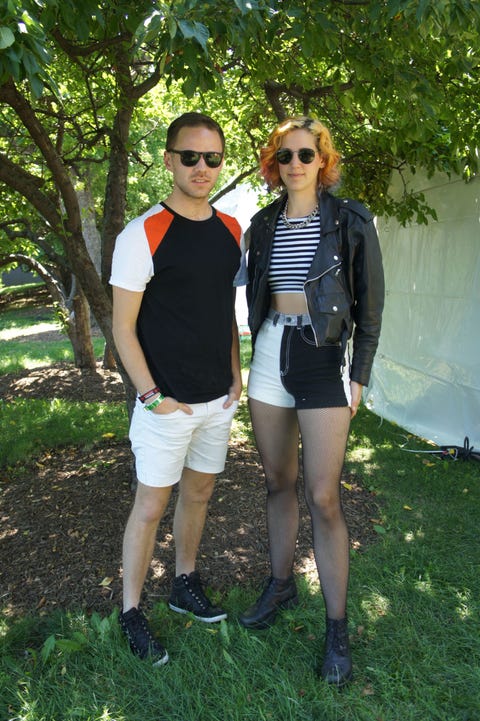 MS MR
New York-based duo MS MR, Max Hershenow and Lizzy Plapinger, were the funniest pair I met at Lolla, but they were a bit nervous when we sat down backstage on Sunday. "This is, as our manager so calmly put it last night, the biggest show of our career thus far," Max joked. Read on for highlights from our chat.
Are there any festival trends that you wish would just go away?
LP: I have some serious opinions about this. I am really over the headband around the hair thing. I just can't. I'm really done with it. And I'm all for like a 'flower child,' but now it seems so sterile and generic that it just seems really cheesy to me. It's a little bit too sunny for me anyways, so I'm ready for that to die.

MH: I've also noticed a phenomenon, mostly at the U.S. festivals, and especially at Lolla actually: bro-y boys going around without their shirts and wearing a Camelbak. I think that is a festival phenomenon that should probably just die. I don't mind a boy with his shirt off. In fact, I like it. But the Camelbak...
Are there any other artists past or present that you've really looked up to throughout your careers in terms of style?
LP: Definitely. Karen O. of the Yeah Yeah Yeahs. Debbie Harry. Gwen Stefani. Shirley Manson. Those are like my ultimate ladies.

MH: I'd go off Lizzy's as well.

LP: Julian Casablancas too, and Elvis. David Bowie. A very sort of like
glam-rock style, I think.
Can you tell about the evolution of your on-stage outfits since you've started performing together?
LP: It used to be form over function more, and now we've learned that it's not worth it in the end. If you can't move, there's no point. Or if you're going to be self-conscious, it reads immediately. And you better be able to dance as much as possible.
MH: And the more self-confident we've gotten on stage, the more comfortable the outfits. Like I now regularly wear sweatpants on stage, but you wouldn't know they're black sweatpants.
LP: Drop crotch sweatpants. It's the best thing to wear on stage. I used to wear some really short dresses, but I almost never wear a dress on stage now. It's cause I like to move my legs and pump my feet up and I'm always worried someone is going to get a crotch shot or something. A lot more pants and shorts, which is more my style anyway.
MH: I used to wear shirts buttoned all the way up to the neck a lot, and there was one night where I was like, 'I can't do this anymore, I feel like a little boy.' So I grew up in that moment.
LP: Maybe we started more formal and now we actually reflect ourselves in the clothes we wear, as opposed to dressing up as if we're going to a cocktail party or something.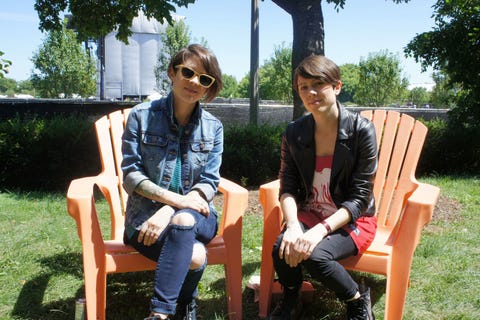 Tegan and Sara
Twins Tegan and Sara Quin took the time to tell me about how their style has evolved in the age of the Internet:
"Back in the olden days we had a van and a suitcase, so the options were limited and they weren't always great. But because we started in the early 2000s, we've seen so much social media and so much documentation of every single step that we've taken so I think the combination of having a bus, a wardrobe case, and that awareness of being on camera all the time has created a more stylish band out of us. I think we care more about have a consistent look and having that look reflect the music—if we got up there wearing sweats and trying to sing 'Closer' it would just feel very, very counterintuitive to what we were doing up there. I think that the music really influences the style, but it's also about finding something you feel good in but that also looks good. "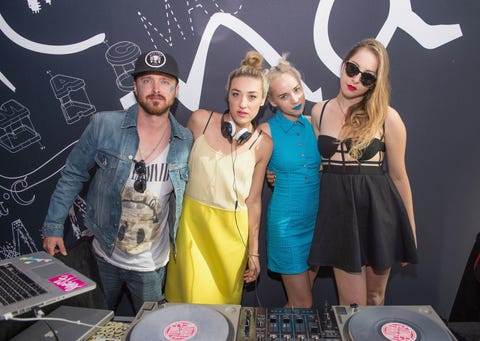 MAC Cosmetics Lollapalooza Party
On Sunday afternoon, I stopped by the Dana Hotel, where MAC Cosmetics was providing tunes and makeup applications for festival-goers. The Dolls—AKA Mia Moretti and Caitlin Moe—and Este Haim DJed, and we even had the pleasure of meeting the lovely Aaron Paul. He was a good enough sport to get his face painted by the MAC team of experts, but he wasn't giving up any Breaking Bad spoilers, no matter how hard we tried.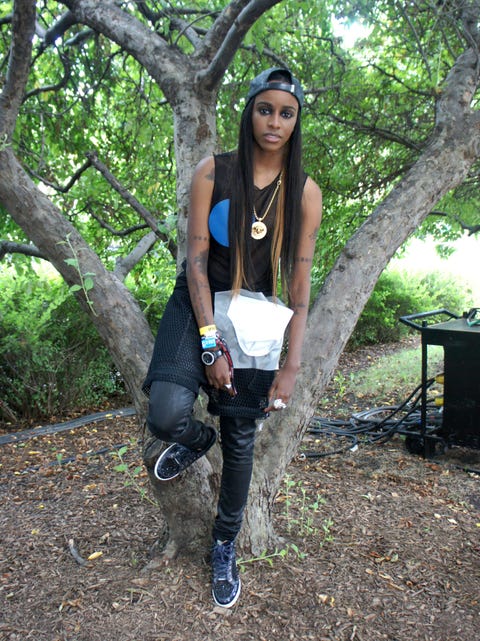 Angel Haze
Rapper Angel Haze has been super-busy in the recording studio recently, and after seeing her perform on Perry's stage on Sunday afternoon, we expect big success from her. Aside from being fashion-obsessed—her gold pendent was a gift from Donatella Versace—she's also way into girl power. Her biggest inspiration? "I look up to Sia a lot," she told me. "A lot of her stuff meant a lot to me. Jeez, I don't know how I would have gotten out of so many dark times had I not listened to her music."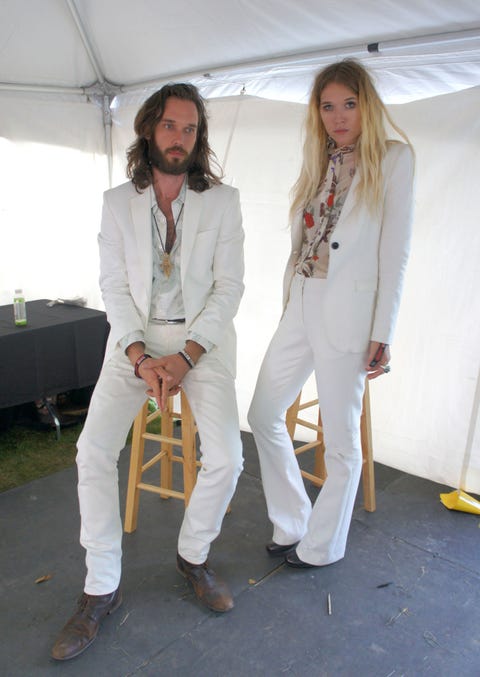 Wild Belle
The last pair I spoke with was Wild Belle, an indie rock band led by siblings Elliot and Natalie Bergman. For their afternoon set, they decided to put on their "Sunday best" — white suits. A festival trend that Natalie wouldn't try out herself? "I personally don't like to wear the flower headbands," she told me. "But I think it's so sweet that girls do that because they're portraying something that they saw once, like at Woodstock—people in their hippie headbands having a good time. It's kind of fun to see girls in the crowd dress up like that."
This content is created and maintained by a third party, and imported onto this page to help users provide their email addresses. You may be able to find more information about this and similar content at piano.io