The Best of Pop Culture Holiday Traditions (PHOTOS)
The hilarious and dramatic ways our favorite television shows feel festive.
20th Century Fox Television
From The Office's "Benihana Christmas" to Seinfeld's "Festivus," we couldn't help but reminisce about our favorite festive moments on TV. Here are our most beloved episodes from seasons past to get you into the holiday spirit.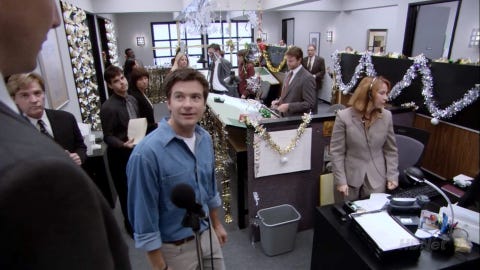 20th Century Fox Television
Arrested Development - "Afternoon Delight"
Family holiday traditions can be awkward but none were as bizarre as the one where Michael (Jason Bateman) and his niece, Maeby (Alia Shawkat), worked to rebuild his banana stand and strangely ended up singing "Afternoon Delight" together.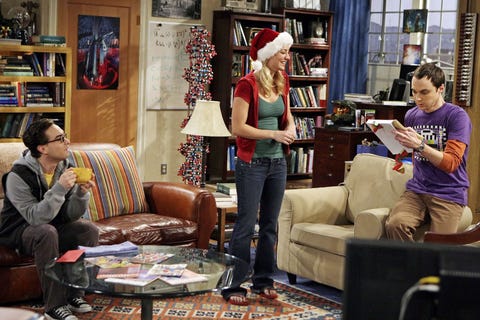 Cliff Lipson/CBS via Getty Images
Big Bang Theory - "Penny Saves Sheldon's Christmas"
Penny throws Sheldon for a loop when she gives him his dream present—a napkin from Star Trek's Leonard Nemoy (AKA Spock). Sheldon in return showers Penny with baskets of presents and a very special hug.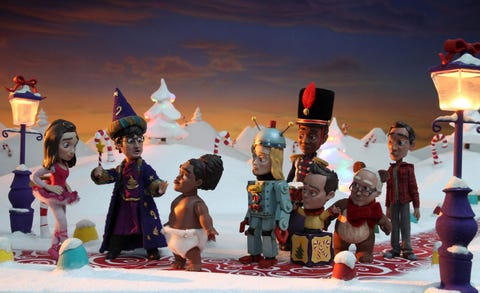 Community - "Abed's Uncontrollable Christmas"
Abed's classmates arrange an intervention after he states they are all stop-motion animated. Upon the belief that his psychology professor is a "Christmas Wizard," Abed enters "Christmasnosis" and is taken on a "magic journey" where he turns his friends into "Jeff-in-the-box," "Troy solider," and "Brita-bot."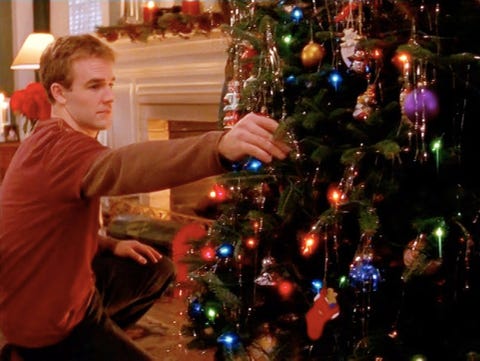 Columbia TriStar Television
Dawson's Creek - "Merry Mayhem"
True to Dawson's Creek's loaded teenage angst, Joey's (Katie Holmes) new bartender boyfriend has her questioning whether she is moving too fast by bringing her beau home for the holidays.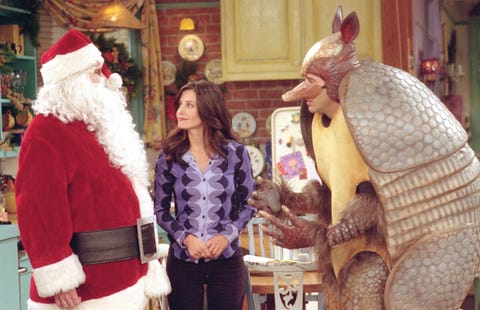 Warner Bros. Television/Getty Images
Friends - "The One with the Armadillo"
Every Friends episode is memorable, but who could forget "The One with the Armadillo?" Ross uses his "Holiday Armadillo" costume to excite his son Ben about Hanukkah. That is until Chandler shows up dressed as Santa not knowing that his "part-Jewish friend" has already arrived.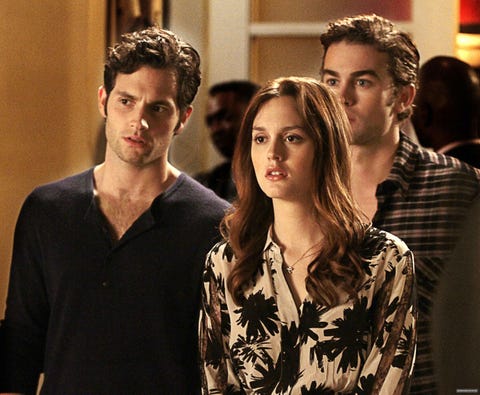 Gossip Girl - "Roman Holiday"
When Blair's (Leighton Meester) estranged father returns home for the holidays with his gay lover, the young Manhattan socialite devises a plan to get rid of her dad's new beau. Sneaky, backstabbing behavior consumes this gossip girl's Christmas.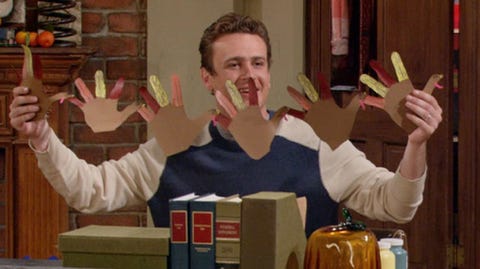 20th Century Fox Television
How I Met Your Mother - "Slapsgiving"
After winning a slap bet in a previous episode, Marshall (Jason Segel) terrorizes Barney (Neil Patrick Harris) with a countdown clock to his next confrontation. Lily (Lily Aldrin), as Slap Bet Commissioner, tells Marshall he can't slap Barney on Thanksgiving—until Barney becomes intolerable.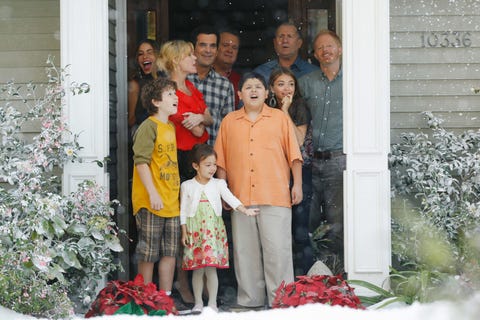 Peter Stone/ABC via Getty Images
Modern Family - "Express Christmas"
The hilarious tune "All I Really Want for Christmas This Year," personally developed by each cast member of Modern Family, promises to have you in tears by the end with lines like: "Christmas is all about gettin'. Everyone in town knows that!"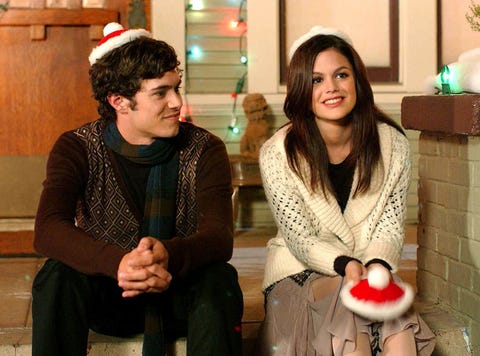 The OC - "Best Chrismukkah Ever"
Why choose Christmas or Hanukkah when you can celebrate Chrismukkah? Seth (Adam Brody) finds he is touched by an angel with his newfound holiday as well as caught in the middle of a sticky girlfriend situation. Oy vey!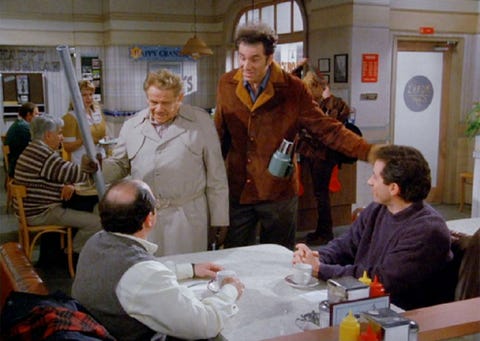 Castle Rock Entertainment
Seinfeld - "Festivus"
Festivus for the rest of us! Thanks to George Costanza's father, this Seinfeld holiday celebration begins with dinner and continues with practices such as the "airing of grievances" and "feats of strength." It seems "Festivus miracles" do come true.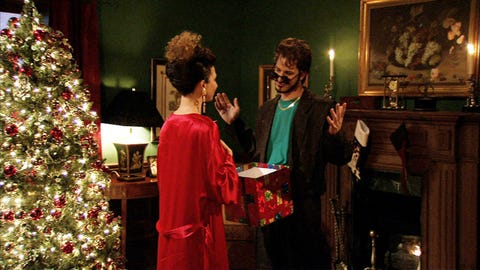 Dana Edelson/NBC/NBCU Photo Bank via Getty Images
SNL - "Dick in a Box" and "Christmas Eve at the White House"
We might go as far as to say that this is one of the best skits SNL has ever created. Thanks to Justin Timberlake and Andy Samberg, men all around the world know what to give their girlfriends on Christmas, Hanukkah, Kwanzaa, or pretty much any other time of year.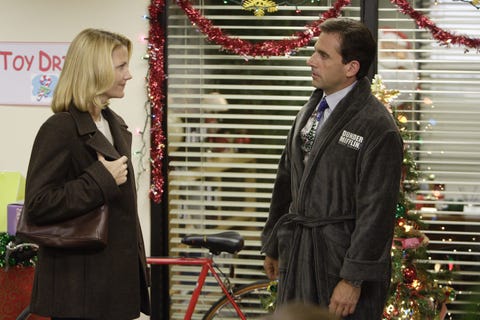 Paul Drinkwater/NBCU Photo Bank via Getty Images
The Office - "Benihana Christmas"
Christmas time blues overwhelm Michael (Steve Carell) due to a recent breakup, so Andy (Ed Helms), Dwight (Rainn Wilson), and Jim (John Krasinski) decide to cheer him up with a trip to a Benihana restaurant. Michael and Andy find dates who quickly leave them, while Angela and Pam are at odds with whose Christmas party is better.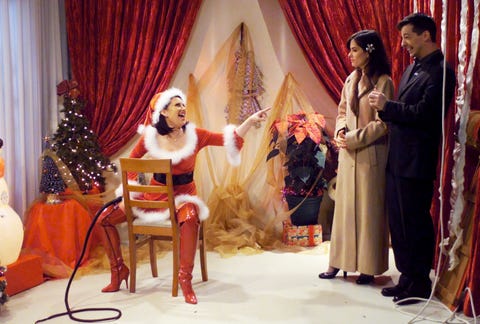 Chris Haston/NBCU Photo Bank via Getty Images
Will & Grace - "Jingle Balls"
WhyWill & Graceepisode, Karen (Megan Mullally) comes up with the fabulous idea to do just that, paging the maid, technician, and bellman one by one for a holiday serenade.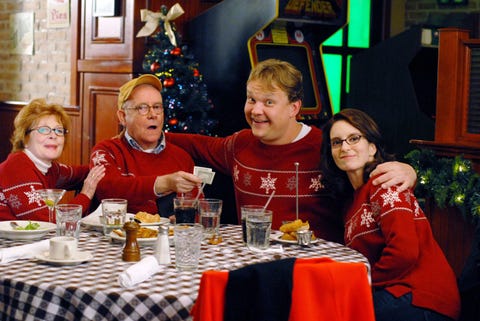 Nicole Rivelli/NBC/NBCU Photo Bank via Getty Images
30 Rock - "Ludachristmas"
Merry Ludachristmas Everyone! The staff of "TGS with Tracy Jordan" is gearing up for their favorite holiday party "Ludachristmas," complete with a mail cart full of alcohol and apologies prior to the evening's festivities.
This content is created and maintained by a third party, and imported onto this page to help users provide their email addresses. You may be able to find more information about this and similar content at piano.io